The Oldfather Group | Compass Real Estate Agents
Team of dedicated real estate agents who will help you sell your home for more and buy the home you'll love.
The Oldfather Group | Compass Real Estate Agents has decades of combined experience helping home-buyers and sellers with all their real estate needs. The dynamic duo of Dustin and Mariya Oldfather may have their name above the door, but The Oldfather Group | Compass Real Estate Agents functions because it's a team of dedicated REALTORS® who bring their separate expertise and experiences to helping clients with all their Delaware, Maryland, and Pennsylvania home-selling and home-buying needs.
We know that each buyer and seller is unique, and we work hard to make sure our services fit your needs, whether you're a seasoned real estate investor or a first-time home buyer, a young family looking for space to grow, or a retiree who wants to downsize. Regardless of which members of the team you work with, all of us share Dustin and Mariya's pride in being knowledgeable and enthusiastic when it comes to helping you achieve your home-buying or home-selling goals.
FINDING DELAWARE HOMES FOR SALE
No matter how experienced you are when it comes to real estate, searching for a new home or investment property can be downright nerve-racking. That's why at The Oldfather Group | Compass Real Estate Agents, we make it a priority to provide assistance to clients throughout the entire process. We provide expertise and technology that make finding a home easier and more efficient. From your initial encounters with Delaware, Maryland, or Pennsylvania real estate listings displayed on this website to negotiating, we're ready to employ all the tools at our disposal to help you. From securing financing, to determining your budget, to prioritizing the essential features you want for your next home, to making a home purchase offer, we'll save you valuable time and money.
"Part of how we're built is a complete team approach to ensure that you'll get the absolute best service... everybody in The Oldfather Group is committed to the client having a great experience, and that's what we talk about all the time." - Dustin Oldfather
Once you decide on home that speaks to you, The Oldfather Group will look at other properties in the region to help you make a strong purchase offer. And afterward, we'll negotiate to make sure you get excellent terms. It's not just our job... it's our pleasure to help you find a home in this wonderful part of the country.
The Oldfather Group | Compass Real Estate Agents' site exists to help you take your first steps in the Delaware, Maryland, and Pennsylvania real estate markets. If you're ready to begin, you can browse our real estate listings right now. And feel free to access our buyer's guide for more helpful tools and tip. To start working with an Oldfather Group real estate agent, please get in touch with us.
SELLING DELAWARE REAL ESTATE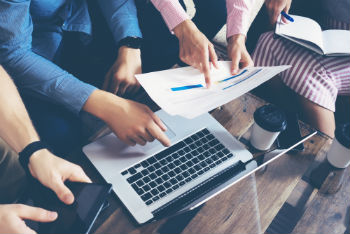 It's easy to feel a bit flummoxed by the process of selling your home. Planning and budgeting for advertisements, arranging private showings and open houses, fielding and negotiating offers, working out complicated contracts and paperwork—there's just so much to do! Instead of succumbing to frustration, make it easy on yourself by relying on the certified REALTORS® at The Oldfather Group. Let us handle the details that matter to you.
For Dustin, Mariya, and the whole Oldfather team, trust is the key to acting as seller's representatives. For this reason, we'll represent you throughout the entire selling process with an honest, authentic voice, and we'll always make sure that your entire transaction is an affirmative and gainful one.
For great advice about Delaware, Maryland, and Pennsylvania luxury real estate, see our seller's guide and our free home evaluation service. If you'd like a more personalized service, don't hesitate to contact us to get connected with a seller's agent today.