10 Fun-Filled Things For Kids To Do At The Delaware and Maryland Beaches
Posted by Dustin Oldfather on Wednesday, February 17, 2021 at 10:09 AM
By Dustin Oldfather / February 17, 2021
Comment
Now that the kids are out of school for the summer, we thought we'd feature a few "kid friendly" things for families to do this summer at the Delaware and Maryland beaches.
So here are our "Top Ten" favorite things for kids to do in the coastal region.
Enjoy your favorites today or make a note of the ones that interest you most and get ready to have some kid-friendly fun!
Check out our choices and be sure to let us know what you think...
Funland. The obvious place to begin is likely the place that's most well known in the "Nation's Summer Capital," and that's the decades old tradition of Funland. From the classic boats and fire engines for the littlest ones, to the Viking, the Haunted Mansion, the SuperFlip 360 and more for the thrill seekers, Funland has it all.
And that includes games, like Skeeball and others where you can win prizes and take home souvenirs from your day at the beach.
Funland is also still extremely affordable, with individual ride tickets only costing 35 cents. Families can easily have a full day of fun at Funland for less than $50.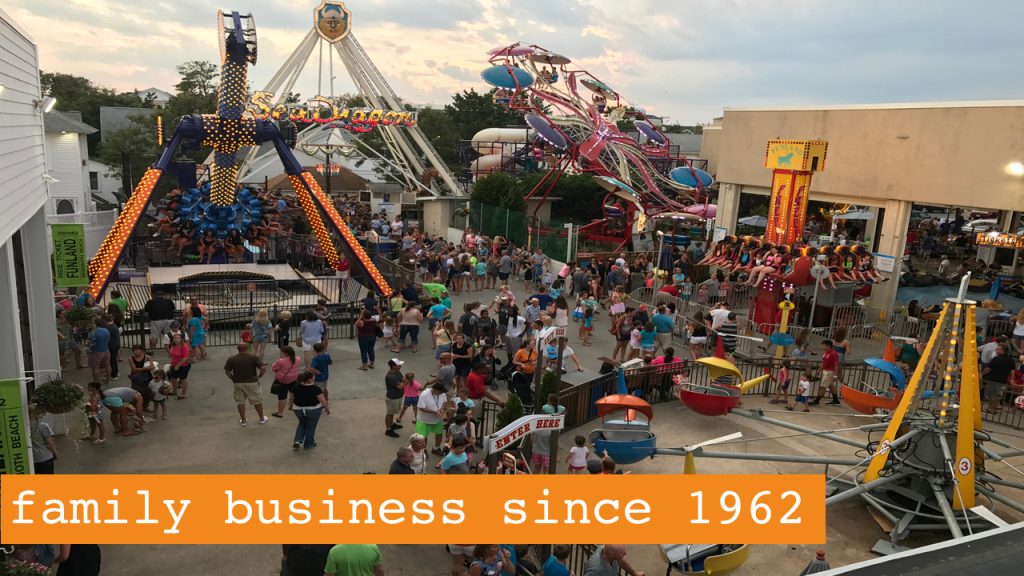 Water Parks. Primarily on Route 1 in the Lewes/Rehoboth Beach area, there are a few water parks to choose from on hot summer days in coastal Delaware.
Popular parks include Jungle Jim's and the White Water Mountain Water Park, both in Rehoboth Beach, and the Thunder Lagoon Waterpark in Fenwick Island.
All three attractions are great places to spend the day with your children, particularly on days when the weather is warm and the sun in shining.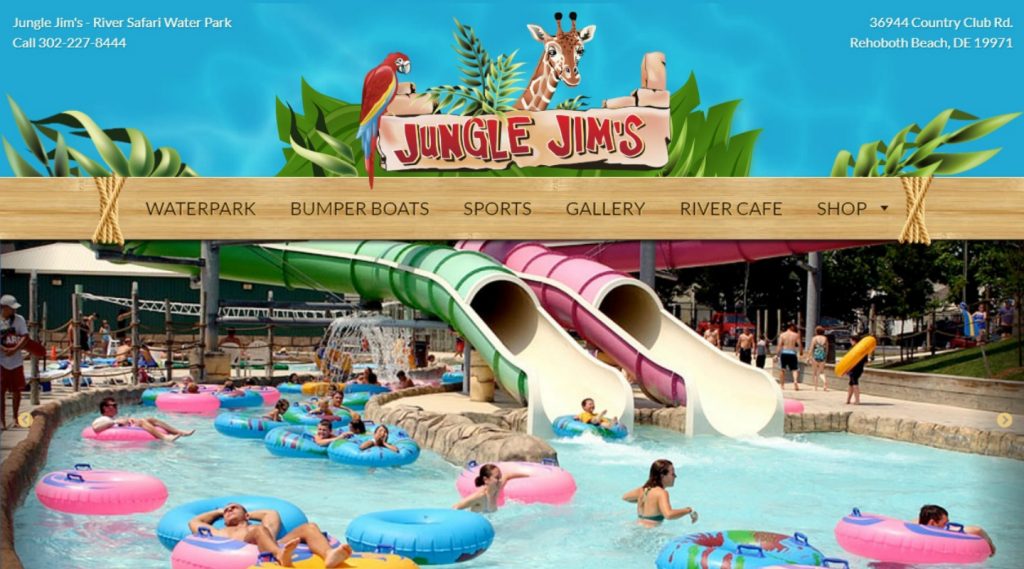 Go-Kart Racing. Midway Speedway Park, on Route 1 between Lewes and Rehoboth, has a great go-kart track for children (and adults too, if you're so inclined).
The facility is located on the northbound lane of Route 1 and offers several different ride options and ticket packages.
So if you have an adrenaline seeking young one, go karting is a great way to spend a day in coastal Delaware.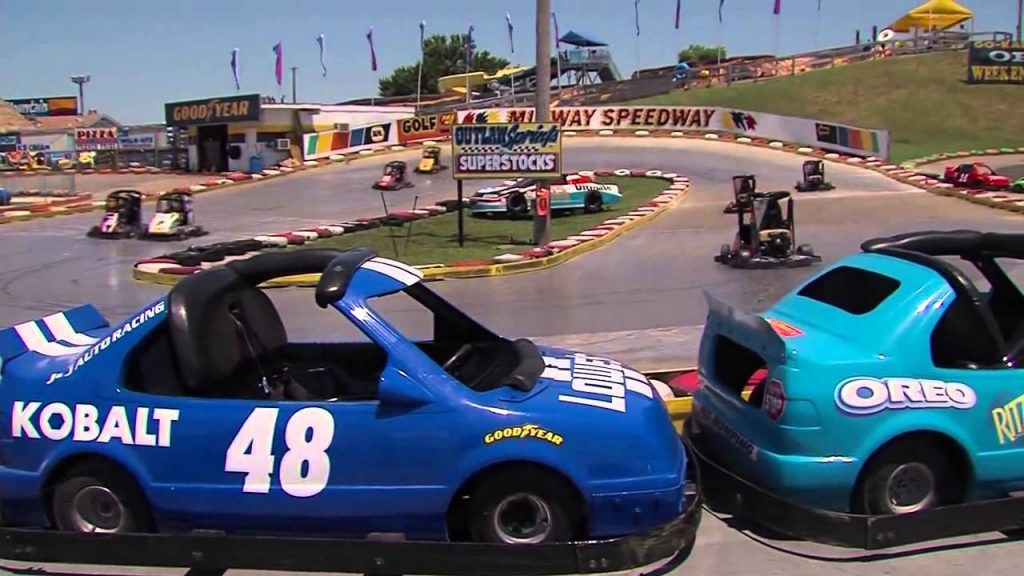 Putt-Putt Golf. I know, this is a no-brainer right? One thing coastal Delaware has in spades is putt-putt and mini golf courses.
You'll find them on Route 1, on the Boardwalk in Rehoboth Beach, all the way down the coast to Bethany Beach and Fenwick Island and even into Ocean City, Maryland.
It's a traditional, family-friendly event at the Delaware and Maryland beaches, and one the masses never seem to tire of. So grab the family, put some clubs in everyone's hands and prepare for a couple of hours of fun at any of the region's fantastic putt-putt golf courses.
And if you brag about getting a hole in one, but really didn't, nobody's going to know. Just enjoy the day!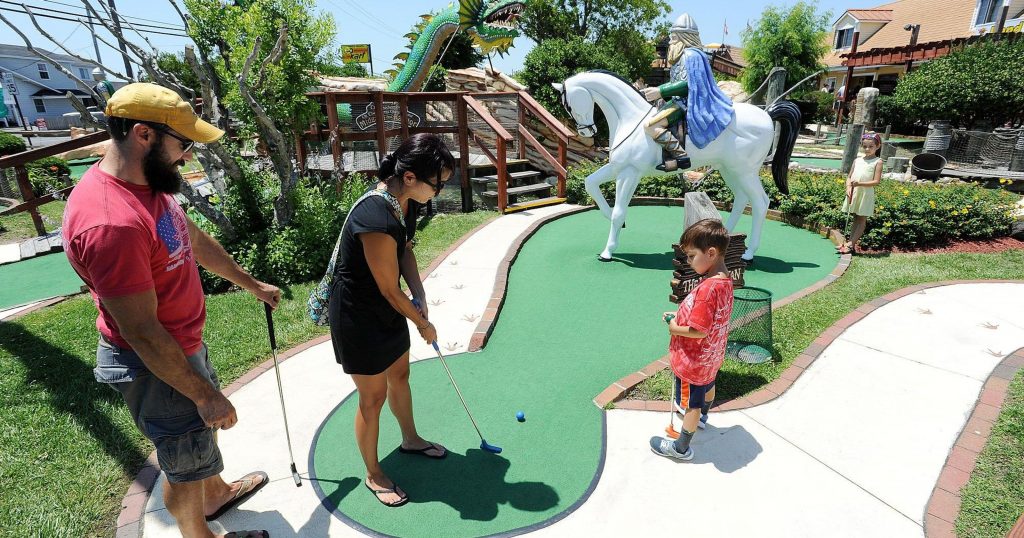 Delaware Online Photo
Ice Cream Shops. Coastal Delaware has some of the finest ice cream shops you'll find anywhere in the mid-Atlantic.
Some of our favorites include Hopkins Farm Creamery on Route 9, just west of Five Points, King's Ice Cream in Milton and Lewes, the Ice Cream Store in Rehoboth Beach, Kohr Brothers in Bethany Beach and Vanderwendes in Fenwick Island.
But there are others, to be sure, so just take a look around. The warm weather season is several months long, so you have plenty of time to try them all.

Fishing. With some fantastic state parks and an abundance of inland bays, rivers and streams, there's certainly no shortage of options in coastal Delaware when it comes to fishing.
Do so from the shore, from a small boat in the bay or, if you're really feeling adventurous, hire a boat and tackle some deep-sea fishing.
There are also several fishing tournaments throughout the season designed for children, with prizes and trophies handed out regularly. So keep a lookout online for more information on when and where these events will be held.
You can't beat the smile on a kid's face when he or she pulls in that first fish. And, with all of the options available to us here in coastal Delaware, there's no reason why your child can't experience that feeling too.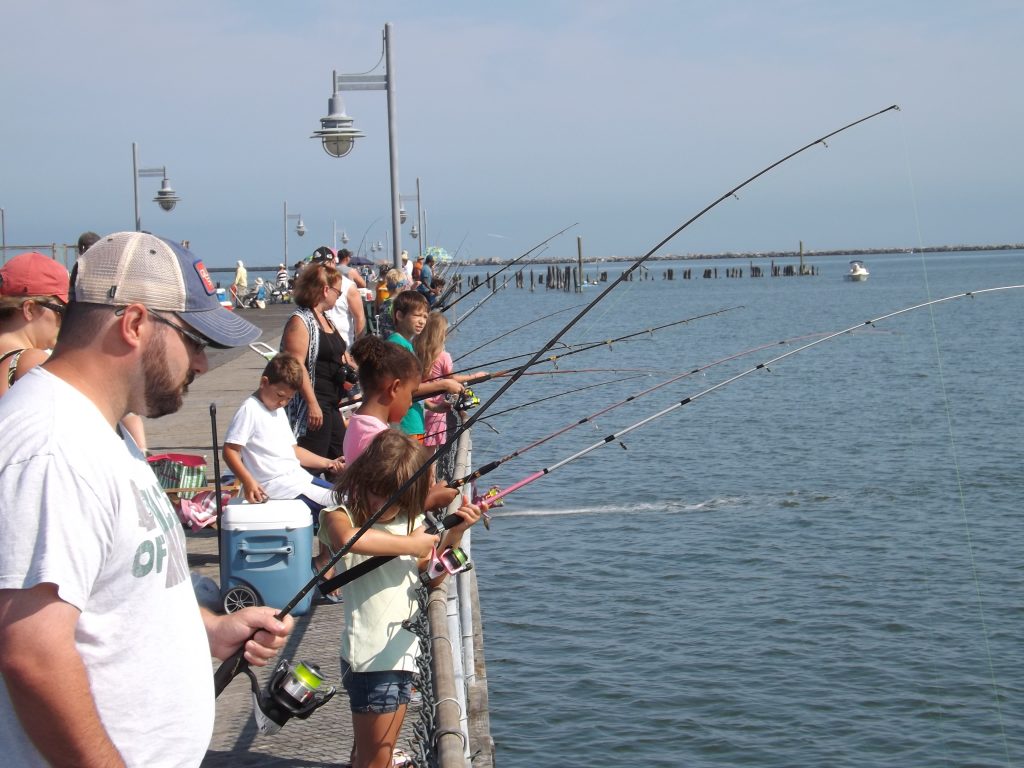 Delaware-Surf-Fishing Photo
Kayaking/Canoeing. As with fishing, there are lots of places in the coastal region where you can rent a kayak or canoe and head out on the water for the day. This includes many of our state parks, where the prices are reasonable and the scenery is pretty spectacular.
Some good places to start include Trap Pond State Park between Millsboro and Laurel, Coastal Kayak in Fenwick Island, Quest Kayak in Lewes and Delmarva Board Sport Adventures in Rehoboth Beach.
What's better than a day out on the water, right? And it's fun for the whole family.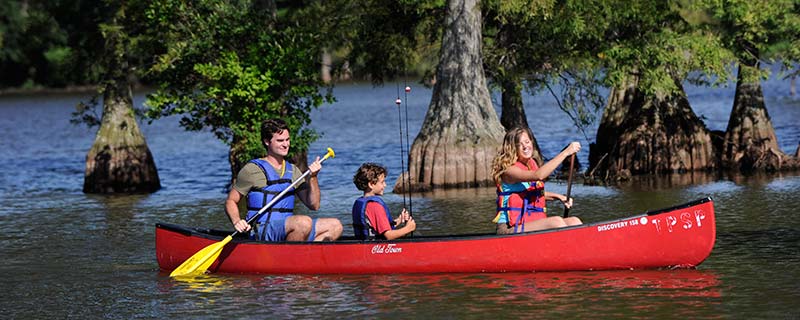 Bike Riding. The state of Delaware has placed a big emphasis on bicycling in recent years, so much so that the state is now ranked as one of the top areas in the country for this family friendly activity.
There are bike trails at Cape Henlopen State Park, the Junction & Breakwater Trail, Gordon's Pond and at several other locations throughout the region.
You can even ride your bikes on the Rehoboth Beach and Bethany Beach Boardwalks during certain times of the day, usually in the early morning and/or late evenings, or during the offseason.

Trampoline Park. There are a couple of fun trampoline parks in the area, one in Rehoboth Beach and the other a short drive west in the town of Delmar.
Your child is sure to have a great time in either, be it Shell We Bounce in the Lewes/Rehoboth area or Altitude Trampoline Park in Delmar.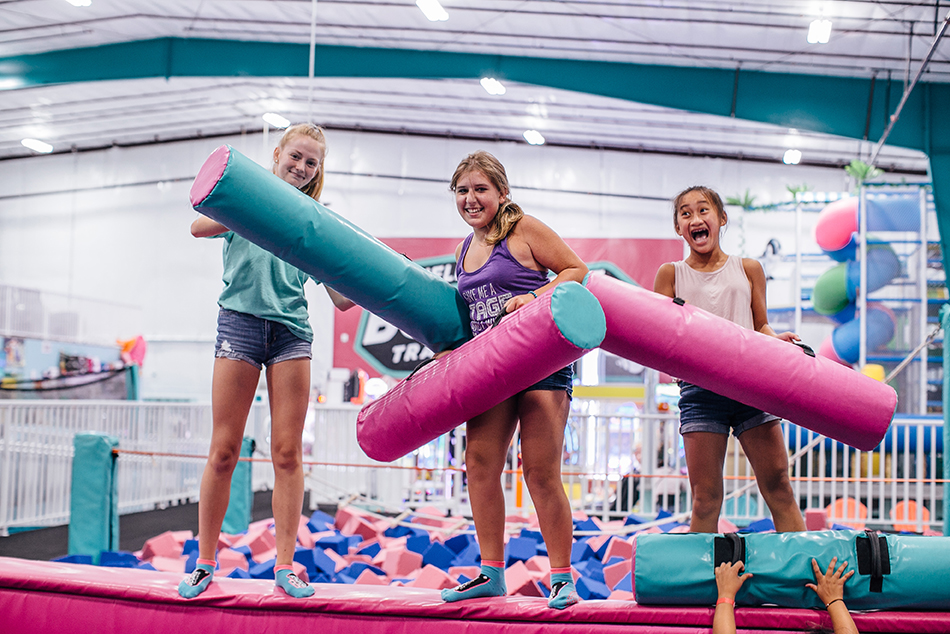 Summer Camp. There are several summer camps in the coastal region, all designed with the young ones in mind.
One of the more popular is the fabulous Camp Barnes, located near Bethany Beach. A free camp for youth throughout Delaware, this camp is run as an outreach program by the Delaware State Police, and is for children between the ages of 10 and 13.
The camp rotates weekly between a boy's camp and a girl's camp, and is great, safe fun for children from Delaware.
Visit www.campbarnes.net for more information.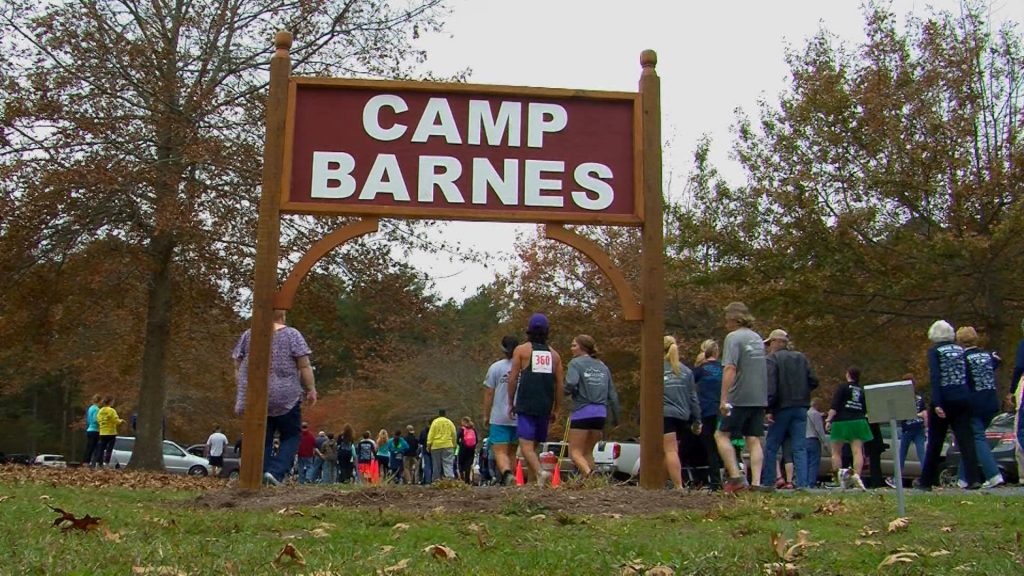 Delmarva Life Photo
So that's our "Top 10" list of fun things for children in coastal Delaware. What do you think of our list? Do you agree? Disagree? Are there things we left out that we shouldn't have?
Let us know what you and your children like to do here at the Delaware and Maryland beaches. We'd love to hear from you.
And keep visiting www.theoldfathergroup.com every week for the latest events and happenings taking place at the Delaware and Maryland beaches.
Enjoy your weekend everyone!