Got A Hankering For Some BBQ Near Rehoboth Beach? Here Are Our Favorites!
Posted by Dustin Oldfather on Thursday, July 15, 2021 at 9:00 AM
By Dustin Oldfather / July 15, 2021
Comment
During the summer months at the Delaware and Maryland beaches, many of us fire up the old barbecue grill and prepare some mouth-watering meat options for the entire family.
And really, is there anything that pairs better with the warm summer weather than some tasty barbecue, a generous helping of Delaware sweet corn and a frosty adult beverage?
Well okay, there's also fried chicken, fresh seafood, a tasty bottle of local wine, farm fresh watermelons...
But we digress, we're here today to talk about the best barbecue places at and near Rehoboth Beach. And boy are there some good ones!
Some are sit down restaurants, some are stops on the side of the road, some are food trucks. But they all have one thing in common, and that's some of the most mouth-watering, delicous and messy barbecue at the beaches.
We have several great spots to tell you about and you really can't go wrong with any of them. So let's jump right into it!
Fat Daddy's BBQ & Grille (Georgetown)
Whenever we ask a local about great barbecue places in the area, this one always seems to top the list.
And for good reason. If you have a craving for some of the most mouth-watering barbecue at and near the Delaware and Maryland beaches, then you simply must take the short drive to Fat Daddy's in Georgetown.
But be sure to come hungry! Because not only is the barbecue at Fat Daddy's out of this world, but the side dishes also get rave reviews.
You can check out Fat Daddy's full menu here. But a few of the highlights include the beef brisket, the homemade sausage, the stuffed burgers and the rack of ribs.
Fat Daddy's BBQ & Grille is open Thursday through Saturday from 10 a.m. until 8 p.m., and on Sunday from 10 a.m. until 6 p.m. The restaurant is closed Mondays through Wednesdays.
Learn more about Fat Daddy's at www.fatdaddysbbqde.com or call 302-956-0381.
Henlopen Smoke (Food Truck)
The Henlopen Smoke food truck can be found out and about throughout the year and is known for some kick ass barbecue options. But on Fridays through Sundays between June and September, you can find them at the Brimming Horn Meadery on Route 9 between Lewes and Georgetown.
The owners of Henlopen Smoke actually traveled to Texas to hone their craft before building a custom smoker and launching their own unique barbecue business in coastal Delaware.
Catering options are available if planned in advance, with the hopes of a full sit-down restaurant sometime in the future.
Okay, on to some of the menu choices at Henlopen Smoke. You really can't go wrong with anything on the menu, but try the bratwurst, the spare ribs, the pulled pork and/or the "half yard bird combo."
Learn more about Henlopen Smoke by visiting their Facebook page.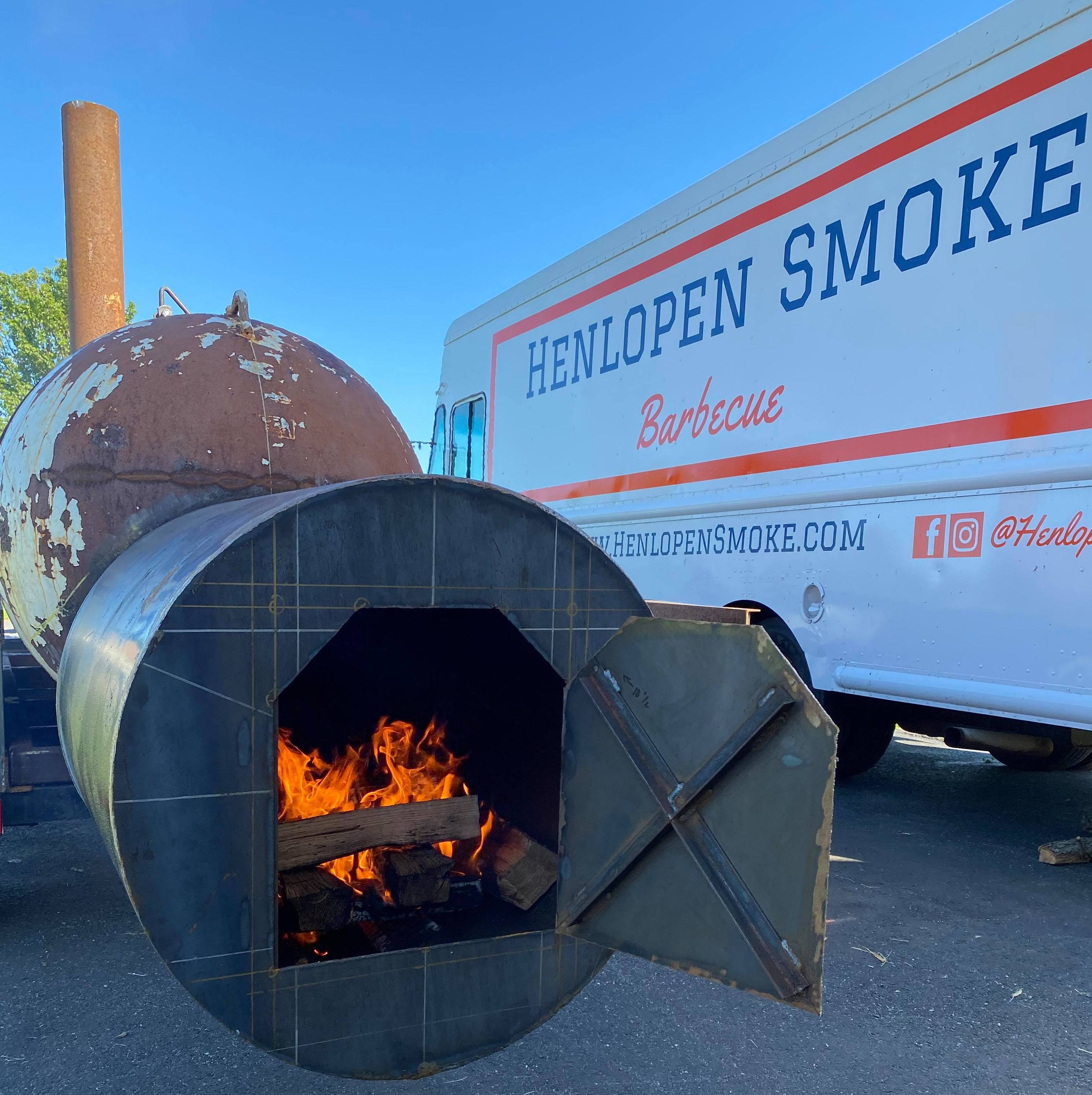 Smokin D'z Real Pit BBQ (Milton)
A family owned business that's been around for a few years now, Smokin D'z (yes, there's supposed to be a Z there), is open every Saturday and Sunday between May and October and is known for some delicious smoked barbecue.
Favorite menu items at Smokin D'z include the delicious baby back ribs, the pulled pork sandwiches and the barbecued chicken.
It's located at Dawn's Country Market, on the corner of Route 1 and Cave Neck Road in Milton.
Smokin D'z is also big in the catering business. So if you're planning an event and want some of the region's finest barbecue, give them a ring at 302-542-9931 or visit them online at www.smokinzbbq.com.
The BBQ Doctors (Catering)
If you want some crazy good barbecue for an event you're hosting, well the Doctor is In!
Described as "hog wild, country style catering," Doc Granville "Shorty" Hall, his wife Blanche and their gang of barbecue masters have more than 35 years of catering experience and feature some of the best damn barbecue east of the Mississippi.
The BBQ Doctors are most well known for Shorty's mouth-watering pulled pork as well as the zesty hot sauce that comes with it.
But that's really just the beginning! The Doc's menu is overflowing with tantalizing choices, ranging from barbecued ribs, whole grilled pigs, grilled roast beef, barbecued pit beef and a whole lot more.
Side dishes include Blanche's specialties of macaroni and cheese and pasta salad, as well as a dozen or so other delicious delicacies.
For more information or to book the BBQ Doctors for your next event, call Shorty today at 302-684-1607.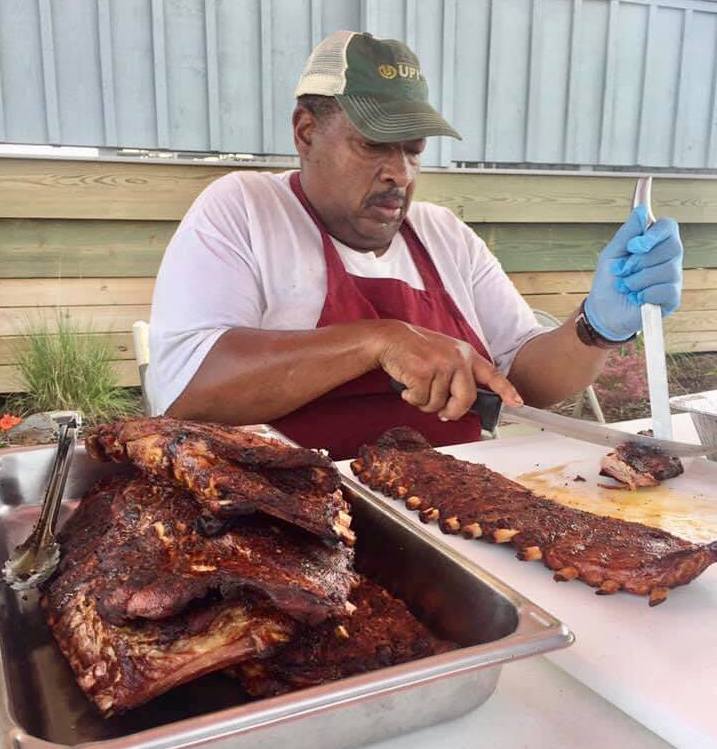 Bethany Blues (Bethany Beach and Lewes)
When you want to actually sit down and enjoy some great barbecue in a restaurant type setting, Bethany Blues in both Bethany Beach and Lewes is a great choice.
Voted the "Best BBQ Downstate" by Delaware Today magazine for 2021, Bethany Blues has been around for a number of years cranking out some great barbecue at the Delaware beaches.
Bethany Blues is located on northbound Route 1 in Lewes and on North Pennsylvania Avenue in Bethany Beach. Their menu choices change on occasion, but the popular barbecue options are a mainstay.
Dinner choices include pulled pork, beef brisket, smoked andouille sausage and cajun smoked turkey.
Or you can do what we do and try it all with the "Ultimate BBQ Sampler," which comes with pulled pork, Carolina pork, beef brisket, barbecued chicken, smoked sausage, cajun turkey and quarter racks of both St. Louis and Baby Back Ribs.
As the restaurant likes to say, it's "three pounds of bbq fun!"
Learn more about Bethany Blues and view the full menu at www.bethanyblues.com.
Annabelle's BBQ & Creamery (Ocean City)
Ah Annabelle's, it's hard to know where to begin with this relative newcomer to the coastal region's barbecue scene.
Located on Coastal Highway in Ocean City, Annabelle's cranks out top notch barbecue every day and has quickly become an incredibly popular option at the beach.
You can get a visual quick peak at the great barbecue via the WMDT-TV video clip below. But it's safe to say that you need to walk in the doors of Annabelle's with a good hunger and an even better appetite.
Okay, some of the top choices at Annabelle's. There are many, but we'll try to single out at least a few of them.
You really can't go wrong with anything on the menu, but we recommend trying the beef brisket, the St. Louis ribs, the great selection of sausages and, particularly if you're going at lunch time, the sandwich selection is out of this world.
Oh and we are on Delmarva, so don't forget about the chicken!
Learn more about all of the great mouth-watering barbecue choices at Annabelle's by visiting www.annabellesbbq.com.
Lil' Bitta Bull (Cambridge)
Okay, this one is a little bit of a drive from the beaches. But it kept showing up on our survey, so we decided to check it out.
Located on Race Street in Cambridge, Lil' Bitta Bull has a number of great barbecue choices, but is most well known for its brisket and wood pit barbecue.
Now a full sit-down restaurant, the popular eatery started out as a food truck and expanded due to its popularity among the barbecue loving public.
A quick visit to Lil' Bitta Bull's Facebook page shows they're only open Wednesdays through Saturdays. But it also revealed the following tidbit that we're definitely going to need some more information about.
"Due to finishing our new Axe Throwing Facility, we've changed our hours and may have a scaled down menu for a limited time."
We're not exactly sure what an "Axe Throwing Facility" is, but it seems like a good thing to check out the next time we're in the Cambridge area and have a hankering for some good barbecue.
Call 443-205-2219 or email [email protected] to learn more about this popular barbecue eatery in nearby Cambridge.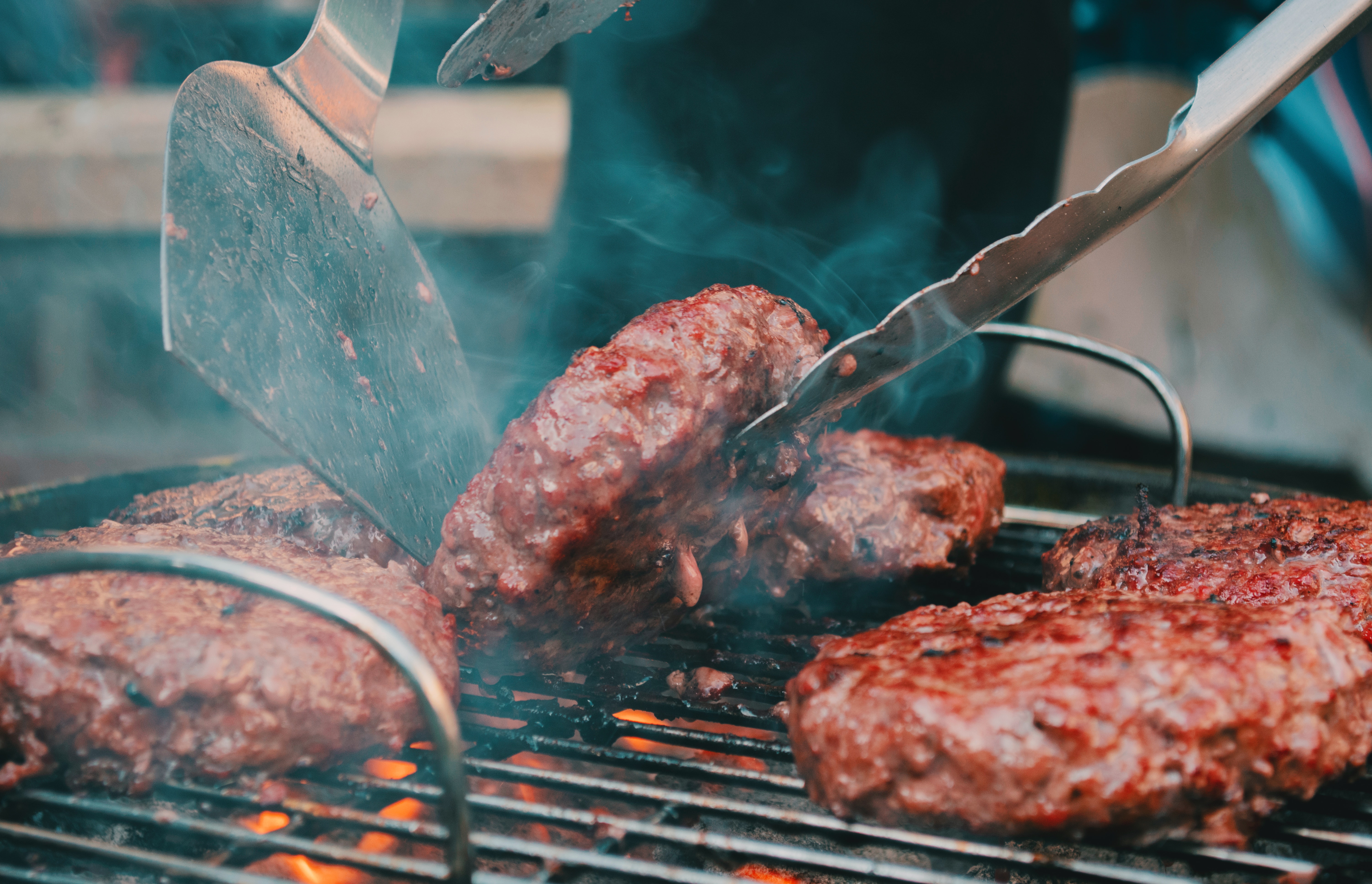 So that's our Top 7 choices for mouth-watering barbecue at and near Rehoboth Beach.
What do you think? Do you like our choices? Did we miss any that you think should be on the list?
Let us know and be sure to keep following us here on theoldfathergroup.com for much more great content about the Delaware and Maryland beaches.
Have a great day everyone!