Best Beaches Near Rehoboth Beach [2022 Guide]
Posted by Dustin Oldfather on Tuesday, July 12, 2022 at 9:16 AM
By Dustin Oldfather / July 12, 2022
Comment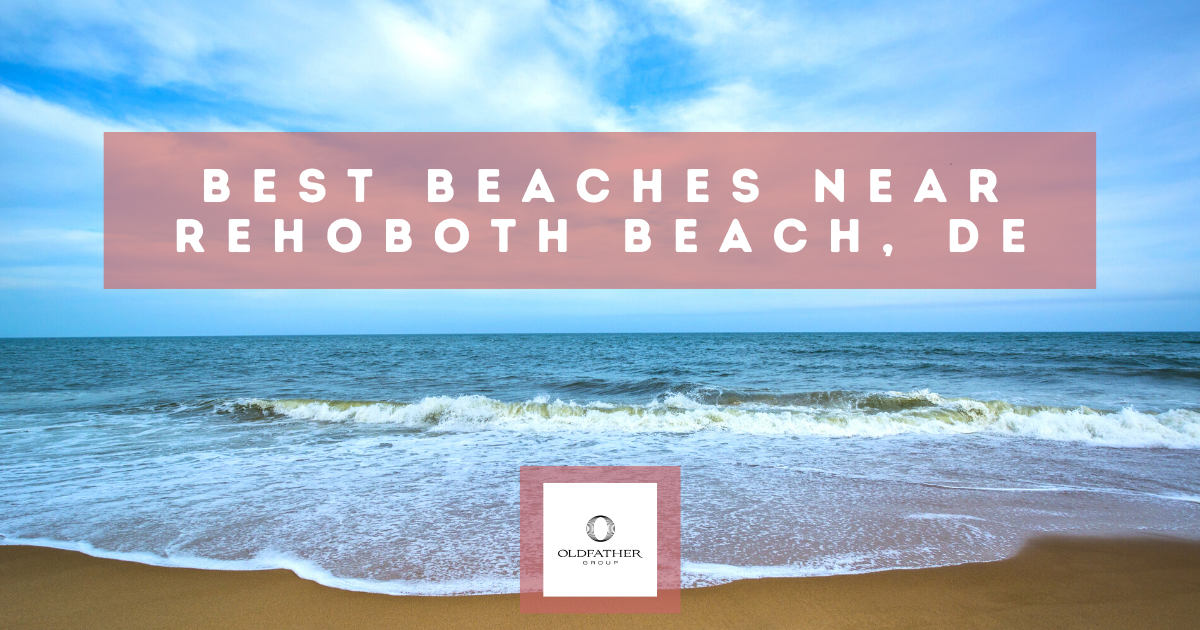 Living in Rehoboth Beach's waterfront homes is very popular, as many residents are attracted by the amazing ocean views and proximity to the shore. Widely known for its historic mile-long boardwalk filled with entertainment, food, and attractions, there is an array of fun things to do in Rehoboth Beach throughout the year.
There's no denying that water recreation is abundant here, and the sparkling sea beckons to those who appreciate the soothing sights and sounds it offers. Learn more below about the amazing beaches near Rehoboth Beach to soak up the sun and the salty sea breezes.
Dewey Beach
Dewey Beach Amenities
Close to shops and diners
Regular events and concerts
Annual festivals
Water sports
Looking for a spot somewhat quieter than Rehoboth Beach's busy sands? Just across the way lies Dewey Beach along the pristine bay, which is smaller and sometimes offers calmer waters. Many love coming here because it's close to numerous quaint shops and diners as well.
The Dewey Beach community hosts special events and live concerts regularly in addition to annual festivals like the Fiddler's Festival and the Elvis Festival. Summers bring about nightly shows, bonfires, and a weekly free movie night. Yoga workshops, lifeguard certification courses, and environmental sustainability classes are also held here.
Water sports enthusiasts can bring or rent pontoon boats, kayaks, jet skis, and stand-up paddleboards. It should be noted that the parking regulations are strictly enforced, and spots can be challenging to find, so early arrival is recommended.
Dewey Beach Additional Information
Parking Meters: Hourly meter rates $2.50 Monday–Wednesday, $2.50–$3 Thursday–Sunday
Parking Permits: Required during summer / daily, weekend, weekly, and season permits available
Delaware Seashore State Park
Delaware Seashore State Park Amenities
Snack bars
Chair and umbrella rentals
Surfing
Fishing
Trails
There are several beaches located within the Delaware Seashore State Park. However, the two largest and most popular have certified lifeguards on duty from 9 a.m.–5 p.m. during peak seasons and weekends. There are bathrooms and a couple of snack bars onsite, and chairs and umbrellas can be rented along the beaches.
Many come here to surf along the dedicated beach along the northern expanse of the park and other spaces declared safe zones for the sport. Another beach area is strictly for fishing, and a boat launch can be used for a small fee.
If the beach is full or a break is desired, hit one of the trails amid the massive park. To ensure access to the beaches and trails for all, there are Mobi-Mats and power chairs that can be picked up at the Towers Ocean fronting the sea.
Delaware Seashore State Park Additional Information
Phone: 302-227-2800
Hours: 8 a.m.–Sunset
Entrance Fees: In-state $5 daily / Out-of-state $10 daily
Deauville Beach
Deauville Beach Amenities
Boardwalk
Dolphin and whale sightings
Tennis and pickleball courts
Chair and umbrella rentals
Deauville Beach tends to be less crowded during the week, but can get a bit packed on summertime weekends. The boardwalk is just a short walk away, making it a great destination for those wanting to experience more than just water outings. However, relaxing on the beach here sometimes results in dolphin and whale sightings, which delights those on the shore.
The beach features tennis and pickleball courts in the parking lot, where there are also bike racks and portable toilets. There are lifeguards on duty, and chair and umbrella rentals are available. Deauville is fairly quiet, and most of the action in the water involves swimmers, kayakers, and paddleboarders.
Deauville Beach Additional Information
Phone: 302-227-3598
Parking Meters: Hourly meter rates $2–$3
Parking Permits: Required during summer / daily permits available
Bethany Beach
Bethany Beach Amenities
Boardwalk
Bethany Surf Shop
Watercraft rentals
Take in the sights of massive grass-spotted dunes while traversing the half-mile-long boardwalk at Bethany Beach. This is a fairly busy place for locals to hang out, as there are many shops, food vendors, and rental places for water gear right on the shoreline.
The Bethany Surf Shop is a fast and affordable place to pick up just about anything needed to have a successful beach day. A little further down the beach are outfitters that offer rentals for kayaks, bicycles, jet skis, and paddling gear. It should be noted that surfing is only permitted at designated times.
Summer in the Bethany Beach community is always popping with festivals, movies on the beach, bonfires, and special events that are often free to the public. All public parking spaces are within two blocks of the beach but are generally full by 10:30 a.m., so plan ahead.
Bethany Beach Additional Information
Parking Meters: Hourly meter rate $2.50
Parking Permits: Required during summer / daily, three-day, and weekly permits available
Cape Henlopen State Park
Cape Henlopen State Park Amenities
Bathhouse
Concessions
Basketball courts
Disc golf course
Fishing pier
Swimmers truly seem to have a preference for Cape Henlopen State Park, as it has many conveniences, lifeguards, and sporting amenities. The bathhouse has showers, and there are foot-washing stations dotting the beach. The concessions area has a vast number of options, and umbrellas and chairs can be rented directly on the beach.
The park also offers visitors places to play basketball, and there is a fantastic disc golf course. Nature-seekers can spot a good amount of local wildlife along the two 3-mile hiking trails frequented by dog walkers, joggers, skaters, and cyclists. Of course, the fishing pier allows for some exceptional land-based fishing.
Another treat at Cape Henlopen State Park Beach includes the opportunity to hike up to the top of an observation tower that remains from World War II. Visitors can explore the Fort Miles Historic Site's old bunker. Want to learn more? Head to the Seaside Nature Center to participate in educational programs.
Cape Henlopen State Park Additional Information
Phone: 302-645-8983
Hours: 8 a.m.–Sunset
Entrance Fees: In-state $5 daily / Out-of-state $10 daily
Lewes Beach
Lewes Beach Amenities
Gentle slope
Restrooms
Showers
Concession stand
Beach chair and umbrella rentals
Lewes Beach is a favorite due to its gentle slope and surf. There's almost no undertow, and there are lifeguards to keep a close watch on swimmers here during the summer. Amenities include restrooms and showers, and the concession stand carries popular finger foods and sodas. Beach chair and umbrella rentals are available.
Cool things to see in the Lewes community include the historic bay beacon at Harbor of Refuge and the Delaware Breakwater. For swimming, boating, and fishing thrills, head to Lewes Beach.
Lewes Beach Additional Information
Rehoboth Beach
Rehoboth Beach Amenities
Boardwalk
Boutiques
Restaurants
Arcades
Amusement park
Surfing and surf fishing
This list wouldn't be complete without mentioning Rehoboth Beach's eponymous beach! Enjoy the boardwalk's boutiques, restaurants, arcades, amusement park, and more before heading down to the sandy shore. The beach hosts organized sports activities and has designated areas for surfing and surf fishing, with lifeguards on duty during the summer. Revel in the summertime energy or take a stroll along the waves during the quieter off-season. Feel the soft sand between your toes and keep an eye out for dolphin sightings.
Rehoboth Beach Additional Information
Parking Meters: Hourly meter rates $2–3 during summer
Parking Permits: Required during summer / daily, weekend, weekly, and season permits available
Enjoy Coastal Living in Rehoboth Beach
From the water sports, great fishing, and pristine coastlines, who wouldn't be happy in this lovely New England community? With dozens of beaches to choose from, there's plenty to explore. Consider moving to Rehoboth Beach and savor the beach lifestyle year-round. Sunbathe and splash in the water during the summer, then turn around and enjoy the peaceful tranquility the beaches gain when the summertime crowd departs. Whatever beach experience one desires, Rehoboth Beach can supply.
If you're looking for a place in Rehoboth Beach to call your own, contact The Oldfather Group of Compass RE at 302-202-9855 to get in touch with Rehoboth Beach real estate agents who can help you find your perfect beachside home today.
Google Reviews
⭐⭐⭐⭐⭐ "We were looking for a vacation home near the Delaware beaches from out-of-state and were very fortunate to be connected to Mariya Oldfather through a Compass agent that we worked with on another property in our home state. We could not have found a more knowledgeable, professional, patient, and responsive group than Mariya and her team. Since we did not reside locally, we really depended on them to familiarize us with the area and educate us with regard to the challenges of a very hot Sellers market. Despite the low inventory, Mariya was able to match our long list of "must haves" with several good options. When we found the home we wanted, Mariya provided exceptional guidance and advice from the initial offering through Closing. The Oldfather Group is a "one-stop shopping" experience for every aspect of the home purchasing process. Mariya's connections with other brokers, financial experts, home inspectors, and home improvement contractors is unsurpassed. Lori and Dee were two incredible members of the team who made everything go smoothly and helped us to reach an amazing outcome. We would definitely work with Mariya and her team again and highly recommend them to anyone looking to buy or sell a property in the communities that they serve." - Bruce Cohen

on Google
⭐⭐⭐⭐⭐ "I can't tell you how lucky and how much we appreciate Anji. She was able to show us three properties with a short notice and provide valuable information on each property. If you're a buyer in this market you better move fast and Anji advised us to move quickly if we wanted to purchase the property we selected. We have a contract on our new vacation home near the beach thanks to Anji. Anji is simply the best." - Bob Rios

on Google
You can find more of our reviews
on Google
. We have a 4.9-star rating and 633+ reviews.