I Scream, You Scream, We All Scream for Ice Cream - At These Southern Delaware Sweet Spots.
Posted by Dustin Oldfather on Friday, July 16, 2021 at 2:45 PM
By Dustin Oldfather / July 16, 2021
Comment
There's perhaps no better treat on a hot coastal Delaware summer night that a dip of great tasting homemade ice cream.
We don't mean that ordinary, run-of-the-mill ice cream you can get at any grocery store, but the kind that is fresh and made on-site here at the Delaware beaches.
Sure, there are plenty of restaurants that sell ice cream, and plenty of local favorites like Dairy Queen and Friendly's that sell mouth-watering delicacies.
But for our purposes today, we're talking about that rich and creamy homemade variety that tastes special because…well, it is special.
If you live here or are a frequent visitor to the area, you'll likely recognize many of the spots on our list. Chances are you've even been to one or more at some point over the years, maybe even recently.
But we also bet you never get tired of them, nor do we. And there might be one or two that you haven't heard of and would like to experience.
If you're relatively new to southern Delaware, then have we got a treat for you, and we mean literally. Beginning with King's Ice Cream many decades ago, coastal Delaware has built a reputation for having some pretty great ice cream stores and shops.
And why not? I mean, we are at the beach right? What hits the spot better after a long, hot day on the beach that a double decker ice cream cone with the family?
So, here we give you the latest installment of top things to see and/or do at the Delaware beaches by focusing on some of the area's sweetest hot spots.
We dare you to read this and not get the hankering for a cone, sundae or milkshake. Good luck!
Hopkins Farm Creamery
First on our list is one many of you have probably visited in the past; it still is and always will be one of our all-time favorites.
If you don't know where the creamery is located, look for the gigantic ice cream cones painted on the silo along Route 9, just before you get to Five Points in Lewes.
It's the largest dairy farm in Delaware, so you'll probably smell it before you see it, as there are more than 1,000 cows on the property. Hopkins Farm Creamery opened in 2008 and today features more than 25 flavors, and anything you order was probably made no more than 48 hours before.
Hopkins even has a mobile unit now that can be seen all throughout Sussex County.
For more information on one of our favorite farms and ice cream shops, visit www.hopkinsfarmcreamery.com.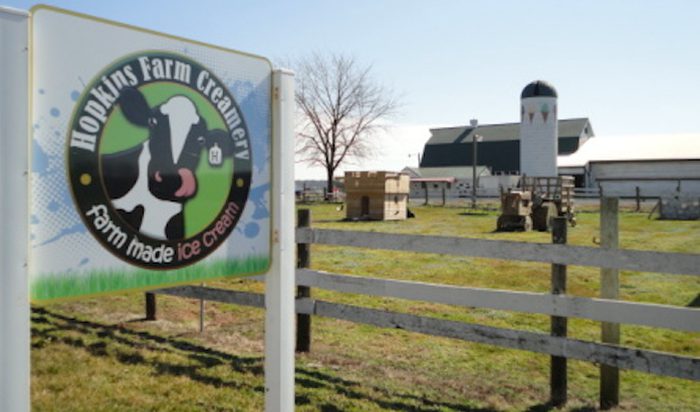 King's Ice Cream
With two locations in Lewes and in Milton, King's Ice Cream dates back to 1972 and was really the first of the locally owned and operated ice cream stores to open its doors.
Today, the sweet flavors that founder Earl King originally brought to his general store in Milton more than four decades ago have put a smile on many a face in coastal Delaware.
King's today features more than 25 flavors. And don't forget the milkshakes and malts – they are to die for!
To learn more about King's Ice Cream, visit www.kingshomemadeicecream.com.
The Ice Cream Store
If you live in coastal Delaware, or visit here before the start of the traditional summer season each year, you've probably seen the wild and wacky flavors The Ice Cream Store promotes each spring, looking for the new "flavor of the year."
Indeed, reading down the menu of this crowd favorite is bound to give you a chuckle or two. Flavors available at this store on Rehoboth Avenue, near the Boardwalk, include such crazy creations as "Bacon de Leche," "Beer Ice Cream," "Better Than Sex," "Booger," "Cereal Killer," "Dirty Snowball" and "Looks Like Viagra."
And if you haven't noticed, we didn't even get halfway through the alphabet. There are lots more crazy flavors that begin with the other 14 letters of the alphabet…oh what the heck, let's do a few more.
There are also "Motor Oil," "Stiffler's Mom," "Third Trimester" and "Zombie." You get the idea – this is a fun ice cream shop, with locally made product, that doesn't take itself too seriously.
Learn more at www.rehobothbeachicecream.com.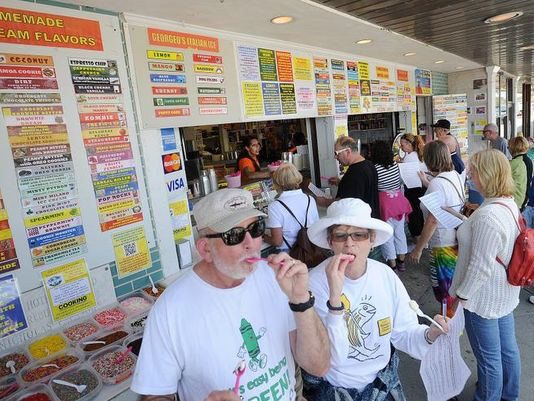 DelmarvaNow.Com Photo
Vanderwende's
To sample the tasty creations at this southern Delaware creamery, you'll need to take a bit of a drive over to Bridgeville. But we promise it will be worth it when you get there.
Vanderwende's latest flavors are "Cow Tracks," "The Bomb" and "Holy Cow," but there are plenty of tasty treats on the menu at this nearly 4,000 acre farm located on Route 404 just west of the town of Bridgeville.
So, the next time you come across the Bay Bridge on your way to the Delaware beaches, stop in and have a cone at this fantastic southern Delaware farm. The Vanderwendes also have a mobile unit, so be on the lookout for that.
For more information on Vanderwende's, visit www.vanderwendefarmcreamery.com.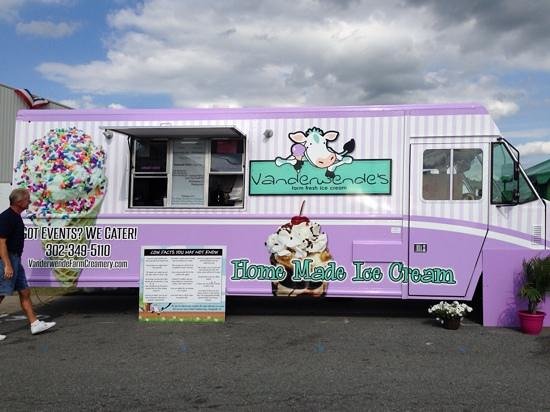 The Frozen Farmer
Also located on Route 404 in Bridgeville, the Frozen Farmer brings farm fresh flavors to your favorite confections, "combining them in ways that celebrate the fresh and bring on the yum."
All of their concoctions are made with locally grown fruits and vegetables, including smoothies, popsicles, ice cream and sorbet. The Frozen Farmer just opened in 2015, but has quickly gained a devoted following in Sussex County.
There are locations at the home farm produce market and at Heritage Shores on Route 13, as well as a mobile food truck that can be found at many events throughout the region.
Visit www.thefrozenfarmer.com for more information, including where the mobile food truck will be next.
So there are a few of our favorites for locally produced ice cream and frozen treats. There are more, to be sure, but these are our favorites and ones we think you will really enjoy.
Happy eating! And enjoy the rest of your summer here in beautiful coastal Delaware.