The Best Neighborhoods in Rehoboth Beach, DE
Posted by Dustin Oldfather on Monday, April 4, 2022 at 11:25 AM
By Dustin Oldfather / April 4, 2022
Comment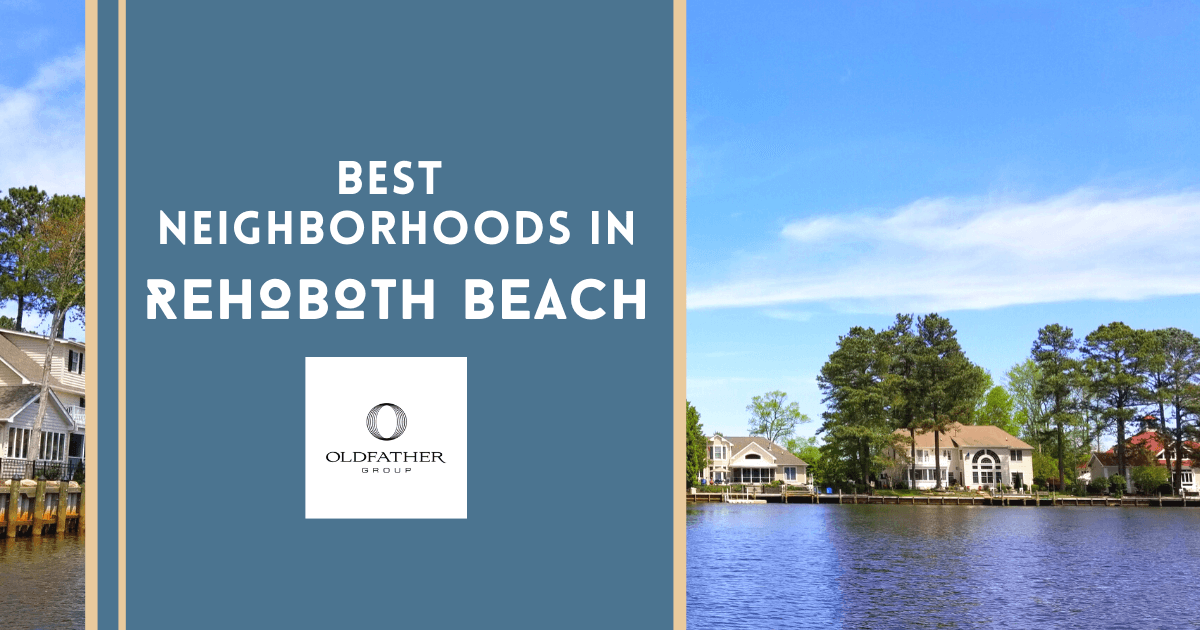 6 of the Best Neighborhoods in Rehoboth Beach, DE
Rehoboth Beach is known as the most visited city in Delaware—look closer at all it offers, and it's easy to understand why this is the case. Its beaches are such a major attraction that many people plan destination weddings here. The Rehoboth Beach community provides the quintessential beach experience, from its gorgeous ocean views through its famous boardwalk. Everyone can enjoy things to do in Rehoboth Beach, from its fun carnival games all the way to its fine dining.
While there are several neighborhoods contained within Rehoboth Beach, this small city is tight-knit. After all, the beaches and boardwalks run through and tie the city together.
Those looking to visit or move to Rehoboth Beach can use this guide to find what our local real estate agents consider the best neighborhoods in Rehoboth Beach, Delaware.
South Rehoboth
The lovely South Rehoboth neighborhood is tucked away between the southern side of Rehoboth Avenue and Silver Lake. Silver Lake is home to blue herons, along with various other birds, fish, and turtles.
Waterfront homes and townhomes abound here since the furthest distance from the shore is three blocks, making South Rehoboth a fantastic spot to wake up early and catch the sunrise. Sidewalks run throughout the entire neighborhood and are well maintained, helping people get outside and walk around the neighborhood.
One distinctive feature of this neighborhood is the many gazebos along the lake, giving people the opportunity to stop and take in the scenery, eat a light meal, or even lounge with a good book.
The boardwalk of South Rehoboth is known for being very lively while still somewhat quaint. There's a lot of summer arcade fun to be had here, which taps into Americana beach nostalgia. Zelky's is one particularly popular South Rehoboth beach arcade spot, with lots of games—but perhaps none as famous as their ten-cent skeeball.
The southernmost point of South Rehoboth is right by Queen Street, with Poodle Beach on the ocean.
North Rehoboth
North Rehoboth Amenities
Grove Park, which includes an updated playground and picnic facilities
North end of Rehoboth Boardwalk
Walk over to the northern side of Rehoboth Avenue and keep going all the way to the town of Henlopen Acres to stroll through the North Rehoboth neighborhood. The lake du jour here is Lake Gerar, although the entire neighborhood is within walking distance from the beach.
Walking around North Rehoboth provides a quaint experience of relaxed beach town life. The Atlantic Sands Hotel and the Admiral on Baltimore are major hotel options, conveniently offering meeting accommodations and the ultimate conference or work retreat. While South Rehoboth is the home of carnival fun, higher-end boutiques and dining are also here.
Henlopen City Oyster House is one of the most popular restaurants in the area, serving fresh farm-to-table food that's delicious and beautiful. The beer, wine, and cocktail menu here is on-point as well, perfectly complementing the dishes on the menu and the current season. Many fans of HCOH also recommend The Blue Hen, found on the ground floor of the boutique Avenue Inn Hotel and offering premium food and drinks.
If you're looking for other places to eat, go to DiFebo's for Italian food, Cafe Azafran for Mediterranean food, longstanding eatery The Pines for classic American food any time of the day, or the Backporch Cafe for seafood.
Sawgrass North
Sawgrass North Amenities
Two clubhouses with pools, exercise equipment, and meeting spaces
Tiki bars for cocktails and socializing
Courts for tennis, pickleball, bocce ball, and basketball
Tabletop shuffleboard and corn hole
The Sawgrass Homeowners' Association joins together the entire group of Sawgrass North gated community homes. This is a community of homes, with few opportunities for visitors unless they hang out with residents.
Gently wooded landscaping surrounds mostly single-family units and townhomes nestled within its confines.
Although not found within Sawgrass North, there are many attractions just a short distance away. Myriad independently owned local restaurants can be found nearby, such as Bottle and Cork just over in the Dewey Beach community or Bluecoast Seafood Grill over in the Bethany Beach community.
Miyagi Ramen Bar is a six-minute car ride away from the heart of Sawgrass North. For anyone looking for something big to do, aside from the beach and several hiking trails in Sawgrass North or immediately next door, Cape Henlopen State Park is also just a few minutes away.
Rehoboth Beach Yacht & Country Club
Rehoboth Beach Yacht & Country Club Amenities
Outdoor pool with an array of special offerings, including scuba lessons and a children's pool
40,000-square-foot clubhouse with a ballroom for hosting events
Four tennis courts and a pro shop
Snack bar providing refreshments to all athletes using the facilities
Built in 1966, the Rehoboth Beach Yacht & Country Club neighborhood offers tree-lined streets dotted with over 900 residential homes. The community feels a world away from the bustling boardwalk and beaches of Rehoboth, even though it's located with easy access to all the beachfront amenities.
A canal runs through the neighborhood, allowing waterfront access via boat throughout the community.
This neighborhood is all about residential life and the great outdoors. It's found right on Johnson Neck, a major local cape, and Bald Eagle Point, close to several other capes.
One central tenet of this neighborhood is conservation. Even the developers who built this community strove to preserve the trees found on the property, protecting the original natural landscape. Rehoboth Beach Yacht & Country Club is found just west of Route 1 and is within the Cape Henlopen School District.
North Shores
North Shores Amenities
Bath & Tennis Club, including thousands of feet of beach directly on the Atlantic Ocean
Gordon's Pond Wildlife Area, with premium views of natural wildlife
Gordon's Pond Bird Sanctuary
Henlopen Hotel, a landmark as Rehoboth's first hotel
Just north of Henlopen Acres and right next to Henlopen Cape State Park, the North Shores neighborhood is on both the Lewes-Rehoboth Canal and the Atlantic Ocean. There are only about 300 homes in this small community, composed mostly of single-family homes, condos, and townhouses.
The North Shores community is known for having fantastic waterfront views while providing peaceful solace from the busy boardwalk.
North Shores was created in 1966. It has access to boat strips and a marina, making Rehoboth Beach water sports easily accessible.
This is yet another neighborhood that attracts visitors who love the outdoors. One of the best experiences in North Shores is to go for a hike or bike ride along the Gordon's Pond Trail, admiring the landscape and keeping an eye out for all the wildlife in the area.
The Glade
The Glade neighborhood is found just east of Route 1, full of about 300 residences—including waterfront homes—that span the entire range of architectural styles.
One feature that draws people to the Glade is the direct access to downtown Rehoboth without the high traffic congestion found on the key highways leading in.
The community center is in the middle of the neighborhood, containing facilities for meeting, cardio fitness, weight-lifting, outdoor tennis, and swimming.
Local attractions include the Rustic Acres Farm Market, where fresh produce and other locally produced foods are readily available. The Delaware Coastal Highway is found right next to The Glade and connects to dining options like Matt's Fish Camp and shopping like Heritage Antiques Market.
As with other Rehoboth neighborhoods, residents in The Glade are zoned for the Cape Henlopen School District, which includes five elementary schools, two middle schools, and one high school. There are also a couple of private school options, including Delmarva Christian High School and Christian Tabernacle Academy.
Live Steps Away from the Sand in Rehoboth Beach
Rehoboth Beach is a very popular tourist destination. Many other areas would have suffered in the face of population influx and high tourist volume. The best neighborhoods of Rehoboth Beach have been cultivated in distinct ways to preserve the ties of the local community—and even strive to protect Rehoboth's natural landscape—is a testament to its vision.
The fact that these neighborhoods have stayed true to themselves speaks to the local strength and is a big reason why our local real estate agents feel these are the six best neighborhoods in Rehobeth Beach, DE.
Google Reviews

"It's our pleasure to recommend Oldfather Group to anyone wanting to buy or sell their home. Being new to the area and after having an extremely frustrating experience with another reality group in the area, we decided to give Dustin and the Oldfather Group a try. From helping us decide on a listing price, to prescreening buyers, through all the negotiations, and then handling all the legal issues and paperwork our overall experience was excellent. Attention to detail was superb as well as their quick response time to all our questions and concerns. We had an administrative assistant assigned specifically to our contract which helped a lot. Consequently, the settlement was a breeze. Over the years we have used many Realtors and unquestionably the Oldfather Group was the best." -Allen Sangree

"This team has it all. They're professional, knowledgeable and responsive. Looking to buy or sell a home, contact them today!" -Jon Cohen

"If you need to buy or sell, this is the agency to call! We had a very pleasant selling and buying experience with this highly experienced group. Our agent... was innovative, thorough, creative, knowledgeable and professional!!" -Deborah Von Stetten