Best Rehoboth Beach Outdoor Activities - 2022 Recreation Guide
Posted by Dustin Oldfather on Friday, July 2, 2021 at 9:35 AM
By Dustin Oldfather / July 2, 2021
Comment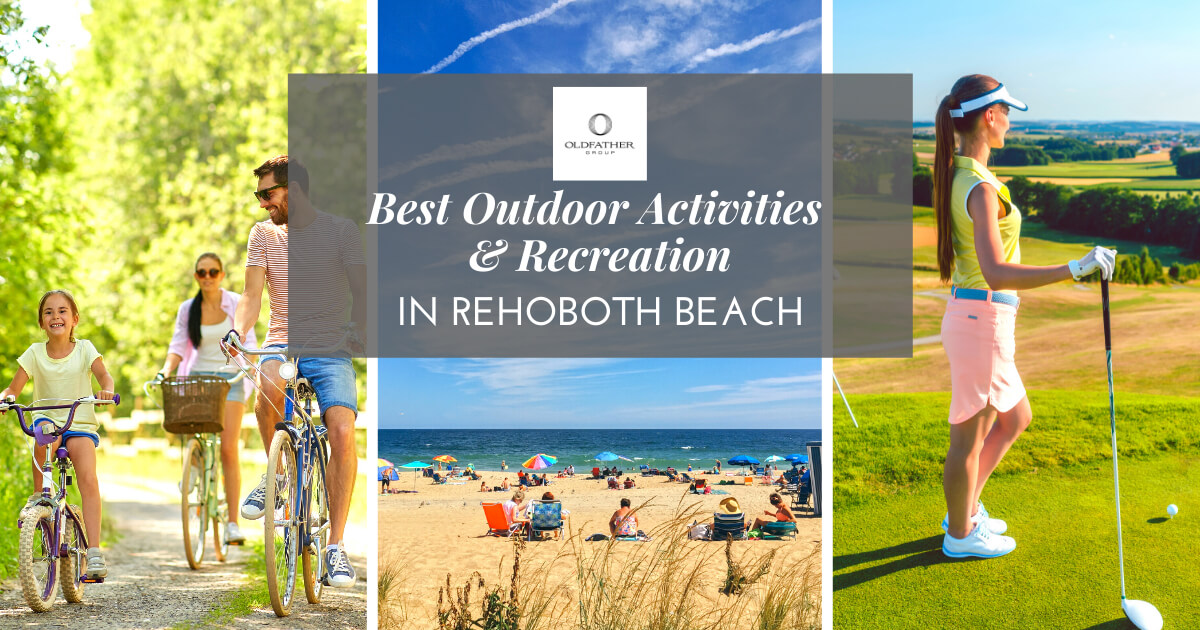 With the number of outdoor activities in the Rehoboth Beach community, residents can emerge from their homes throughout the year to enjoy the fresh sea air. Activities for all ages and skill levels are available throughout the area. Whether one's planning to move to Rehoboth Beach or just visiting, the plethora of activities ensures residents and tourists will never run out of fun things to do. Keep reading for a list of some of the most popular outdoor activities in Rehoboth Beach to have some fun in the sun.
Water Recreation in Rehoboth Beach
Rehoboth Beach Water Recreation Destinations
Alley-Oop
Coastal Kayak
Billy Slayer Sport Fishing
Delaware Seashore State Park
Rehoboth Beach
Being on the coast, water activities are plentiful in Rehoboth Beach. At Alley-Oop, expert coaches and instructors lead skimboarding, surfing, and skateboarding lessons. It's a great place for beginners or those who wish to advance their skills. No prior knowledge is required, and all equipment is provided at every lesson. However, guests are always welcome to bring their own gear if they already own it.
Coastal Kayak is a complete eco-tour service that provides kayaks, paddleboards, and sailboats for rent. The tours take visitors around the coast and showcase some of the hidden treasures in the area. Those who want instruction on how to improve their skills may also request private lessons.
Billy Slayer Sport Fishing offers half-day and full-day charters on a custom 47-foot Cabo Sportfishing yacht. The yacht is powered by twin 800 HP engines, which allow it to cruise at 27 knots and reach top speeds of 33 knots. Charter options include inshore, offshore, deep drop, shark, non-fishing, and overnight fishing.
Delaware Seashore State Park provides visitors with two ocean swimming areas. Lifeguards are on duty seven days a week during the summer from 9 a.m.–5 p.m. The park also features areas for surfing, fishing, clamming, and crabbing. Several locations within the park have accessibility features to allow everyone to enjoy the beaches.
And, of course, there's the eponymous Rehoboth Beach!
Rehoboth Beach Hiking & Biking Trails
Popular Rehoboth Beach Hiking & Biking Trails
Junction and Breakwater Trail
Gordon's Pond Trail
Loblolly Trail
Many trails take advantage of Rehoboth Beach's beautiful scenery. Junction and Breakwater Trail is a six-mile trail that was once part of the Pennsylvania Railroad line. It was abandoned in the early 1970s and later transformed into a multi-use trail. The trail is suitable for bikes, strollers, and hikers. Dogs are permitted if they are leashed. Visitors can take in lush wooded areas along with coastal views.
Gordon's Pond Trail is a 3.2-mile trail that offers views of salt lagoons in Cape Henlopen State Park. The trail will lead visitors to an overlook that allows them to spot birds and other wildlife. Further down the trail, a boardwalk and two small overlooks are available to see the beach from a different angle. Bikes and leashed dogs are permitted on the trail.
Loblolly Trail is a 4.6-mile loop that allows visitors to walk around the entirety of the 90-acre Trap Pond State Park. Throughout the trail, visitors will gaze upon a dam, boardwalk, and hardwood forest. The trail is mostly shaded, which is perfect for those sunny summer days. Visitors can also catch a small view of Bethesda Church's historic cemetery and the Baldcypress Nature Center.
Rehoboth Beach Parks
Popular Rehoboth Beach Parks
Grove Park
Lake Gerar
Stockley Street Park
There are several parks in Rehoboth Beach worth visiting. One is Grove Park, perfect for those who want to enjoy daily activities outdoors. Outdoor circuit workout equipment is free for use, along with a playground. A wide, paved walking trail is accessible and allows for everyone to get in some exercise. There are also pavilions, restrooms, and shuffleboard courts. Additionally, the park hosts the local Farmers' Market.
Lake Gerar is another exceptional park. Spanning 15 acres, the park features a freshwater lake, fishing pier, trails, and a garden. Guests can enjoy a shaded playground and shaded trails. All trails are considered easy to walk, but they are not paved.
Stockley Street Park is a small three-acre park suitable for a short but fun visit. The park features views of Silver Lake and a small play area. The bridge in the park offers a wonderful lookout point for turtle watching. The turtles tend to sun themselves on the logs during the summer, which is fun for everyone to witness.
Golf Courses in Rehoboth Beach
Popular Rehoboth Beach Golf Courses
Baywood Greens
Midway Par 3
The Rookery
Rehoboth Beach Country Club
Kings Creek Country Club
Delaware is quickly becoming famous for its golf courses, and the Rehoboth Beach area is no exception. Baywood Greens is a world-class golf course that is open to the public. Called the "Augusta of the North," the course boasts a challenging game, a practice facility, and more. Its two nine-hole courses, Woodside and Waterside, each have a distinctive character.
Midway Par 3 stays true to its name by offering an 18-hole, par-3 golf course. The greens are regulation size, but the course prides itself on being short, fun, and easy for everyone of all ages and skills.
At The Rookery, golfers will find 18 holes with plenty of water features to offer challenges. The course also hosts golf tournaments, golf instruction, a pro shop, practice facilities, and The Blue Heron Grille.
Rehoboth Beach also features private golf courses. Rehoboth Beach Country Club has an Audubon Cooperative Sanctuary golf course with challenging bunkers and water features. Kings Creek Country Club's golf course is 18 holes and tailored to enhance the area's natural beauty.
Other Rehoboth Beach Outdoor Activities
Other Outdoor Activities in Rehoboth Beach
Rehoboth Beach Boardwalk
Atlantic Cycles
While visiting the beach, why not enjoy one of the best boardwalks in the country? The Rehoboth Beach Boardwalk encompasses a full mile's worth of boutique shops, excellent dining, mini-golf, free summer concerts, an amusement park, and more. The boardwalk hosts special events throughout the year, so there's every reason to return again and again.
Atlantic Cycles is one of several bike rental companies in the area and is a wonderful way to explore Rehoboth Beach. Visitors can rent beach cruisers, road bikes, tandems, children's bikes, and more. Rehoboth Beach is also home to multiple bike shops for residents with their own bikes. The bike experts can also recommend the best areas to explore on a bicycle around the area.
Soak in the Sunshine in Rehoboth Beach
With all of the outdoor recreation available, one can see why some people visit the area, fall in love, and never leave. Rehoboth Beach welcomes tourists and new residents alike. Biking, swimming, kayaking, golfing, and much more are available throughout the year for everyone to enjoy. When it comes to finding the perfect place to live, Rehoboth Beach is the seaside town anyone can call home.
If you're looking for a place in Rehoboth Beach to call your own, contact The Oldfather Group of Compass RE at 302-202-9855 to get in touch with Rehoboth Beach real estate agents who can help you find your perfect beachside home today.