Exploring Some of Our Favorite Spots in the "Quiet Resort" of Bethany Beach
Posted by James Diehl on Saturday, August 15, 2020 at 10:22 AM
By James Diehl / August 15, 2020
Comment
We're blessed here in the southern reaches of Delaware with 26 miles of coastline on the mighty Atlantic Ocean, along with more on the Delaware Bay, three inland bays and scores of other waterways.
That's one of the realities of living on a peninsula - there's plenty of water to be found.
But along the Delaware and Maryland coastline are also several beach communities, each with its own unique personality.
There's Lewes with its historic charm, Rehoboth Beach with its family-fun atmosphere, Dewey Beach with its bars and nightclubs and, of course, Ocean City with its towering condos and non-stop action during the warm weather season.
But then there are also the so-called "quiet resorts" of Bethany Beach and Fenwick Island, where daily life seems to move just a tad slower than in Rehoboth and Ocean City.
And the residents like it that way.
So in our continuing series of features highlighting the region's coastal beach communities, today we shine the spotlight on fabulous Bethany Beach. Included in our profile are some of our favorite places in Bethany, as well as plenty of information on this southern Delaware resort town.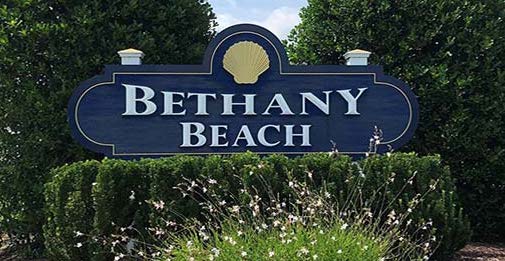 We want to start our feature on Bethany Beach by highlighting a few of the spots that we enjoy on a regular basis. There are certainly plenty of great places in this resort community to see and enjoy, but if you're new to the area, these will give you a good starting point for exploring the town.
We begin in the food arena and Listing Director Grace Nelson's favorite spot in Bethany Beach, which is the Turtle Beach Cafe on the Boardwalk.
Featuring fabulous views in the heart of Bethany Beach, this summertime favorite is known for its selection of great local food, including a crab cake sandwich that's rumored to be one of the best in the area.
But we recommend the acai bowls for breakfast, which is a unique item you won't find just anywhere in Delaware. If you don't know what that is, don't feel bad. We didn't either until we actually tried one.
An acai bowl looks like ice cream, but is basically a real thick smoothie that's been topped with oatmeal, fruit or peanut butter, and that you eat with a spoon.
Grab one and enjoy, as one reviewer on-line called it, the "inexpensive breakfast with the million dollar view."
For more information on the Turtle Beach Cafe, give them a ring at 302-616-1036.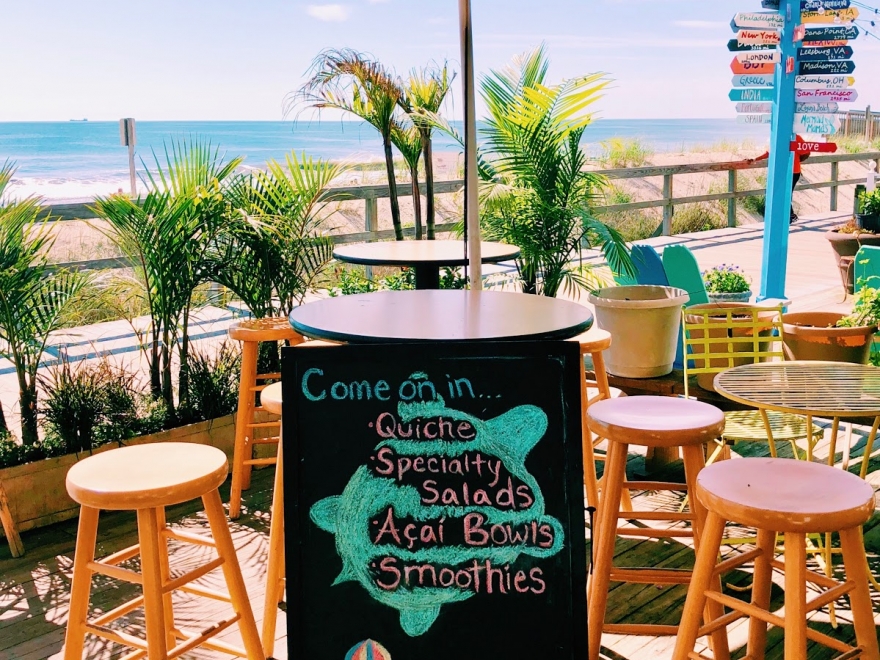 We love our local eateries here at the Oldfather Group. And the boss himself, Dustin Oldfather, is no exception, as he chimes in with his favorite Bethany Beach spot - the fabulous Bluecoast Seafood Grill and Raw Bar.
Located on the Salt Pond in North Bethany Beach, at 30904 Coastal Highway, Bluecoast has received rave reviews for its wide range of fresh, delicious, local seafood options. The restaurant sits in an incomparable natural setting and boasts the colors, flavors and warmth of East Coast cuisine, complemented by big-city quality, service and value.
Prepare for a unique dinnertime experience on the water when you visit this spectacular locally owned eatery in Delaware's south coastal region.
For more information, visit their website or call 302-539-7111.
For a local Bethany Beach destination that isn't about satisfying your taste buds, we turn to Oldfather Group Director of Creative Content Jordan Gibson, who loves to frequent Bethany Beach Comics and Gaming on Garfield Parkway.
A great comic book shop with a wonderfully diverse selection of comic books, action figures and games, this store is a favorite with younger visitors to the beach.
The store is open seven days a week from 10 a.m. to 10 p.m., and is located at 101 Garfield Pkwy in downtown Bethany Beach.
Call 302-539-0210 for more information.
Okay, so that's an idea of what several members of our staff think are the best places in Bethany Beach. But we have a few more interesting destinations to share with you as well.
Honestly, you can't go wrong with a stroll down the small yet scenic Bethany Beach Boardwalk. And don't forget the nearby Bandstand as well, where concerts are held throughout the summer season.
And from May through September, there are also family movies shown on the beach every Monday night, so plan on bringing the kids down sometime for watching a film with their toes in the sand.
Okay, on to a few more of our favorite places in Bethany Beach. These include...
Bethany Blues. There's also a location now on Route 1 in Lewes, but the original Bethany Blues restaurant is located in downtown Bethany Beach and has been a locals favorite since 2003.
Known for its barbecue, Bethany Blues likes to blend traditional, slow-smoked flavors with beach cuisine for a truly unique selection of menu items.
Dishes Bethany Blues is most known for include its award-winning brisket, Pigs on the Wing, beach-style barbecue items and many more.
Bethany Blues is located at 6 Pennsylvania Avenue in downtown Bethany Beach and is open Monday to Friday beginning at 4 p.m., and on Saturdays and Sundays at 11 a.m. and 10 a.m., respectively.
Call 302-537-1500 or visit www.bethanyblues.com for more information.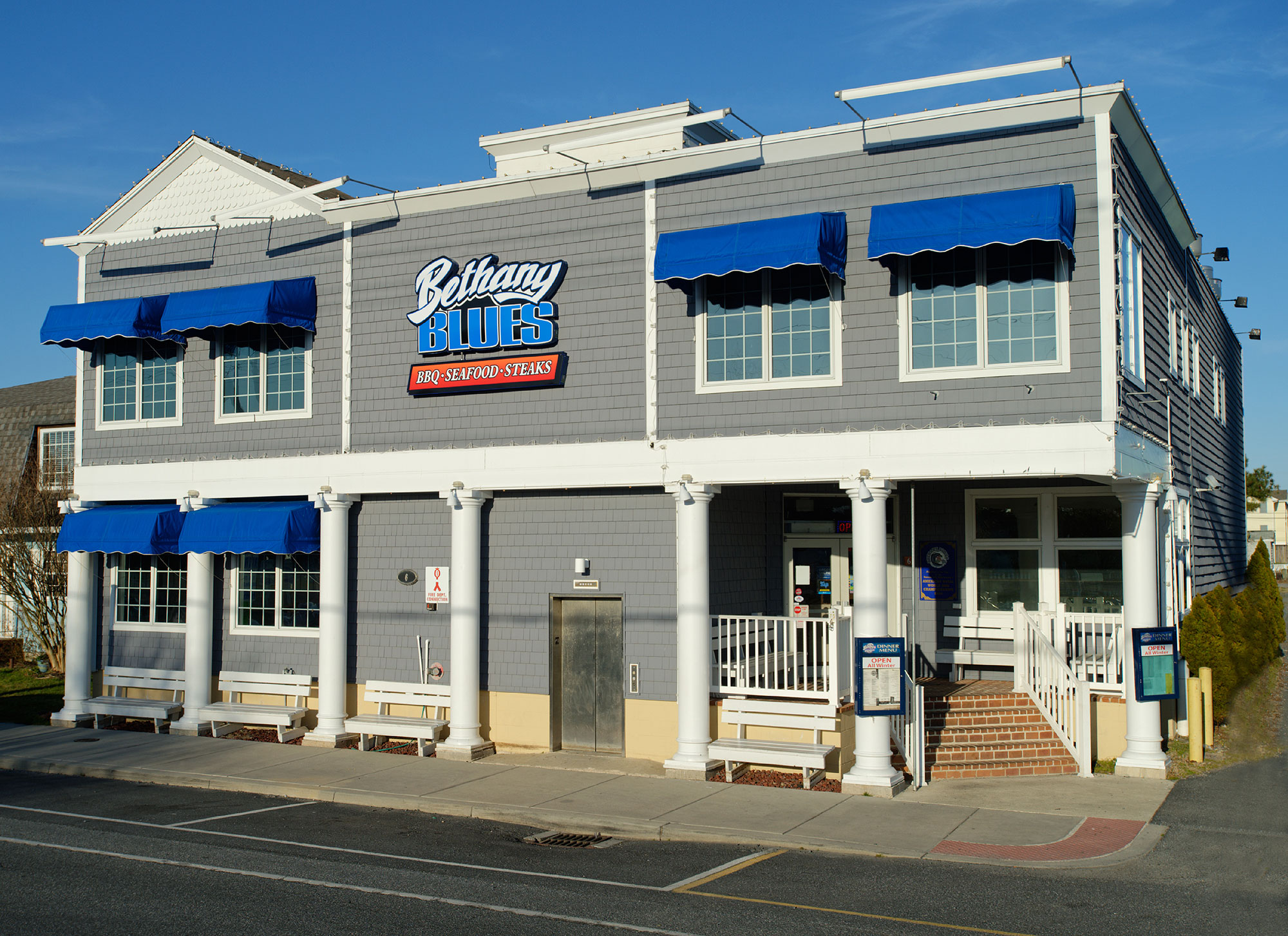 99 Sea Level. For fine dining with a view of the Atlantic Ocean, there's no better place in Bethany Beach than 99 Sea Level.
Located in the Marriott Bethany Beach Ocean Suites, 99 Sea Level utilizes a farm to table philosophy, that includes local seafood and produce, in creating its edible masterpieces.
Popular menu items include a Chesapeake Bay Blue Crabcake, Chesapeake Bay Broadwater Clams, Sea Level Fish Tacos, Peruvian Octopus and many more.
The restaurant is open for lunch from 11 a.m. to 3:30 p.m. seven days a week and serves dinner beginning at 3:30 p.m. each day. Happy Hour is from 3 to 6 p.m., and live music is featured four days a week.
For more information, visit the website or call 302-539-0299.
Bethany Town Center. If you feel like doing a little shopping while you're at the beach, Bethany Town Center
Mall is located just off the Boardwalk on Garfield Parkway and offers a number of great shops to choose from.
Stores in this downtown shopping mall include the Bethany Fine Arts Gallery, Lizzy's Beach Wear and Gear and Sunshine Crepes.
Bethany Surf Shop. Since the early 1980s, Bethany Surf Shop has been one of the premier surf shops on the East Coast and serves all of coastal Delaware and Maryland.
The shop sells all the supplies you'll need for surfing, bodyboarding, skimboarding and even the relatively new and wildly popular activity of Stand Up Paddleboarding (SUP).
Bethany Surf Shop is open every day from 10 a.m. to 5 p.m., so plan on paying them a visit on your next trip to the resort.
Visit www.bethanysurfshop.net or call 302-539-6400 for more information.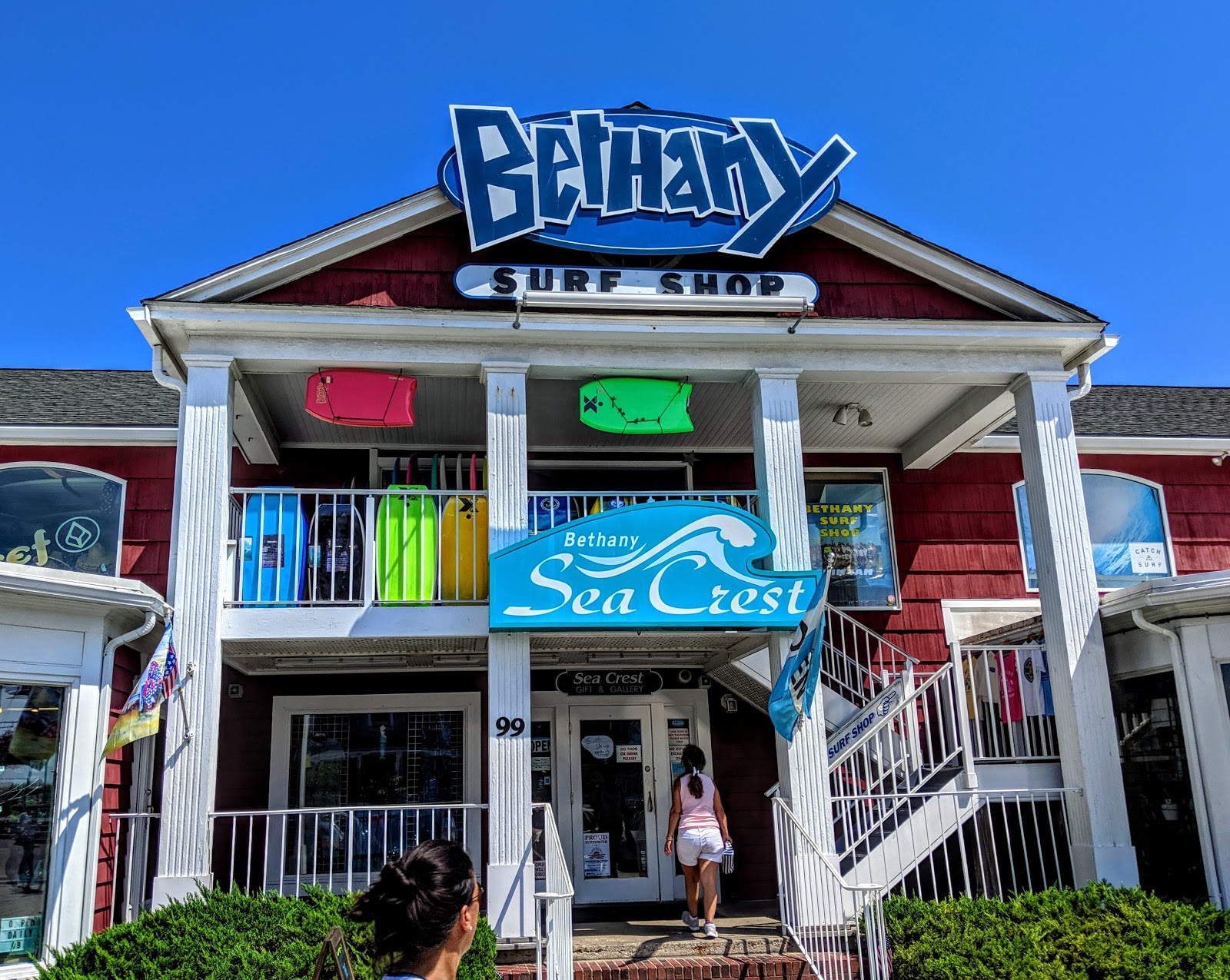 Bethany Beach also features a number of great local events and festivals throughout the year, including the always popular 4th of July parade and festivities, the Bethany Beach Boardwalk Arts Festival, the Fire & Ice Festival and several more.
Other nearby entertainment options include the jam packed calendar at the popular Freeman Stage at Bayside near Fenwick Island and the regularly scheduled magic shows at the Dickens Parlour Theatre in nearby Millville, as well as the aforementioned concerts at the Bethany Beach Bandstand.
What we featured above is just a small sampling of things to see and do in the fabulous resort community of Bethany Beach.
We have many other favorites, many of which you can read about on our blog page.
And if you'd like to check out some of the places we've mentioned above, but aren't exactly sure how to get there, check out the handy map below. Locations appear in the order they were mentioned in the main copy above.