Coastal Delaware's Ever-Growing Sea Glass Scene
Posted by Dustin Oldfather on Thursday, March 31, 2016 at 8:16 AM
By Dustin Oldfather / March 31, 2016
Comment
As with every other town or municipality in America, Rehoboth Beach boasts it's fair share of jewelry stores. Many are very nice, offering the finest in diamonds and pearls and other items for yourself or for your special someone.
But there's a special kind of jewelry that's only found primarily along the eastern seaboard of the United States. And that includes coastal Delaware, where it's often found in abundance.
There's even a wildly popular show held at the Lewes Historical Society every summer that celebrates its uniqueness, it's creativity and it's vast appeal. And that, my friends, is the art of sea glass jewelry.
Also referred to in the business as beach glass or mermaid's tears, sea glass is defined as "glass found on beaches along oceans, bays, rivers or large lakes that has been tumbled and smoothed by the waves, water and sand, creating smooth, frosted shards of glass."
The glass typically breaks into elongated, triangular shards over years of tumbling around in the ocean, turning it into a form sought by collectors. Decades in the sea soften the glass's sharp edges and creates a frosted finish. Typically, shards are about a half-inch to one-and-a-half inches long and wide.
It generally takes 50 years or more for a piece of glass to officially become a piece of sea glass.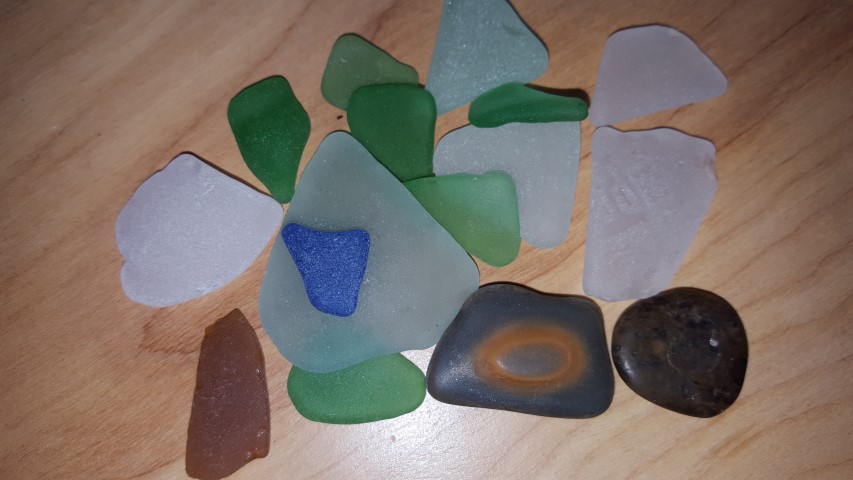 Most sea glass is from the 19th and early 20th centuries and is readily found, though not in as much abundance as in previous years, in the waters of the northeast United States. This is largely because of the thousands of shipwrecks that occurred in the area during that time period, including in coastal Delaware.
Artisans and collectors hunt it on beaches along the Delaware coast, with many then turning their finds into unique creations of art. This is usually done by using wire to create a one-of-a-kind piece of jewelry (the piece below was created by Michele Buckler, owner of Sand N Stones in Lewes).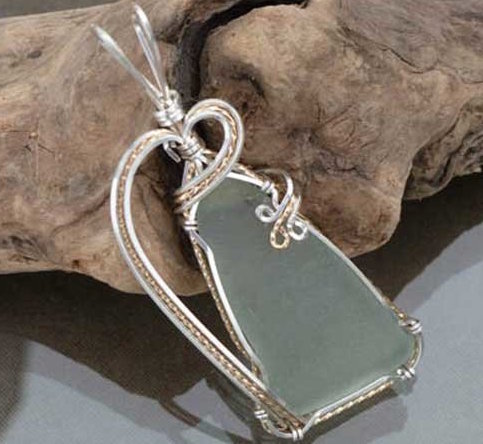 If you buy a piece of sea glass jewelry, it's guaranteed that no one else in the world will own another one like it. It's like the snowflake of the jewelry world – no two pieces are exactly alike. And that's one of the reasons that sea glass jewelry has become such a hot commodity these days.
But there are other reasons as well.
The prevalence of sea glass has diminished around the world in recent years, for example, due to several factors. These include the widespread use of plastic bottles, the ongoing pollution of the world's waterways (which alters acidity levels) and beach replenishment and cleanup programs.
All of this leads to sea glass becoming much more rare, and much more sought after.
Now, let's talk colors. The most common colors of sea glass, and thus the least expensive if you're in the market to buy a piece, are browns and greens. These colors were used primarily in bottles that contained beer and other liquids, such as rum and whiskey, back in the day when the oceans were explored via sailing ships.
The most rare, and ones you definitely want to hold on to if you should ever find them, are the bright colors like reds and oranges. Red was most widely used in car taillights of the day, while orange, the rarest of the rare, was only found in items like carnival games and rides.
But no matter the color, there's no denying the ever-growing popularity of sea glass in coastal Delaware today. Go to any craft show in the region, and you'll see artisans around every corner selling their uniquely crafted jewelry creations.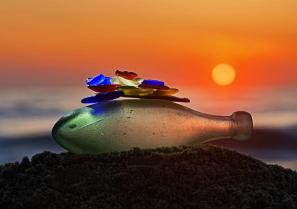 This includes the Mid-Atlantic Sea Glass & Coastal Arts Festival, held every June in Lewes. If you're interested in a unique piece of coastal Delaware jewelry, this is the best place to find it.
The 2016 event will be on June 25 and 26 in downtown Lewes, so save the date and be sure to check it out!
Then you too can own a one-of-a-kind piece of jewelry, created by the sea and designed by a local artist.