Discovering Delaware History on the History Trail
Posted by Dustin Oldfather on Monday, April 7, 2014 at 12:07 PM
By Dustin Oldfather / April 7, 2014
Comment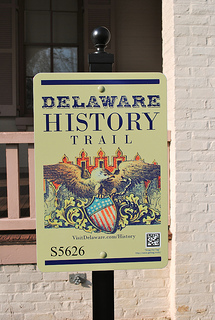 Delaware is known for many historic attractions and the Delaware History Trail is designed to help you experience the First State's best historic landmarks. The trail provides the best locations, with the most historic significance to both the state and the nation.
Of course, the Delaware History Trail doesn't cover all the historic locations with the state. However, it does provide a good starting point for those new to the state. It all starts by downloading your passport from VisitDelaware.com.
Once you have your passport, you will be introduced to 36 main sites and 15 additional sites. The first 36 are known as the "Distinctive Dozen" and provide many of the most significant Delaware historic sites. The other 15 are known as the "Fabulous Fifteen" and should also be explored.
Some of the sites found on the Delaware History Trail include:
Auburn Heights Preserve - 3000 Creek Road, Yorklyn
Historic Odessa - 201 Main Street, Odessa
New Castle Historic District - 30 Market Street, New Castle
Fort Delaware State Park - 45 Clinton Street
Downtown Milford - 121 South Walnut Street, Milford
Smyrna Museum Complex - 11 South Main Street, Smyrna
John Dickinson Plantation - 340 Kitts Hummock Road, Dover
Camden Friends Meeting - 122 Camden-Wyoming Avenue, Camden
Old Christ Church - Chiman Pond Road, Laurel
Governor Ross Mansion and Plantation - 1101 North Pine Street Ext., Seaford
Nanticoke Indian Museum - 26673 John J. Williams Highway, Millsboro
De Vries Monument - Pillottown Road, Lewes
Many others are found on the list, as well. Whether you prefer museums or you enjoy other historic sites, you will find a good mix of both throughout your journey. The trail will take you through some of the most important parts of shaping Delaware into the state it is today.