It's Namesake May Be In Maine, But Dogfish Head Is All Southern Delaware!
Posted by Dustin Oldfather on Thursday, November 2, 2017 at 2:24 PM
By Dustin Oldfather / November 2, 2017
Comment
Whether it's Executive Chef Zach Dick preparing 50 "McLaine Mac and Cheese" specials during a busy summer afternoon, or "Innmate" Linda Romanowski brewing the company's special blend of coffee or "Brewing Ambassador" Bryan Selders telling the world about the once-small craft brewery named for a tiny land mass off the coast of Maine, there's no questioning one simple reality...
Dogfish Head has taken southern Delaware by storm over the last two decades like no other company ever has, and Sam and Mariah Calagione, and their team, aren't going anywhere any time soon.
Begun as a tiny operation out of the recently demolished Dogfish Head Brewpub on Rehoboth Avenue in 1995, the company has now grown into the 14th most successful craft brewery in the United States, according to the not-for-profit Brewers Association.
And the company, much like Seaford's DuPont Nylon Plant did in it's glory years from the 1940s to the 1980s, has had a major impact on southern Delaware and it's economy.
"We've really kind of become a tourist destination of our own, bringing a lot of money into the region just by people coming here to actually see us," reveals Selders, a Dogfish Head employee since 2007. "We feel like we've definitely helped put Sussex County on the map."
Because of this economic impact, as well as the community-minded philosophy of the company and the fact that it's always been locally owned and operated, the Oldfather Group is proud to feature Dogfish Head Brewery today in our latest online business feature.
Much like tech startups that you hear about in southern California, one thing employees of Dogfish Head like to do is have fun. I mean, have you noticed the cool titles some staff members have, like VP of Happy Customers and Brewing Ambassador?
Having fun on the job is something the company actively encourages, in the right place and at the right time of course.
Some of the perks that come with an honest day's work at any of the company's sites (the brewery in Milton, Dogfish Head Brewings & Eats on Rehoboth Avenue, Chesapeake & Maine and the Dogfish Inn in Lewes) may come as a surprise to many.
Our personal favorite comes about every payday, and it's certainly an added bonus that makes working at Dogfish Head just a little bit sweeter - literally! Every time paychecks get handed out, each employee also gets to take a case of beer home with him or her. That's every payday, every month, all year long.
"That's definitely a great perk to working here," says Selders with a chuckle. "And if we can't get through all of our payday beer, we always have some thirsty friends who can help us out."
Other interesting elements of working at Dogfish Head include working as a team once a year on a Sussex County Habitat for Humanity home, holding retreats and other team-building activities and often conducting meetings in the always cool and somewhat unusual Steampunk Treehouse, located on the grounds of the Milton brewery.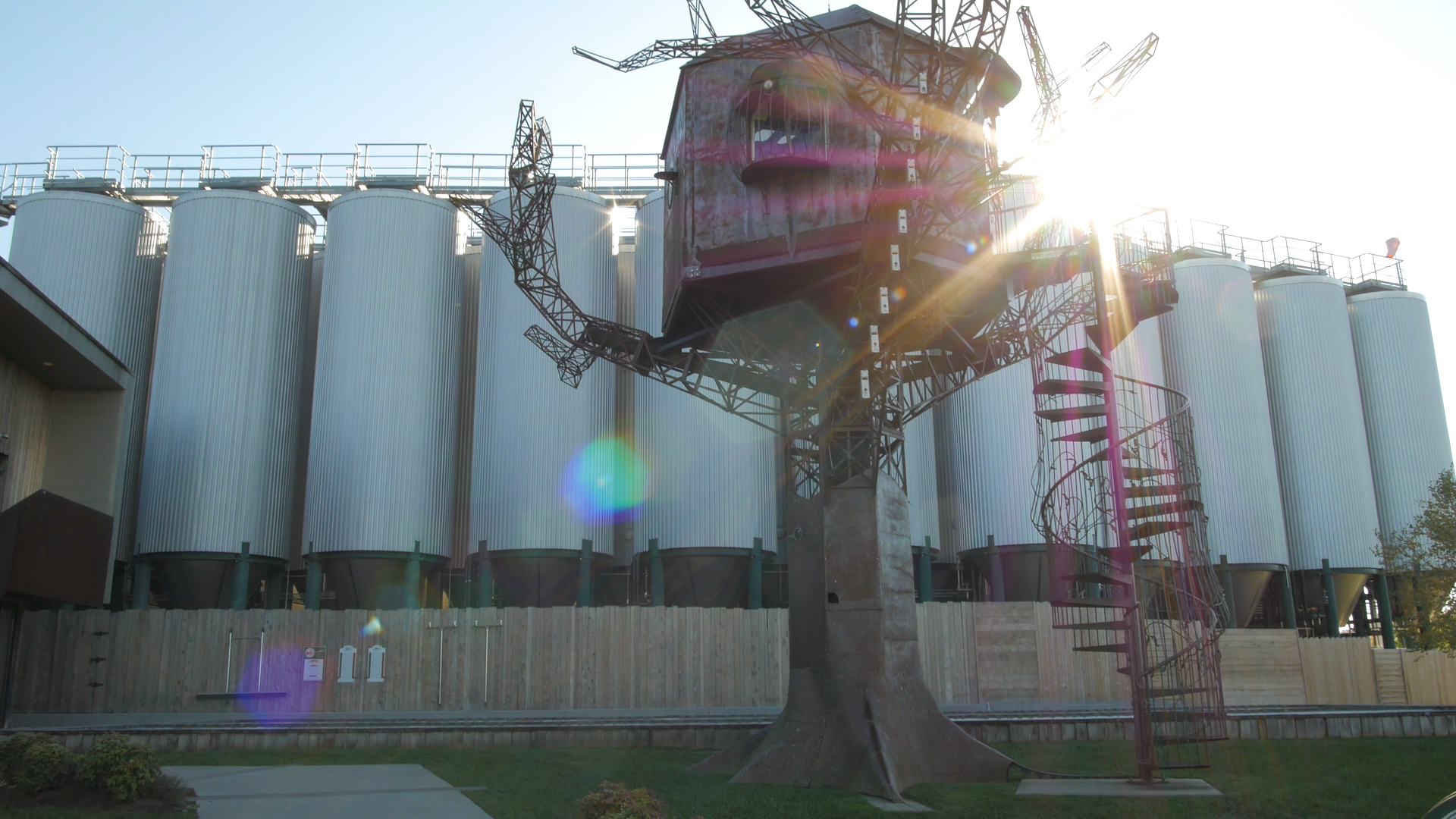 Even from it's humble beginnings, Calagione and his team have always been big supporters of the local community. Mariah Calagione, the matriarch of the Dogfish empire, is the daughter of the late media mogul Tom Draper, and her family has always been very involved in campaigns and projects that will better serve the will of the greater community.
Most recently, the company donated a large number of items from the iconic Rehoboth Avenue Brewpub (where it all started years ago) to the Rehoboth Beach Volunteer Fire Company. The items were raffled off, with a total of $7,800 raised for the good work being done by the fire department and it's ladies auxiliary.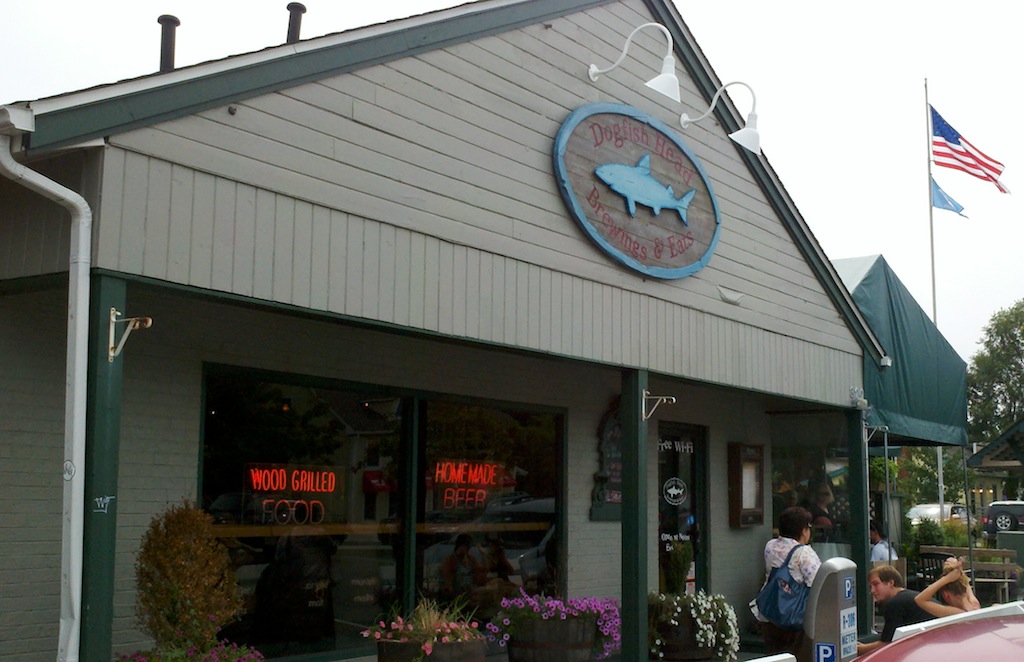 The most recent addition to the Dogfish Head family is the Rehoboth Avenue restaurant that replaced the longstanding brewpub. We're sure you've heard all about Dogfish Head Brewings & Eats by now - since it's opening earlier in 2017, it's become an extremely popular destination not far from the city's famous boardwalk.
Dick is the executive chef at the restaurant, after having also worked for a few years at the Dogfish-owned Chesapeake & Maine restaurant next door.
"I really love the new building, as I think most people do," says Dick, who reveals his favorite dish is the afore-mentioned "McLaine Mac and Cheese," named after Vice President of Happy Customers Steve McLaine. "It definitely stands out on the Avenue and brings the crowds down."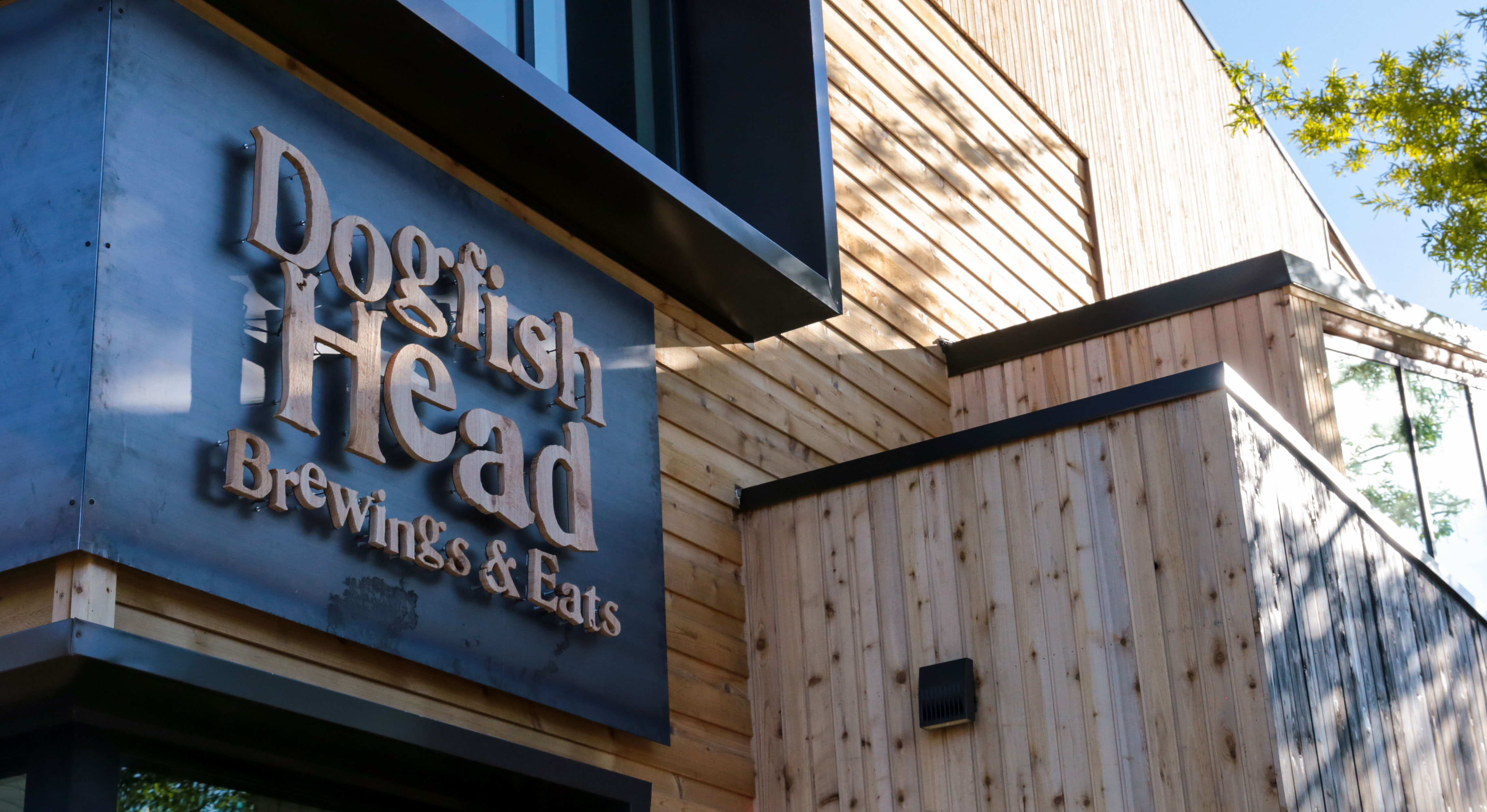 Since it's creation, Calagione and Dogfish Head have always promoted the values of "off-centered" brewing and living. But what does that mean exactly?
To many, it means simply doing things in different ways and enjoying life, and all it's many facets, to the fullest.
"We always want people to think about being off-centered, which to us means living within ourselves, being authentic and not being afraid to try new things," says Selders. "Otherwise, you might miss out on some pretty interesting things in life."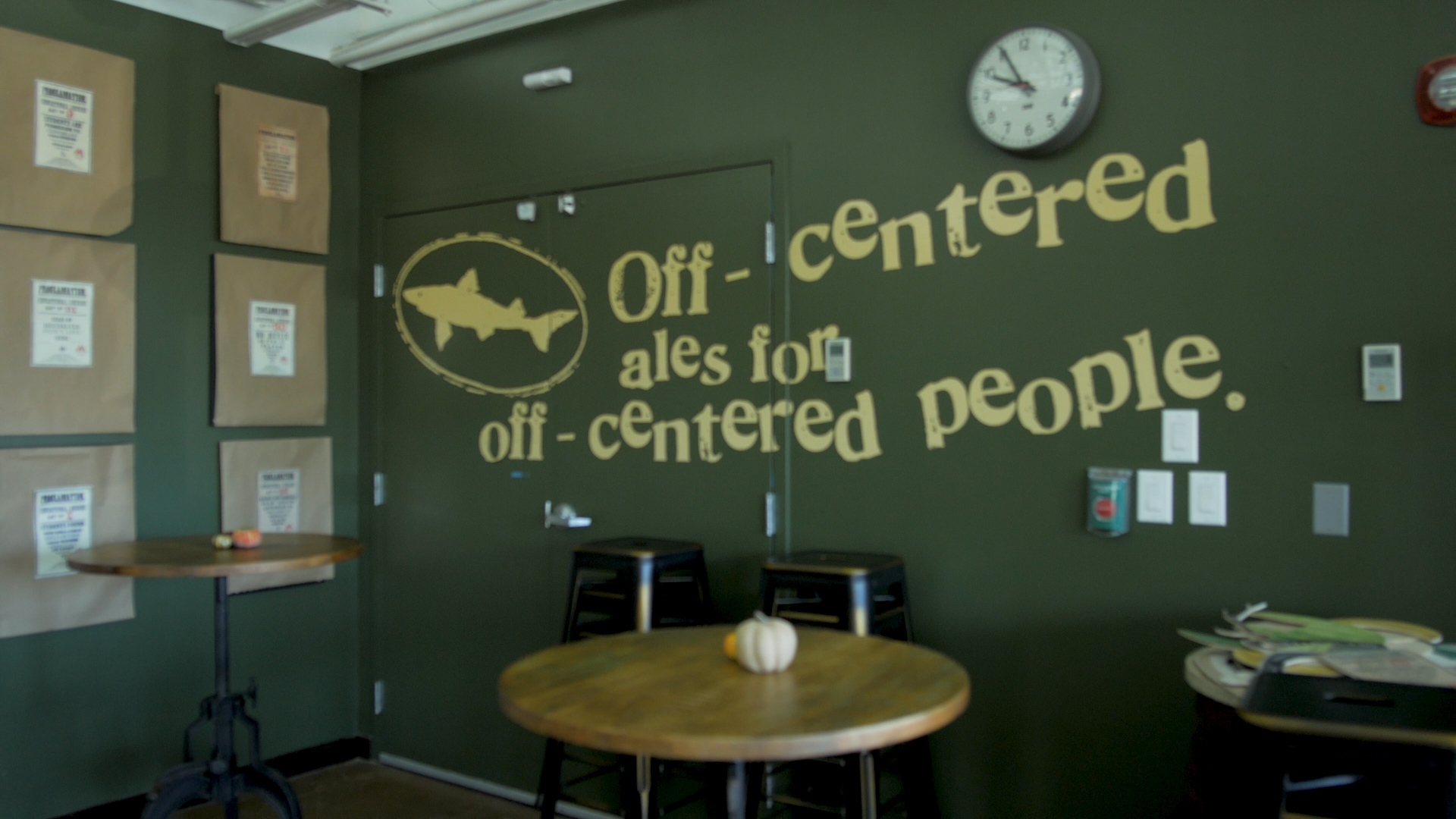 Before the opening of the gleaming new Rehoboth Avenue restaurant in the spring of 2017, the latest Dogfish Head endeavor was the off-centered and outside-the-box project that turned the old Vesuvio Motel in downtown Lewes into what is now the Dogfish Inn.
The new lodging option is very near the home of Sam and Mariah Calagione and, never one to discount a new market or a fresh way of thinking (remember off-centered), they jumped on the chance to enter the hotel business in 2014.
"I've been with Dogfish for 19 years now and it's just a great company to work for," admits Romanowski, who carries the title of "innmate" at the Dogfish Inn in Lewes. "Staying here at the inn is just a unique experience, and that's certainly what we want."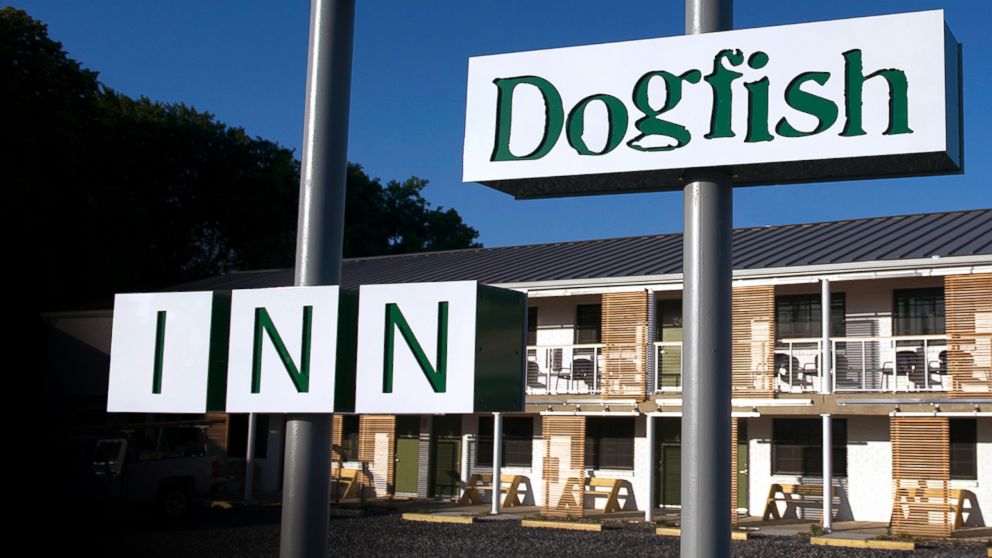 You can't get any alcohol on-site. But if you stay for the night, don't leave without trying their specially made coffee, which you can only get at the Dogfish Inn.
And it may seem like a strange request, but you also might want to consider calling when the inn and it's "innmates" are a little extra busy with their daily tasks.
I mean, when will you ever get another chance to sing along with a Dogfish altered rendition of "100 bottles of beer on the wall" while you're on hold?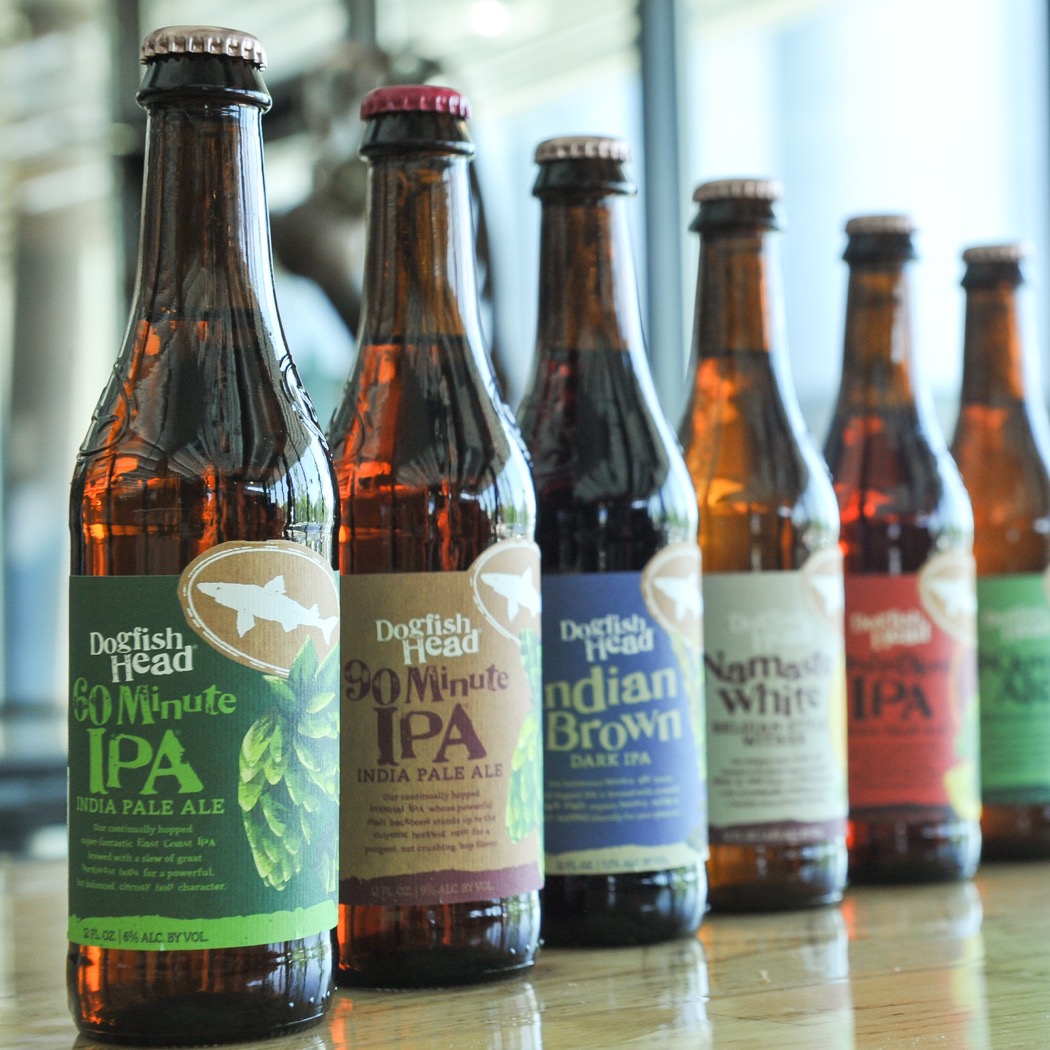 With the rapid growth of Dogfish Head Brewery and the constant expansion of it's products throughout the United States, more and more people are being introduced to the name, and will be for some time to come.
But, though it's namesake is located in New England, Dogfish Head will always be Sussex County, Delaware, at it's core. And that's how we like it!