Hitting the Links - Coastal Delaware Style!
Posted by Dustin Oldfather on Tuesday, March 8, 2016 at 5:29 AM
By Dustin Oldfather / March 8, 2016
Comment
The climate in coastal Delaware may not be conducive for outdoor activities a full 365 days a year, but for seven months annually – and sometimes a little more – Mother Nature allows us plenty of quality time in the great outdoors.
And if you enjoy a sunny day on the links, the Delaware beaches offer a wide selection of golf courses on which to practice your skills.
For this particular blog entry, we've chosen a half dozen of the area's finest courses. All are located in the area defined as "coastal Delaware," meaning they are all in the eastern third of Sussex County. There are others, to be sure, not only near the beaches, but also in central and western Sussex, in central and northern Delaware and even across the state line in Worcester County (Ocean City), Maryland.
But these are a few that are right here in our own backyard, and offer some of the greatest challenges and most enjoyable golfing experiences in the region.
So take a look at our "Super Six" of coastal Delaware golf courses, and get out and enjoy a day on the links the next time the sun is shining and the beer is chilled.
Here are some of our favorites:
Baywood Greens. Located in Long Neck, between Millsboro and Rehoboth Beach, Baywood Greens is one of coastal Delaware's most well known and most visited golf courses. It's been named the best golf course in the state by Golf Digest and also one of the nation's top 50 golf courses for women by Golf Magazine for Women. The course features 27 acres of man-made ponds, eight bridges, two tunnels and plenty of breathtaking scenery. The course at Baywood Greens is comprised of two very distinctive and very different nine-hole segments. The "Woodside Nine" is a more traditional course, while the "Waterside Nine" has man-made ponds in play in eight of its nine holes. For more information on Baywood Greens, call 302-947-9800 or visit www.baywoodgreens.com.

Bear Trap Dunes. Located in Ocean View, near the southern resort of Bethany Beach, Bear Trap Dunes features 27 holes of golf in an impeccably manicured and peaceful setting. The course was designed by Rick Jacobsen, a former associate of the great Jack Nicklaus, and features three separate nine-hole courses – the "Grizzly," the "Black Bear" and the "Kodiak." With the area's coastal location in mind, the courses are all lined with more than their fare share of sand dunes, in addition to water hazards, grassy hollows and more. Bear Trap Dunes has been named one of the top five courses in Delaware by Golf Week and it's golf shop was named one of the top 100 in America by the Association of Golf Merchandisers in 2015. For more information on Bear Trap Dunes, call 302-537-5600 or visit www.beartrapdunes.com.

The Peninsula on the Indian River Bay. The visually stunning Peninsula on the Indian River Bay community, located in the area of Oak Orchard, bills itself as the "Pebble Beach of the East," primarily because of the 18-hole Jack Nicklaus Signature golf course that dominates much of its 800 acre landscape. Crafted by the Golden Bear himself, the course features several holes that meander along the coastline of the Indian River Bay and adjoining Lingo Creek. It also boasts "family friendly" tee boxes, encouraging golf lovers of any age and skill level to enjoy the experience. The course at the Peninsula is a par 72 that encompasses 7,200 yards and is the very first private Jack Nicklaus Signature designed course in the state of Delaware. For more information on the golf course at The Peninsula on the Indian River Bay, call 302-945-4768 or visit www.peninsula-delaware.com.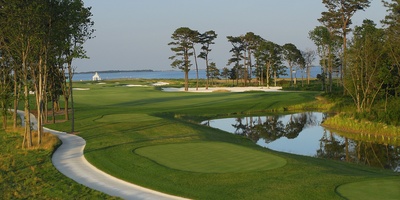 King's Creek Country Club. Located in Rehoboth Beach, the 18-hole championship golf course at King's Creek utilizes the existing woods, wetlands and natural waterways in its design. Opened in 1990 and designed by Dominic Palombo, the par 71 course measures 6,480 yards and features five different sets of tees for different skill levels. For more information on King's Creek Country Club, call 302-227-7172 or visit www.kingscreekcountryclub.com.
Rehoboth Beach Country Club. Featuring sculpted greens and fairways, challenging bunkers and spectacular views, the golf course at the Rehoboth Beach Country Club is one of the area's most pristine golfing experiences. The 18-hole course was the first in Delaware to receive the Audubon Cooperative Sanctuary designation from Audubon International for "helping golf courses protect our environment and preserve the natural heritage of the game of golf." It is one of only 906 courses worldwide to receive this designation. The par 72 course measures more than 6,500 total yards, with many holes experiencing challenging winds and weather conditions due to its proximity near the Rehoboth Bay. For more information on the Rehoboth Beach Country Club, call 302-227-3811 or visit www.rehobothbeachcc.com.

Salt Pond Golf Club. Located in Bethany Beach, the Salt Pond Golf Club is an 18 hole public golf course with a mix of par 3s and 4s, nestled amidst sparkling ponds and scenic woodlands. The course is owned and operated by the Salt Pond Homeowners Association, one of only a few homeowner owned and operated golf courses in the country. The course appeals to men and women, as well as to children, and is featured on the Delaware Golf Trail. For more information on the Salt Pond Golf Club, call 302-539-7525 or visit www.saltpondgolf.com.

As stated above, this is anything but an all-inclusive list of area golf courses. But these half-dozen sites will certainly give you a good head start on partaking in the wonderful game of golf here in picturesque southern Delaware.
So get out there and experience all that the Delaware beaches have to offer, especially the area's ample golfing opportunities.
And be sure to check out the video below for a good look at all of what there is to do and experience here in southern Delaware.