Is Delaware Home to Good Fishing Areas?
Posted by Dustin Oldfather on Tuesday, March 11, 2014 at 2:52 PM
By Dustin Oldfather / March 11, 2014
Comment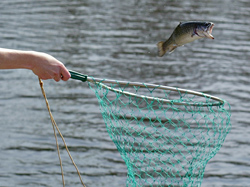 Delaware is a state full of great scenery and provides a number of great places for fishing. Whether you prefer an excursion, a charter boat or just an afternoon at the lake, you can find plenty of great locations for fishing. Here are some of the best choices throughout the state.
Hook'em and Cook'em - 37401 Inlet Road, Rehoboth Beach
This full service bait, tackle, seafood store and fish cleaning shop is perfect for your fishing fun. You can pull up by boat or car and enjoy everything they offer. After you get your supplies, you can take off for fishing and come back with your catch for the day. They will clean your fish for you and send you home with the perfect fillets ready for cooking.
Indian River Inlet - 39415 Inlet Road, Rehoboth Beach
Another good destination with plenty of great places to cast your line, the inlet provides both shore and boat options. This destination provides great fishing and the Indian River Marina is found here, as well. The best for fishing is the Delaware Seashore State Park, which covers over 2800 acres.
Lums Pond Sate Park - 1068 Howell School Road, Bear
Built around the largest pond in Delaware, this park is a great choice for fishing. It provides access to plenty of spots for fishing from land and you can even rent a boat. The pond is home to a boat ramp and two piers for easy water access.
Coursey Pond - Frederica
This pond is another good location for fishing, and provides mainly fishing from shore.
Abbotts Mill Pond - Greenwood
Another pond found in Delaware with great fishing is Abbotts Mill Pond. This one provides plenty of good areas for fishing.
All of these destinations are great for fishing in Delaware. You will find a number of fish in the area including both salt water and freshwater fish. Some of the most popular choices include:
Large Mouth Bass
Small Mouth Bass
Black Crappie
White Perch
Trout
Sea Bass
White Marlin
Blue Marlin
Bluefish
Wahoo
And many more!
If you love fishing, Delaware is a great place to live. You can enjoy both freshwater and salt water fishing throughout the state.