Remembering Past Presidential Visits to Delaware this President's Day, the State's First with a Homegrown Commander in Chief
Posted by James Diehl on Monday, February 15, 2021 at 7:29 AM
By James Diehl / February 15, 2021
Comment
Today is President's Day in the coastal region and throughout the United States, a mid-winter holiday meant to celebrate the lives of two of America's greatest former presidents, our first president George Washington (February 22) and our 16th president Abraham Lincoln (February 12).
Being from one of the smallest states in the Union, the First State of Delaware never had a resident serve as President of the United States. That is until a month ago when former Vice President Joseph R. Biden, Jr., was officially sworn in as the 46th and current president.
A native of Scranton, Pennsylvania, who moved to northern Delaware as a small boy, Biden served six full terms in the United States Senate before becoming vice president to Barack Obama in 2008. He was inaugurated as president on January 20, 2021.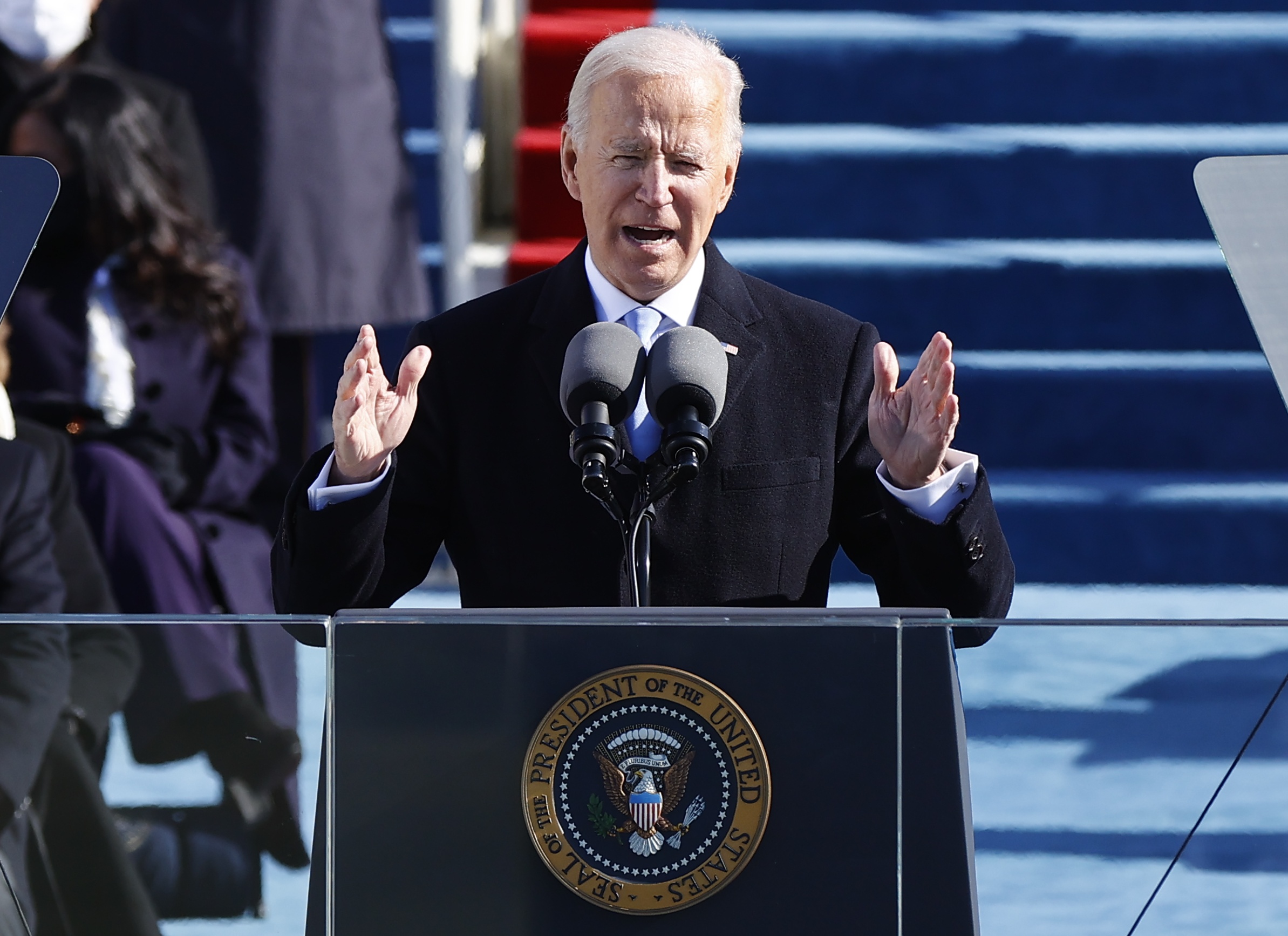 We're going to feature several past presidential visits to the First State in today's blog, but there's obviously no need to include Biden in our list. He famously rode the Amtrak train back to Delaware every night when he was in the Senate, so he could spend evenings with his wife, now first lady Dr. Jill Biden, and his family.
The Bidens also own a beach home in Rehoboth Beach and are frequent visitors to the "Nation's Summer Capital."
So today we celebrate Joe Biden, the nation's 46th president and the first from tiny Delaware. But we also move on to tell you about presidential visits of the past made by leaders of the Free World.
For example...
Residents of the coastal region who were here in the early 90s might remember President George H.W. Bush's visit to Seaford High School in 1991 to recognize the James H. Groves Adult High School as part of his "1,000 Points of Light" program.
Many residents were on hand to greet the president, who recently passed away at the age of 94, when he landed on Marine One in a ball field behind the school. He then gave a speech recognizing the school before returning to Washington.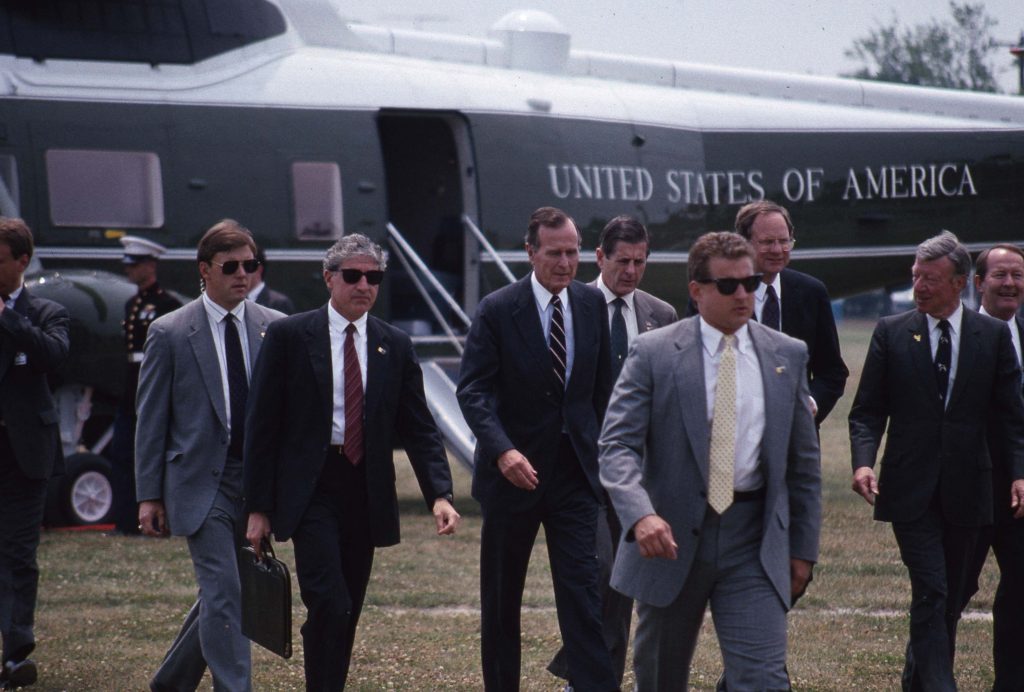 President George H. W. Bush, center, landing in Seaford, Delaware in June of 1991. Delaware Public Archives photo.
There have been several presidential visits to Delaware over the years. It is only a couple of hours from the White House after all, less if you're taking a helicopter like Bush did in 1991.
But what made Bush's trip so unique and memorable is that it was to the southern part of the state (most presidential visits have been to the Wilmington area) and it was not a trip tied around any type of campaign at the time.
Though upstate, however, there are other presidential trips to the First State that have been memorable for one reason or another. Let's look at a few...
We begin with President John F. Kennedy's trip to Delaware on November 14, 1963, to cut the ribbon at the dedication for the Delaware Turnpike in New Castle County. He appeared with then Governor Elbert N. Carvel, who incidentally was one of many former governors from the small southern Delaware town of Laurel.
President Kennedy's visit isn't notable because of where we was or what he did, but rather because of the date in which he appeared in the First State. If you notice the date above, you'll likely recognize it's meaning - it was just 8 days before a date that changed the world, when Kennedy was assassinated in Dallas, Texas, on November 22, 1963.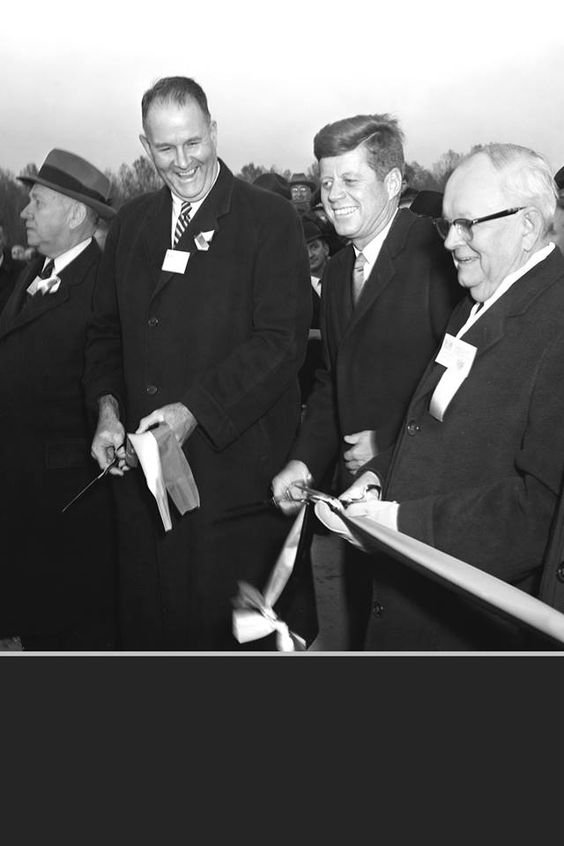 President John F. Kennedy, center, and Delaware Governor Elbert N. Carvel cut the ribbon at the Delaware Turnpike dedication on November 14, 1963. Delaware Public Archives photo.
Fast forward a few years to a historic trip by President Bill Clinton in 1998, who spoke in front of the Delaware General Assembly on May 8 of that year on the topic of education and the need for reform in that area.
President Clinton was seeking to win approval for a program that would have hired 100,000 new teachers nationwide, as well as repair and update school buildings and implement national standards and testing in math and reading.
His visit to the Delaware Legislature was well-publicized at the time by the national media.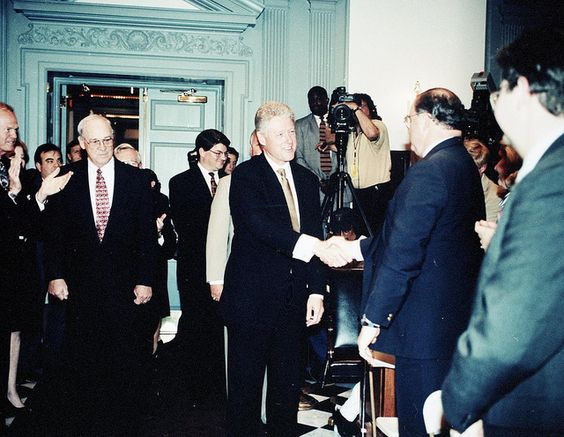 President Bill Clinton greets legislators at Legislative Hall in Dover on May 8, 1998. Delaware Public Archives photo.
Since the United States added Alaska and Hawaii as the 49th and 50th states in 1959, only four presidents have visited all 50 states while in office. They are, in order, Richard Nixon, George H.W. Bush, Bill Clinton and Barack Obama.
President Nixon's visit to Delaware in 1971 to meet with Republican fundraisers completed his tour, as the First State was the 50th and final state he visited as president. He became the first president to visit all 50 states, and it's notable to us because Delaware was the last one on his list.
We're not sure if any photos exist of that particular trip to Delaware, but the photo below does depict then Vice-President Nixon's trip to Wilmington in 1960.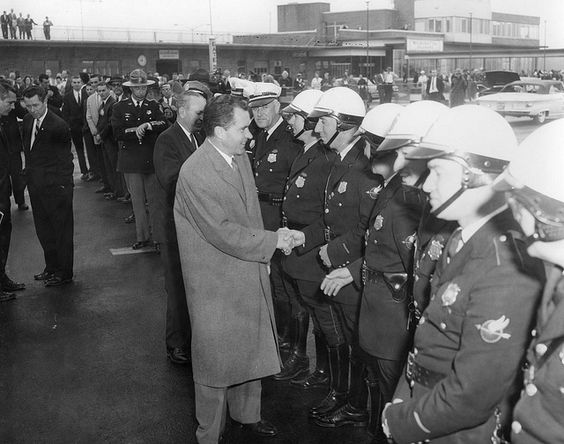 Vice-President Richard Nixon shakes hands with Wilmington traffic police officers in 1960. Delaware Public Archives photo.
There have been other presidential visits to Delaware, including ones from Presidents Harding, Franklin Roosevelt, Truman, Eisenhower, Carter and Reagan. But you get the idea...
Though Delaware is small and often overlooked, several presidents have visited the First State over the years for one reason or another. And on this President's Day 2021, we recognize their visits to our part of the world.
So from all of us at the Oldfather Group, to all of you, have a great President's Day. And as always, we hope you enjoy your time here in the coastal region.