Fun Things to Do in Rehoboth Beach, DE: Outdoor Adventures, Shopping, Nightlife, & More [2022 Guide]
Posted by Dustin Oldfather on Wednesday, August 11, 2021 at 8:15 AM
By Dustin Oldfather / August 11, 2021
Comment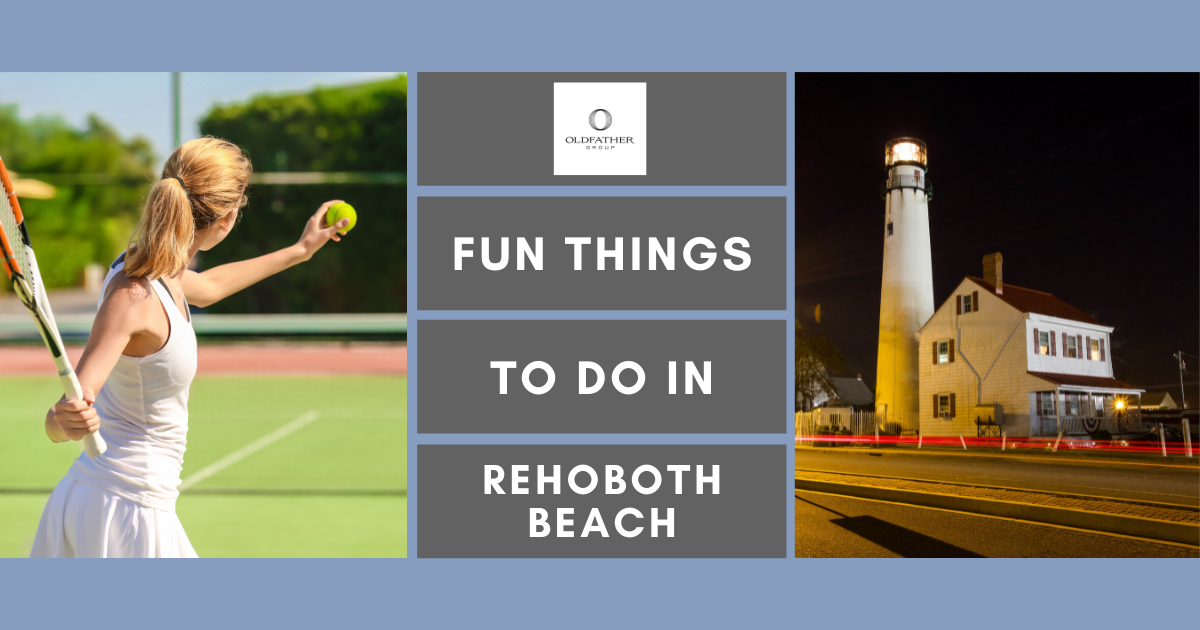 Situated on the Atlantic, Rehoboth Beach is more than a city on the shore. Its waterfront homes and restaurants feature spectacular architecture. Guests and residents alike are sure to find more to do than take in the sunshine on the beach. Shopping, dining, nightlife, and outdoor activities await all who visit or move to Rehoboth Beach. Here's a sampling of things to do in Rehoboth Beach, Delaware.
Rehoboth Beach Outdoor Adventures
Those who live in or visit Rehoboth Beach should enjoy spending time outdoors. The salty air, light humidity, and exceptional views of the water create a wonderfully relaxing environment. Guests can engage in high-energy activities or stroll along the shore.
Parks
Popular Rehoboth Beach Parks
Lake Gerar
Grove Park
Stockley Street Park
In Rehoboth Beach, there are numerous parks for residents and visitors to enjoy throughout the year. The park on Lake Gerar spans over 15 acres and features a fishing pier, manicured garden, trails, a play area, and a freshwater lake. Grove Park is ideal for relaxing on a beautiful summer day; the green fields beg for a blanket to be spread out and for visitors to enjoy a lovely picnic. Several more parks are available throughout Rehoboth Beach, many of which feature sports courts. Tennis and pickleball are incredibly popular. They are so popular, in fact, that reservations are recommended in the summer.
Water Recreation
Rehoboth Beach Water Recreation Opportunities
Paddleboarding
Kayaking
Kitesurfing
Boat rentals
Floating fire pit
Being so close to the water makes perfect sense that many water recreation activities are available year-round in Rehoboth Beach. Multiple companies offer similar activities and rentals. Paddleboarding and kayaking are well-known to residents and visitors, and rentals are available for full or half days at a nominal fee. Additionally, kitesurfing and boat rentals are available.
Weather permitting, visit a floating fire pit! Guests can paddle out to the campfire and join other adventurous individuals who want to make s'mores on the water. This unique experience requires reservations and some previous paddleboard or kayaking experience.
Hiking & Biking Trails
Popular Rehoboth Beach Trails
The Junction and Breakwater Trail
The Bike Gordons Pond Trail
The Walking Dunes Trail
For those who do not want to get in the water or prefer to change their activities, numerous hiking and biking trails are available in the area. Rehoboth Beach may have a higher cost of living than average, but it costs nothing to get outside and get active.
The Junction and Breakwater Trail is an easy 5.8-mile trail that takes visitors through fields, forests, and coastal marshes. Bikes and leashed dogs are permitted on the trail.
The Bike Gordons Pond Trail spans 3.2 miles through salt marshes. While mostly used by cyclists, the trail is also suitable for walking or running. Surprisingly, the trail is also perfect for birdwatching.
The Walking Dunes Trail does not allow bikes or pets. The 2.6-mile loop goes through open dunes, wetlands, and maritime forests. Visitors will capture glimpses of fire control towers that were crucial during WWII.
With more than just water activities, residents and guests to the area can enjoy getting outdoors all year long. Many trails and parks are hidden gems that are easy to miss. However, that does mean they will not be as popular, which allows the sounds of nature to take over.
Rehoboth Beach Shopping
Rehoboth Beach Shopping Destinations
Penny Lane Mall
The Tanger Outlets
When it comes to shopping in Rehoboth Beach, guests will be able to shop until they drop while they smell the sweet sea air.
The most popular open-air mall is Penny Lane Mall. Inspired by Europe, visitors will see a range of locally owned boutiques and a few national brands tucked away. Small cafes are available to grab a light bite in between shopping.
The Tanger Outlets are perfect for savvy shoppers who want to score the best deals without leaving the beach. With over 130 stores, visitors can enjoy shopping for their favorite brands while obtaining the best prices. The outlet mall is also an open-air mall. It features three entrances/exits, making it easy for guests to access during even the busiest days of the week.
Rehoboth Beach Restaurants
Popular Rehoboth Beach Restaurants
The Cultured Pearl Restaurant & Sushi Bar
Just in Thyme Restaurant
Lupo Italian Kitchen
Mariachi Restaurant
With so many restaurants in Rehoboth Beach, it can be difficult to decide on a favorite. Whether one is visiting for the weekend or a long-time resident is ready to try something new, these iconic restaurants are a must-visit.
The Cultured Pearl Restaurant & Sushi Bar, established in 1993, provides an authentic Japanese culinary experience. Designed as a multi-level restaurant, guests can enjoy outstanding views on the rooftop, complete with a 15,000-gallon rooftop koi pond. Sushi and sashimi are staples, but guests can also enjoy Korean BBQ and American dishes.
Just in Thyme Restaurant is a cozy restaurant that prides itself on using only locally sourced ingredients. Lamb, crab cakes, veal medallions, and a range of fresh produce make up the heart of the menu. Whether looking for a date night or a place to hold a business meeting, Just In Thyme never disappoints.
Lupo Italian Kitchen perfectly combines mid-Atlantic and Italian cuisines on one menu. Fresh fish and Mediterranean flavors come together to create a symphony in one's mouth. Guests will find an extensive wine list and a full bar to complete their dinner at Lupo Italian Kitchen.
Mariachi Restaurant has an upper-level deck that provides spectacular views of the Atlantic. Over the past decade, the restaurant has become the best destination for authentic Mexican/Latin cuisine in Rehoboth Beach. The seafood enchilada is one of the most popular dishes.
Arts & Culture in Rehoboth Beach
When it comes to arts and culture in a seaside city, Rehoboth Beach is hard to match. The range of museums, art galleries, and theatres allows residents and visitors to explore the area's local culture. The history of Rehoboth Beach and the figures that shaped the city can be found at every turn.
Museums
Rehoboth Beach Museums
Rehoboth Beach Museum
Cannonball House
Fenwick Island Lighthouse & Museum
Three museums are available for guests to visit throughout the year. The Rehoboth Beach Museum showcases the history of beach activities and swimwear over the years. Based downtown, the museum is easy for everyone to access. Admission to the museum is based on donations, and there is no set amount to pay to enter.
The Cannonball House showcases a real cannonball from the war of 1812—still embedded into the side of the house it hit. Guests can relearn the history of the war and view maritime art pieces from the era.
The Fenwick Island Lighthouse & Museum is small yet charming. Inside, guests will see an ever-expanding collection of artifacts from local and international shipwrecks. While visitors can only enter the base of the lighthouse, it's a visit worth taking. In addition to artifacts, guests can learn the long, lifesaving history of the lighthouse.
Art Galleries
Rehoboth Beach Art Galleries
Permanent Collection
Corkran Gallery
Tubbs Gallery
Ventures Gallery
Member Sales Gallery
Creative Impressions Art Gallery
Gallery 50
Many galleries are available in Rehoboth Beach and the surrounding area. The Rehoboth Art League has five buildings that house art galleries and classroom spaces. The Permanent Collection features work from local artists over the years. The Corkran, Tubbs, and Ventures Galleries feature rotating exhibitions. The Member Sales Gallery features work from current member artists. Admission is always free. Classes are also available in painting and pottery.
Creative Impressions Art Gallery offers a diverse range of art and mediums. Prints, serigraphs, and original oil paintings are available for viewing and purchase. Gallery 50 features contemporary paintings, sculptures, prints, and more from emerging and established artists.
Dance & Theatre
Rehoboth Beach Dance & Theatre
Delaware Comedy Theater
Mid-Atlantic Symphony Orchestra
Southern Delaware Chorale
The Delaware Comedy Theater is the perfect spot in Rehoboth Beach to catch a comedy show. From short sketches to longer comedic performances, the theater troupe has several performances throughout the year. There are also performances designated child-friendly and adult-only.
The Mid-Atlantic Symphony Orchestra provides classical music concerts and small, original performances. Audience members will be mesmerized by this group of professional musicians anytime they stop in for a show. Most shows occur Thursday through Sunday nights.
The Southern Delaware Chorale offers must-see performances all year long. Professional vocalists entertain guests with a range of music genres. From songs that pull at the heartstrings to those that evoke a range of emotions, the audience will feel the passion with every word sung.
As one can see from the numerous options available to residents and guests, the arts and culture scene is vast and varied. Anyone looking for a romantic date night or an evening to expand their artisanal knowledge will find a performance, gallery, or museum to attend.
Rehoboth Beach Nightlife
Rehoboth Beach Nightlife Destinations
Big Chill Surf Cantina
Rigby's Bar and Grill
While there are numerous small bars with live music, two particularly stand out for the best Rehoboth Beach nightlife options. Big Chill Surf Cantina features an outdoor stage perfect for local musicians and bands to set up for a night of relaxing tunes. Traditional beach bar food is available, along with drink specials during live performances. Guests are welcome to stay for a song or all night long.
Rigby's Bar and Grill is the other notable option for nightlife. This casual bistro grill features an outdoor garden patio. Its homemade food and range of local and small touring artists make every visit memorable. Locals and tourists alike can be found enjoying food and drinks for the entire evening.
Discover What Rehoboth Beach Has to Offer
Anyone looking to live in or visit a seaside city will enjoy Rehoboth Beach. Unlike some other cities on the shore, Rehoboth Beach is focused on more than tourism. It keeps the arts and culture alive while creating a tight sense of community for the locals. Residents can emerge from their Rehoboth Beach homes to take in musical performances, world-renowned dishes, and breathtaking hiking trails. Combined with a community that cares about making every tourist feel like family, Rehoboth Beach is a place like none other on the Atlantic seaboard.
If you're looking for a place in Rehoboth Beach to call your own, contact The Oldfather Group of Compass RE at 302-202-9855 to get in touch with Rehoboth Beach real estate agents who can help you find your perfect beachside home today.
Google Reviews

"It's our pleasure to recommend Oldfather Group to anyone wanting to buy or sell their home. Being new to the area and after having an extremely frustrating experience with another reality group in the area, we decided to give Dustin and the Oldfather Group a try. From helping us decide on a listing price, to prescreening buyers, through all the negotiations, and then handling all the legal issues and paperwork our overall experience was excellent. Attention to detail was superb as well as their quick response time to all our questions and concerns. We had an administrative assistant assigned specifically to our contract which helped a lot. Consequently, the settlement was a breeze. Over the years we have used many Realtors and unquestionably the Oldfather Group was the best." -Allen Sangree

"This team has it all. They're professional, knowledgeable and responsive. Looking to buy or sell a home, contact them today!" -Jon Cohen

"If you need to buy or sell, this is the agency to call! We had a very pleasant selling and buying experience with this highly experienced group. Our agent... was innovative, thorough, creative, knowledgeable and professional!!" -Deborah Von Stetten