No Vacation to Rehoboth Beach is Complete Without a Bucket of Thrasher's French Fries
Posted by Dustin Oldfather on Monday, April 18, 2022 at 8:00 AM
By Dustin Oldfather / April 18, 2022
Comment
There are certain things you simply can't miss when visiting either Delaware's favorite seaside resort of Rehoboth Beach or the bustling coastal town of Ocean City, Maryland.
Trips to Funland in Rehoboth Beach and Trimper's in Ocean City, frolicking on the sandy shores of the Atlantic Ocean and walking up and down both resorts' boardwalks instantly come to mind.
But is there anything more synonymous with both coastal resorts than the iconic beach treats from the nearly century old Thrasher's French Fries? You know, those deliciously fried taters that you almost always have to stand in line for but that are absolutely worth the wait?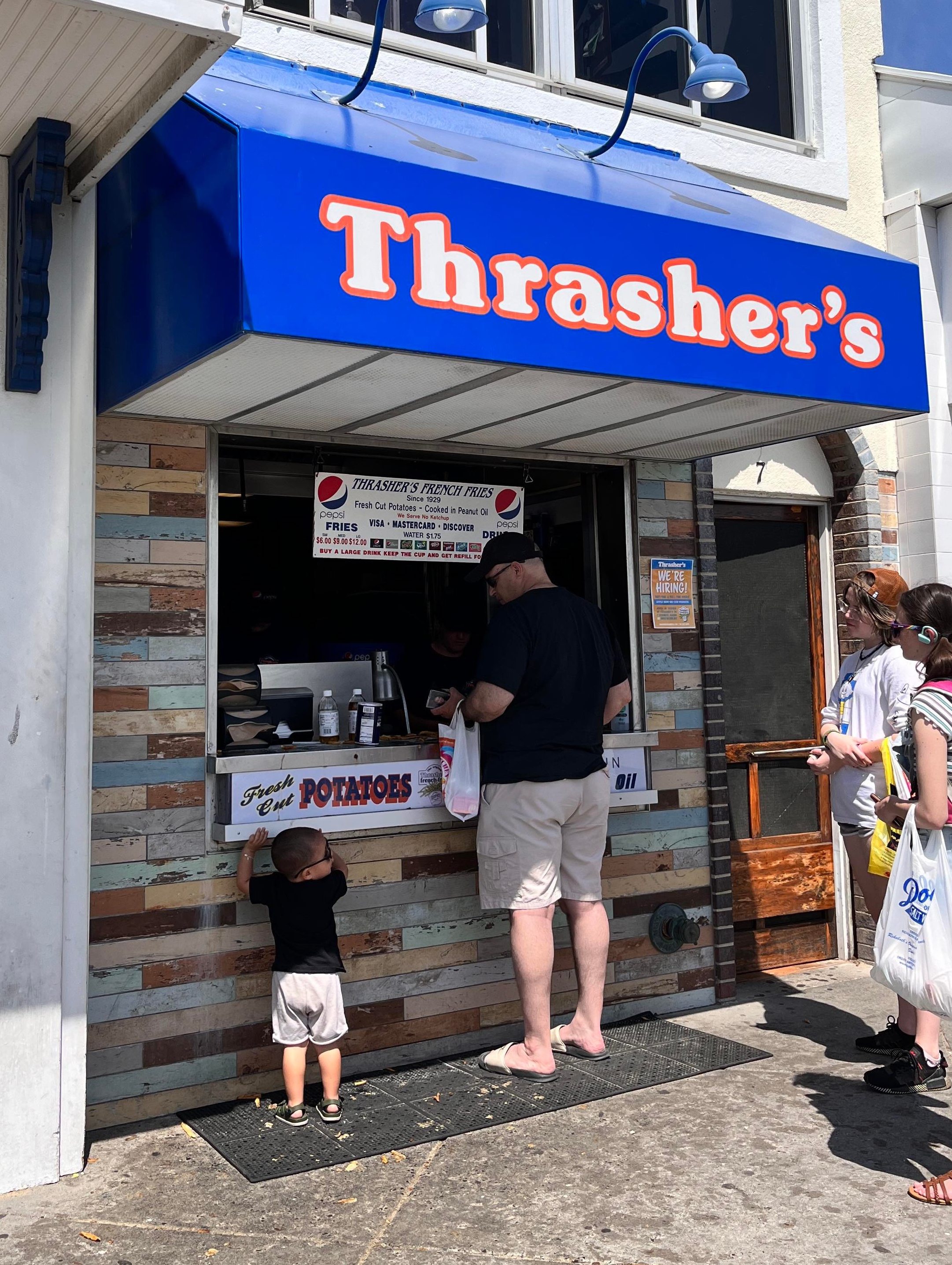 Grab a family-sized bucket or just a small size if you're alone - but don't leave the beaches until you've secured yourself a heaping helping of these one-of-a-kind french fries.
With three sites each in both Ocean City and Rehoboth Beach, Thasher's is easy to find and definitely among the most popular of the so-called "beach eats" in both resorts.
It's subjective as to why they're craved by so many vacationers each and every year (perhaps it's because they're prepared with 100 percent peanut oil). But one thing is for certain - it's hard to pass up a chance for some Thrasher's French Fries when visiting the boardwalk.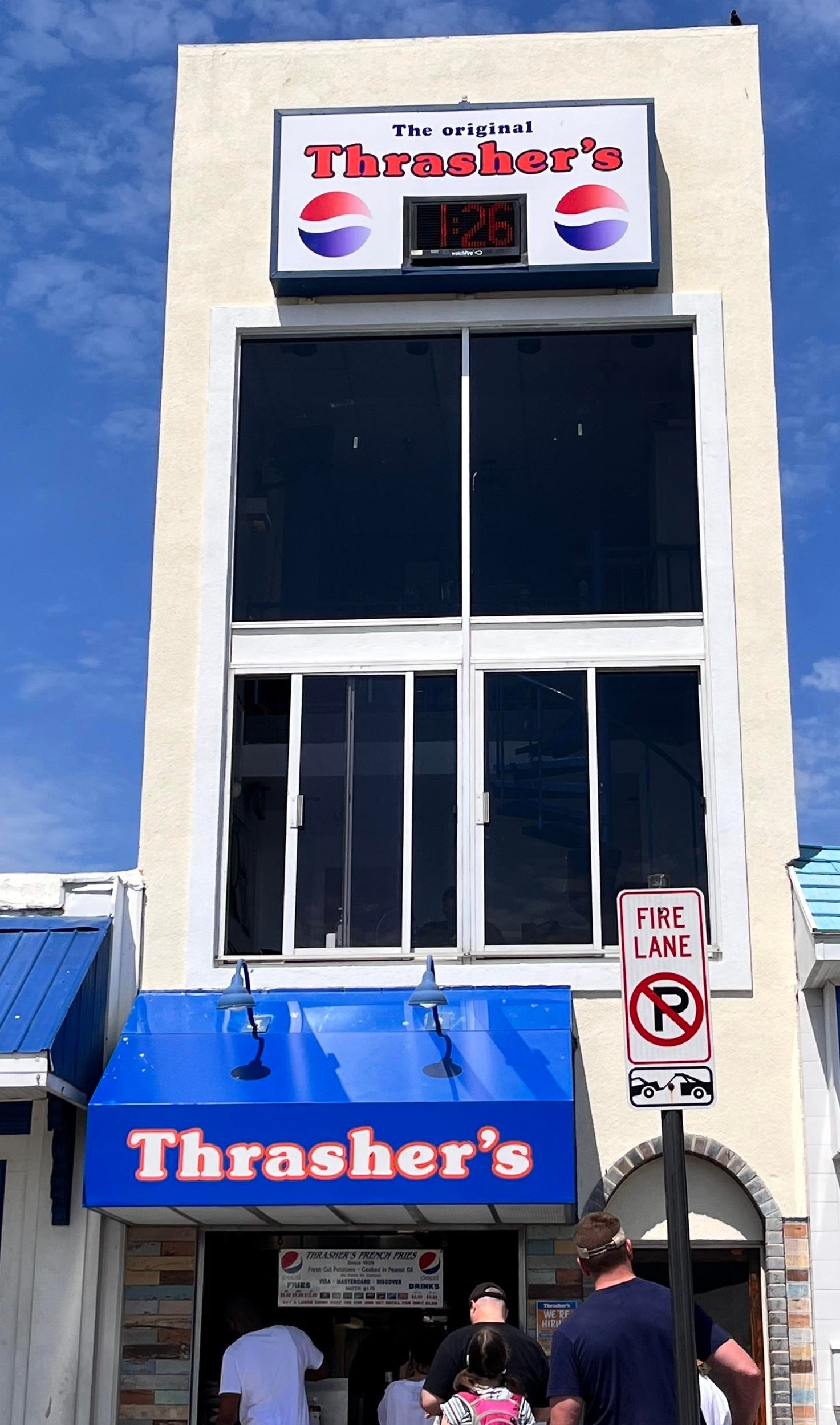 Founded by J.T. Thrasher in 1929, Thrasher's French Fries will soon be celebrating its 100th year in Ocean City. Visiting the boardwalk at the inlet just wouldn't be the same without Thrasher's, and the line, welcoming you to the resort.
It's not been around nearly as long across the state line in Rehoboth Beach, but Thrasher's is still greatly anticipated every summer season - perhaps as much by the ravenous sea gulls as by the humans who plop down their hard-earned cash for a helping of what the company calls "the best french fries on the planet."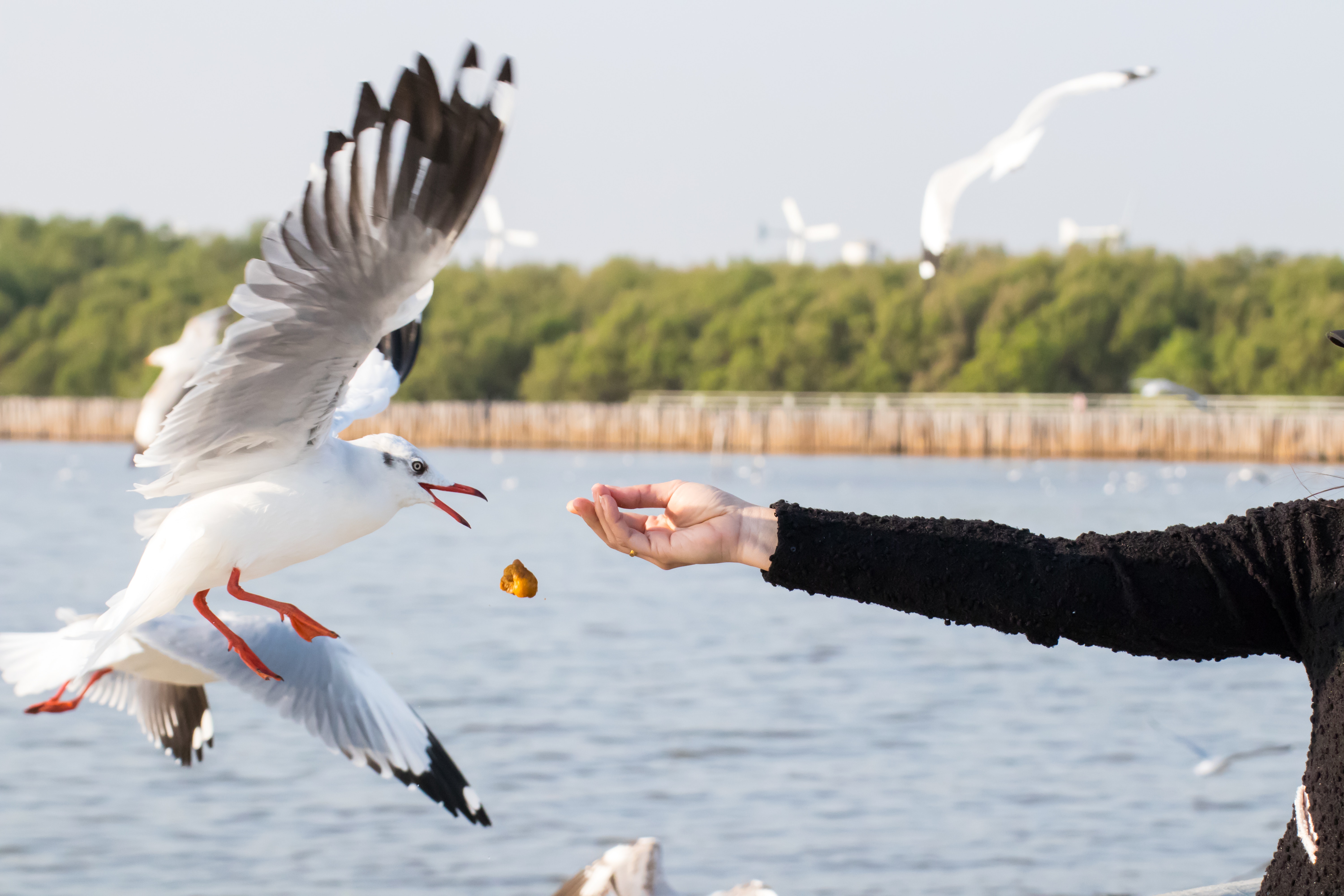 It would actually be hard to argue the point, at least for generations of beachgoers in Ocean City, and more recently in Rehoboth Beach. It's as much of a necessity during a trip to the beach as sunscreen and boogie boards.
A vacation to either Rehoboth Beach or Ocean City just isn't complete until you've enjoyed some of the best beach eats in the mid-Atlantic.
Just remember to always use vinegar on your french fries instead of ketchup. If you don't get it, just ask someone standing in line - it's an Ocean City thing that's also become a Rehoboth Beach thing.
So the next time you're in Rehoboth Beach, or in busting Ocean City, Maryland, enjoy some fun in the sun, ride a few rides at Funland (or Trimper's) and grab a slice of Grotto pizza.
But don't leave town without a big bucket of Thrasher's French Fries - you'll thank us later!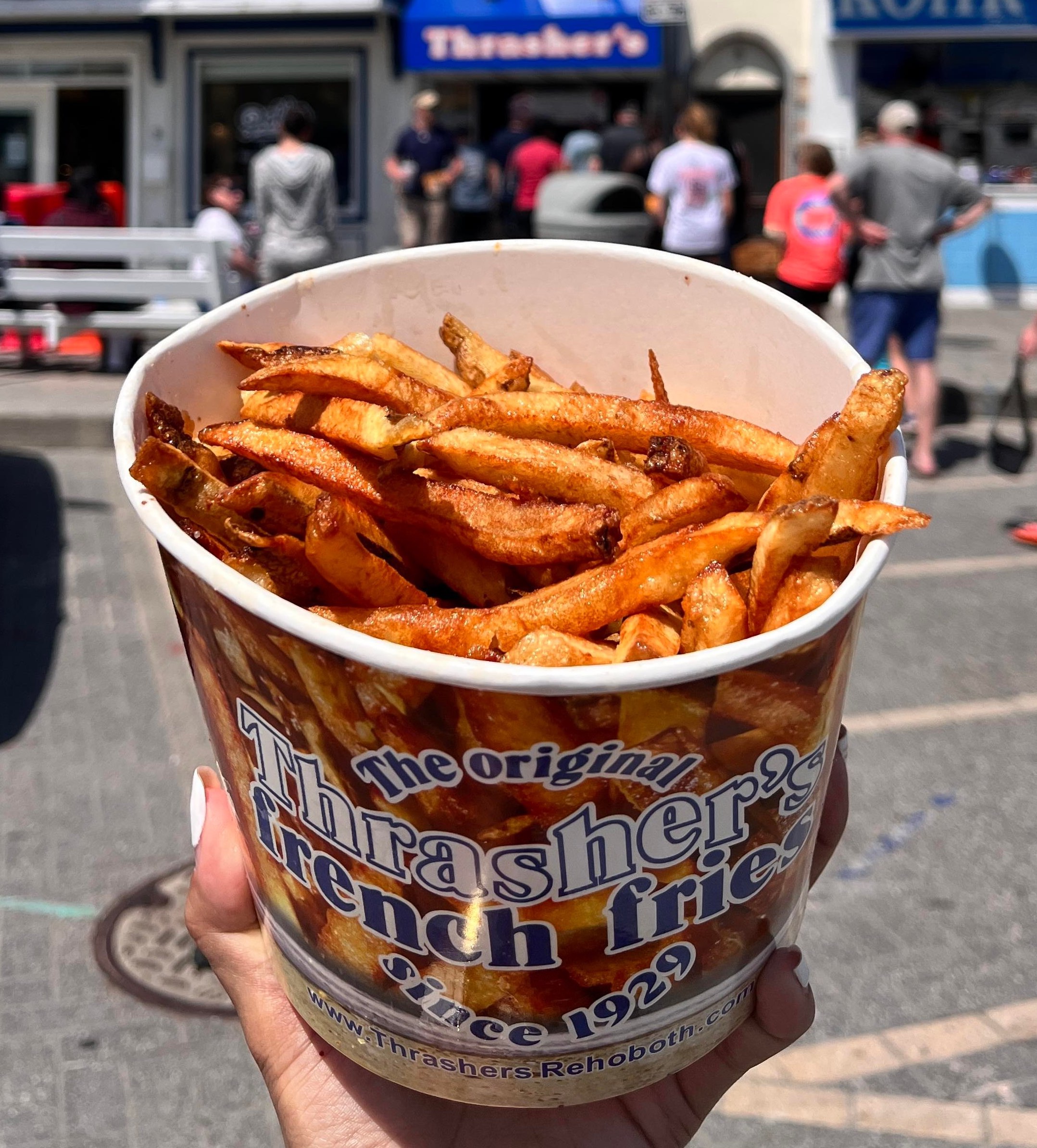 For more information on Thrasher's French Fries, including locations and store hours, visit either the Rehoboth Beach site or the Ocean City site today.
Bon appetit!