Southern Delaware Brewpubs Exploding in Popularity
Posted by Dustin Oldfather on Friday, August 12, 2016 at 1:08 AM
By Dustin Oldfather / August 12, 2016
Comment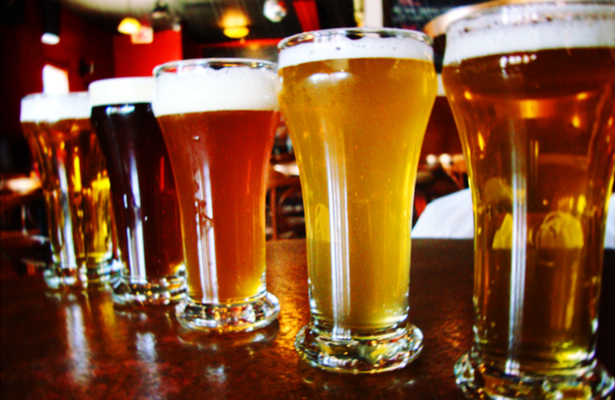 A few years ago, the Milton Historical Society made a not so subtle change to the way it promoted the town located at the headwaters of the Broadkill River. Since it's first days, the organization had promoted the town's history as being all about the "Three Bs."
Well, that soon became FOUR Bs.
With the popularity of the Dogfish Head Craft Brewery in town, historical organizers felt their traditional "three bs" of Boats (shipbuilding), Buttons (button factories) and Beans (Draper King Cole Plant) needed a fourth "b" – BEER!
And with good reason. The explosion in popularity of Dogfish Head has led to a bit of a beer revolution in coastal Delaware, with local craft breweries and brewpubs popping up all throughout the county, from Delmar to Rehoboth Beach and many points in between.
These days, you can choose many places in southern Delaware to eat great local food, while consuming a locally brewed craft beer. And today, we're going to highlight a number of these establishments right here on our blog page.
We encourage you to take a few minutes and learn all about this growing local phenomenon, then pick your favorite and see what all the fuss is about.
Here are eight great choices, right here in Sussex County:
Dogfish Head Brewings and Eats. Located on Rehoboth Avenue, a few blocks from the beach, this was the place where the now famous Dogfish Head IPA brews were first produced. It's the birthplace of Dogfish Head, and a great place to visit. Known by many locals simply as "the pub," this place has some great local food (try the gumbo in season) and often features live entertainment.
BONUS: There's also Dogfish Head's newest creation, Chesapeake & Maine, located next door, featuring more great local beer and some delicious seafood.
ADDRESS: 320 Rehoboth Avenue, Rehoboth Beach
PHONE: 302-226-BREW
WEBSITE: www.dogfish.com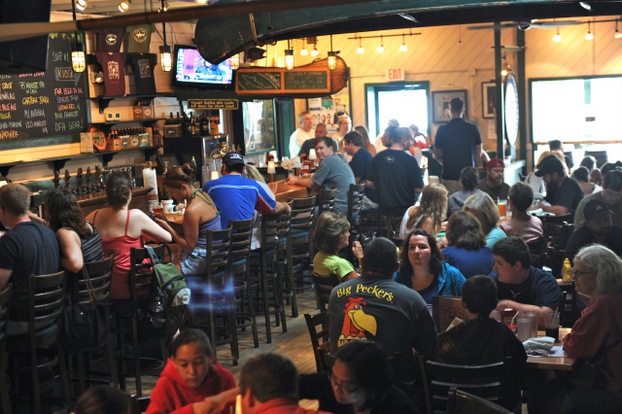 Crooked Hammock Brewery. One of the newest additions to coastal Delaware's craft brewery scene has quickly become one of the most popular. With hammocks out back adding to the relaxed atmosphere, the Crooked Hammock features a large selection of cookout type food and, of course, a great menu filled with locally made, beach-inspired brews. There are even ping-pong tables and corn hole boards, which add to the atmosphere and the fun of this new gathering place in Lewes. This is one you definitely want to check out.
ADDRESS: 36707 Crooked Hammock Way, Lewes
PHONE: 302-644-7837
WEBSITE: www.crookedhammockbrewery.com
16 Mile Brewing Company. Located in Georgetown on South Bedford Street, this local craft brewery has been around for a few years now and is very popular along the Route 113 corridor. There was a book written decades ago that referred to Georgetown as being "16 Miles from Anywhere" in Sussex County, thus the original name for the brewery. There are many local events held on 16 Mile's grounds, including the Georgetown Farmer's Market every Wednesday afternoon. There are also food trucks on-site every Friday and Saturday and live music on Friday evenings. Popular selections of 16 Mile's brews are Blues Golden Ale, Responders Ale and Amber Sun Ale.
ADDRESS: 413 South Bedford Street, Georgetown
PHONE: 302-253-8816
WEBSITE: www.16milebrewery.com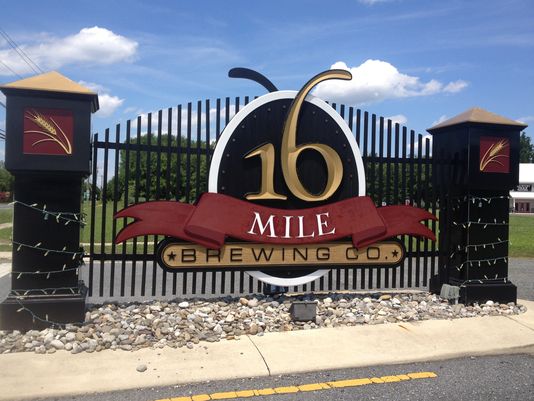 3rd Wave Brewing Company. Now here's a local brewery that's unique in many ways, the most impressive being that it was founded in 2012 by two women in what is normally a male dominated industry. This microbrewery is located in the western Sussex town of Delmar and features tours, a special happy hour for teachers on Mondays, the Backyard BBQ food truck on the weekends and 14 beers always on tap in the tasting room. The brewery is located at the former home of Evolution Brewing Company. Popular varieties of 3rd Wave's brews include 1st Wave IPA and Big Reef Porter.
ADDRESS: 501 North Bi-State Boulevard, Delmar
PHONE: 302-907-0423
WEBSITE: www.3rdwavebrewingco.com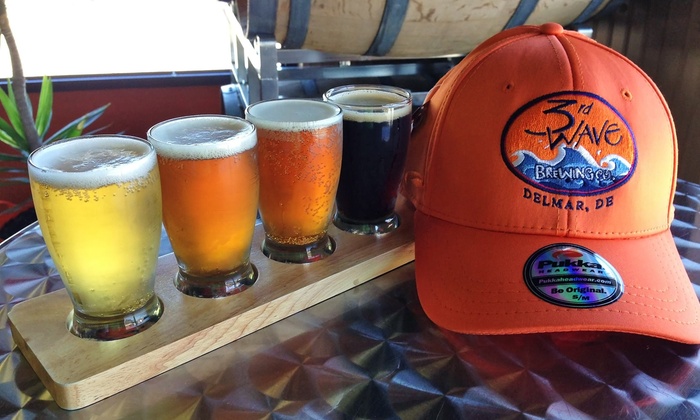 Big Oyster Brewery. Located at Fins Ale House and Raw Bar on Route 1 in Rehoboth Beach, this brewpub opened in 2015 and features a fantastic selection of fresh local seafood and, you guessed it, a wide selection of locally produced beers. Tours are available between 11 a.m. and 5 p.m. Popular selections at Big Oyster Brewery include the wildly named Solar Power Belgian Blonde and Hammerhead IPA.
ADDRESS: 19269 Coastal Highway, Rehoboth Beach
PHONE: 302-227-3467
WEBSITE: www.finsrawbar.com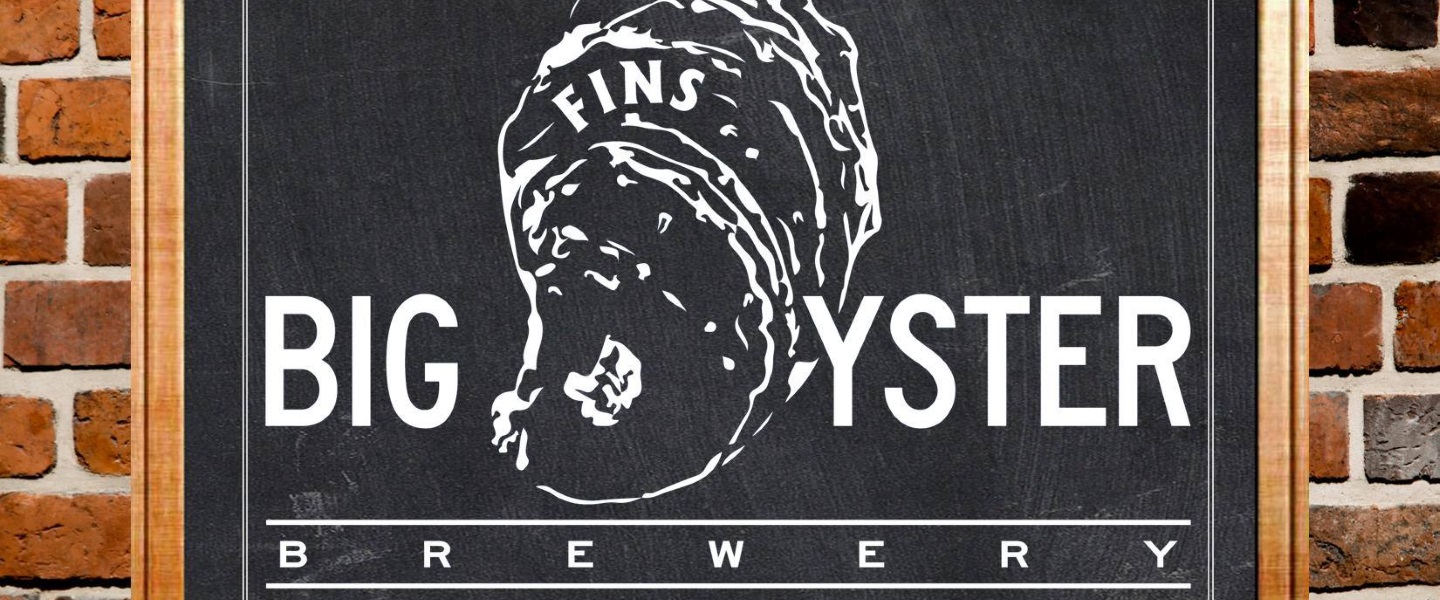 Mispillion River Brewing Company. Located a short drive from the beach in the city of Milford, this local brewery opened in 2013 and features a fun atmosphere and a constantly changing selection of locally crafted brews. It features several "one and done" beers that are only available for a short time, so visit frequently and you're sure to always have new varieties to choose from. The tasting room is open Monday to Thursday from 12 to 10 p.m., Friday and Saturday from 12 p.m. to 12 a.m. and Sunday from 12 to 6 p.m. Favorite brews include Beach Bum Joe and Holy Crap.
ADDRESS: 255 Mullet Run Street, Milford
PHONE: 302-491-6623
WEBSITE: www.mispillionriverbrewing.com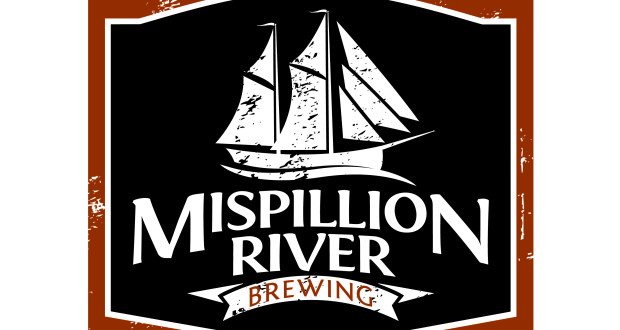 Dewey Beer Company. Located just one block from the beach in Dewey, this brewpub features selections that include American Pale Ale and Blonde's Bonde. Featuring a seven-barrel brewing system, the beer is always served fresh. There's also a good selection of food that incorporates locally sourced ingredients whenever possible. Happy hour is from 3 to 5 p.m.
ADDRESS: 2100 Coastal Highway, Dewey Beach
PHONE: 302-227-1182
WEBSITE: www.deweybeerco.com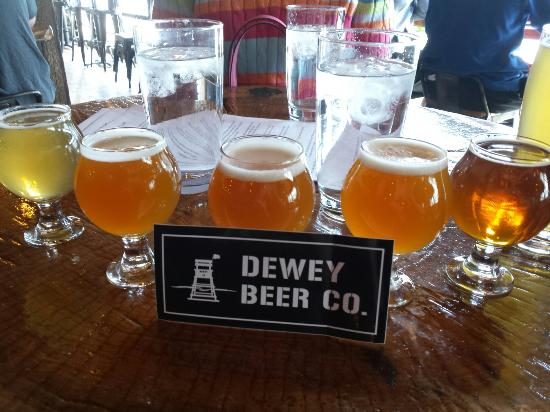 Burley Oak Brewery. Located across the state line in the town of Berlin, Md., this local brewery aims to "produce distinctive beers whose quality is unsurpassed, using new and traditional brewing methods." Burley Oak features several programs for their customers, including a bottle club, rations clubs and various happenings and events. Popular varieties include Aboriginal Gangster, Mo'Brett Mosaic and The Fruits of Our Labor.
ADDRESS: 10016 Old Ocean City Boulevard
PHONE: 443-513-4647
WEBSITE: www.burleyoak.com
Looking to buy or sell a home in coastal Delaware. Give us a call at 302-260-2000 and let us make your home famous!