Remembering the Beginnings of a Hauntingly Good Career for Southern Delaware Native Richard 'RJ' Garrett
Posted by James Diehl on Thursday, February 18, 2021 at 9:43 AM
By James Diehl / February 18, 2021
Comment
First State native Richard "RJ" Garrett has shown a lot of homes to a lot of people since earning his Delaware real estate license in 2020. But no matter how many properties he shows or how successful his career becomes, he'll never forget his first.
That first, mind you, was about as memorable as they come! The interested party included two young ladies who at first seemed quite enthusiastic about the home, but later developed doubts before abruptly leaving and never coming back.
RJ still tells the story today, a decade-and-a-half after the fact. Spoiler alert, he didn't make the sale!
"The girls knew about the house, which was actually a nice two-story home in the town of Cambridge, Maryland," remembers RJ, who grew up in southern Delaware but moved to neighboring Maryland for high school. "But the power wasn't working when we were there and the landscaping hadn't been taken very good care of, so they kind of freaked out about that. We just kind of took off and that was that."
Wow, buyers can be so fickle right? Sheesh, who needs power anyway?
Okay, it's time to back up a bit as we're really just having some fun with RJ's teenage escapades. In reality, that innocent two-story "residential" home in Cambridge is actually known in local circles as "Slaughter House," which many a Maryland teenager will tell you is one of the most haunted and scariest places on the Eastern Shore.
The "buyers" were actually his high school girlfriend and one of her friends who just had to see the insides of the town's most famous haunted landmark. And what good mannered young man wouldn't oblige a couple of pretty young ladies, right?
"I don't necessarily believe in all of that haunted stuff, but this place was definitely pretty scary," RJ recalls all these years later. "We were looking around and there was this creepy rocking chair in one room and papers all over the place and then a big hole in the floor that you could look through to the first story below. It was pretty freaky."
It was "freaky," but it wasn't Garrett's first foray into the world of the unknown.
He grew up in Seaford, where "Maggie's Bridge" is the haunted destination of choice for teenagers and thrill seekers. He and a couple of his buddies, pictured below (that's teenage RJ in the back seat), have jumped through Maggie's hoops as well, in addition to visiting "Big Liz" in Cambridge.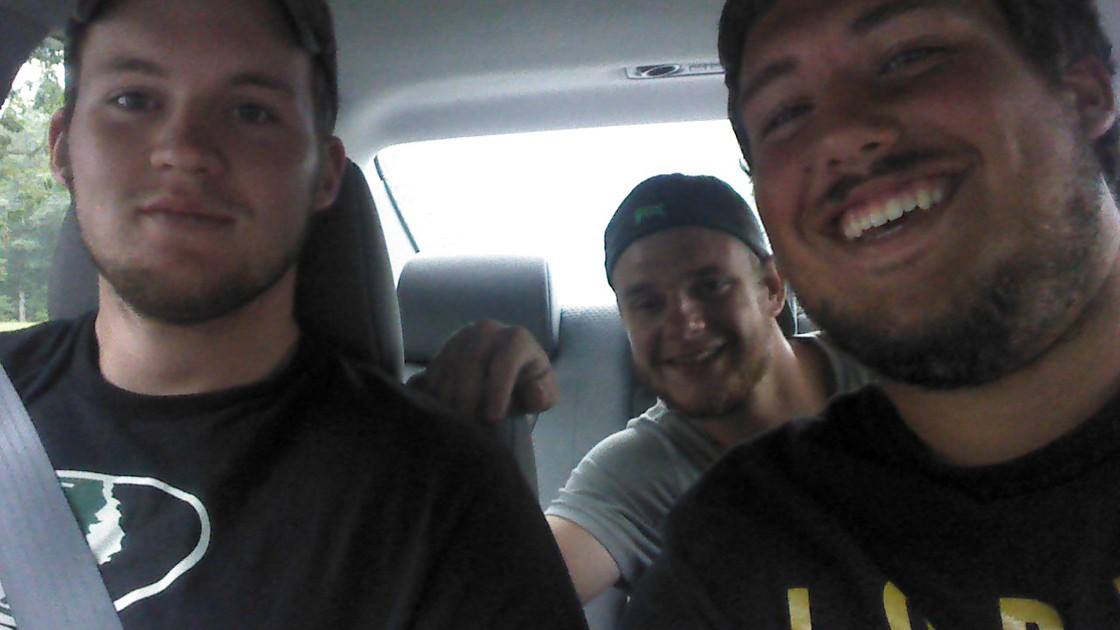 But those days exploring haunted sites and having the carefree fun that all teenagers crave and enjoy are well in the past, with RJ now showing actual homes to actual clients for the Oldfather Group of Ocean Atlantic Sotheby's International Realty.
Now living in Lincoln with his fiancee and two sons, RJ began with the Oldfather Group in September of 2020. He had been thinking about a career in real estate for some time, but it was the challenges of the coronavirus pandemic that finally presented an opportunity for making a big change in his professional life.
"When COVID hit, I just started thinking about real estate again and whether or not I could market myself enough to be successful in the business," says Garrett. "Then my best friend Shawn (Glassmeyer) decided to move into real estate, so I thought it was a good time for me to give it a go as well."
As for how he became a member of the growing Oldfather Group team, well that was an easy decision for the 32-year-old father of two.
"The Oldfather Group really takes care of their people and gives a whole lot of positive encouragement along the way," Garrett says. "They're really there to take care of you and help you out. It's not dog eat dog like in other environments, everyone just helps each other with the goal of becoming successful as a team."
If you're looking to either buy or sell a home in southern Delaware, call Richard "RJ" Garrett at 443-521-6311 or email [email protected]