Top 10 Things to Do In Annapolis, MD
Posted by James Diehl on Thursday, August 11, 2022 at 8:23 AM
By James Diehl / August 11, 2022
Comment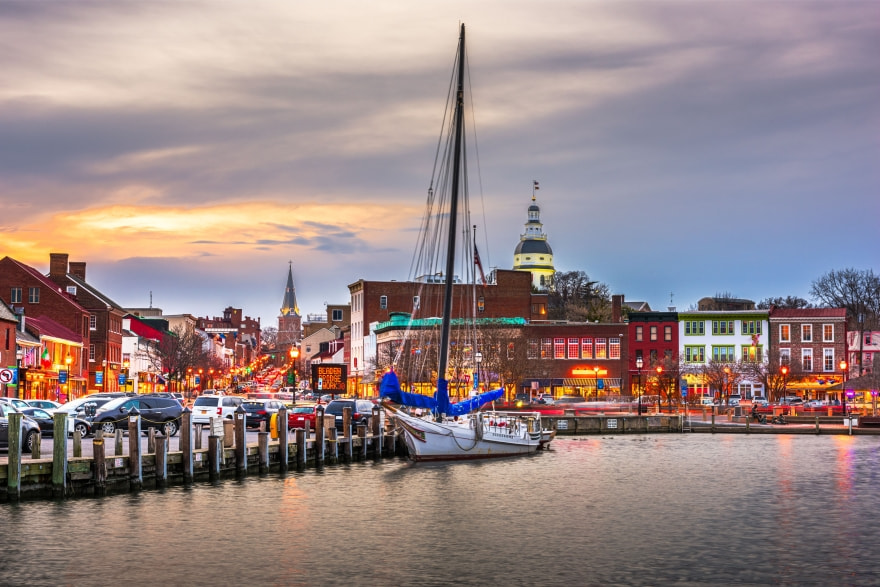 Maryland's capital city of Annapolis has tons of fun things to do and delicious places to eat. Today, we're featuring another one of our popular "road tripping" blogs. These have been popular in the past, as we've featured all sorts of fun things to do in areas that are generally within about an hour's drive of the Delaware shore and Maryland beaches.
One place we've never featured, however, is the great city of Annapolis. The Oldfather Group Realtors actually does quite a bit of business in Maryland's capital city (see Annapolis homes for sale here) and many of our employees and agents rave about all there is to see and do there.
So we thought we'd tell you about a few of our favorite spots in Annapolis so you can plan your own outing on the western side of the Chesapeake Bay.
Now there's no way we could cover everything there is to see and do in Annapolis in just one blog, but here are a few of the Oldfather Group's favorite spots in the capital city of Maryland:
1. Ego Alley
One of those quirky names that every city seems to have, Ego Alley is the name for the city's historic waterfront district. It got it's name because of all of the yachts and high-priced boats that are almost always present and aching to be seen by the "commoners."
Affluent owners of these watercraft like to hit the harbor and then spend the day in the waterfront district of Annapolis. But for you and me, it's a chance to admire some of these boats and imagine what could have been.
This is also a great place for a stroll with your significant other, particularly in the evening. Check it out the next time you're in Maryland's capital city.
2. Pusser's Caribbean Grille
Speaking of the waterfront, the next place we want to feature in our tour of Annapolis is one of the most unique and memorable waterfront restaurants in the area. And it's our choice for the "go-to" place in the city for a fun and friendly dining experience. And that's Pusser's Caribbean Grille!
Pusser's is connected to the Annapolis Waterfront Hotel and has a great amount of outdoor dining space available, so you can easily watch the ships coming in and out of the area.
The restaurant of course (it is in Maryland after all) features a huge amount of seafood options, as well as a Caribbean flare and a whole lot of tropical drinks. You know, those fancy drinks that usually come with a cute little umbrella in them?
And what better place than on the water to enjoy your tropical drink and a big plate of Maryland crabs.
Pusser's - the Oldfather Group's favorite dining choice in the city of Annapolis.
3. The Metropolitan
Our top choice for grabbing an evening drink in Annapolis is the rooftop of the Metropolitan, a nice casual place to just relax with friends and enjoy an adult beverage and some light fare.
Also featuring farm-to-table options, the Metropolitan Kitchen and Lounge is an eclectic dining choice in the city that offers a little bit of something for everyone.
But it's our choice because of the location and the atmosphere. Enjoy a rooftop cocktail with a great view of the city from the top of the Metropolitan.
Check it out and let us know what you think!
4. Chick & Ruth's
This long-time city favorite has been a staple of Main Street since the mid-1960s and is one of those places you just have to visit anytime you're in downtown Annapolis.
It's as much of an institution as you'll find in Annapolis and has long been frequented by the who's who of the city, including governors, ship captains, Navy men, and of course, tourists.
And don't forget to try the crab cakes!
Better yet, stop by in the morning (8:30 on weekdays and 9:30 on weekends) to take part in the daily Pledge of Allegiance. It's been a tradition at Chick & Ruth's for decades. Enjoy!
5. Maryland State House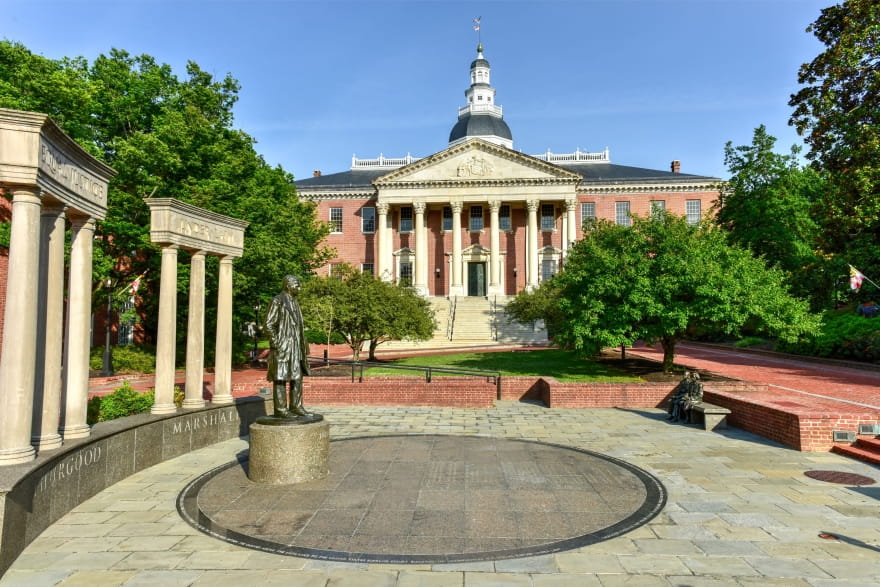 This towering structure in downtown Annapolis is one of the oldest state houses in the United States and well worth a visit the next time you're in the capital city of the nation's seventh state.
The Maryland State House has played host to a number of big events in the country's history, including the ratification of the Treat of Paris, which ended the Revolutionary War, and the resignation of General George Washington as commander of the Continental Army in 1783.
It's the only functioning building from colonial times still remaining in the United States, playing host to the Maryland State House of Representatives for three months every year.
The Maryland State House is open to the public every day from 9 a.m. to 5 p.m., though schedules can change due to the coronavirus pandemic and other outside circumstances.
6. The Graduate
One of our favorite hotels in Annapolis is the Graduate, located just a short distance from both the United States Naval Academy and the Chesapeake Bay.
Inspired by the colors of the Naval Academy, as well as Maryland blue crabs, the Graduate features nautical themes throughout all of its rooms and common areas.
You can even bring your four-legged friends along and enjoy the dog park, grab a bite at Camp Severn Shore or enjoy a delicious cup of java at Poindexter Coffee.
There are many great hotels in and around Annapolis, but the Graduate is our choice for a memorable experience in the capital city.
7. United States Naval Academy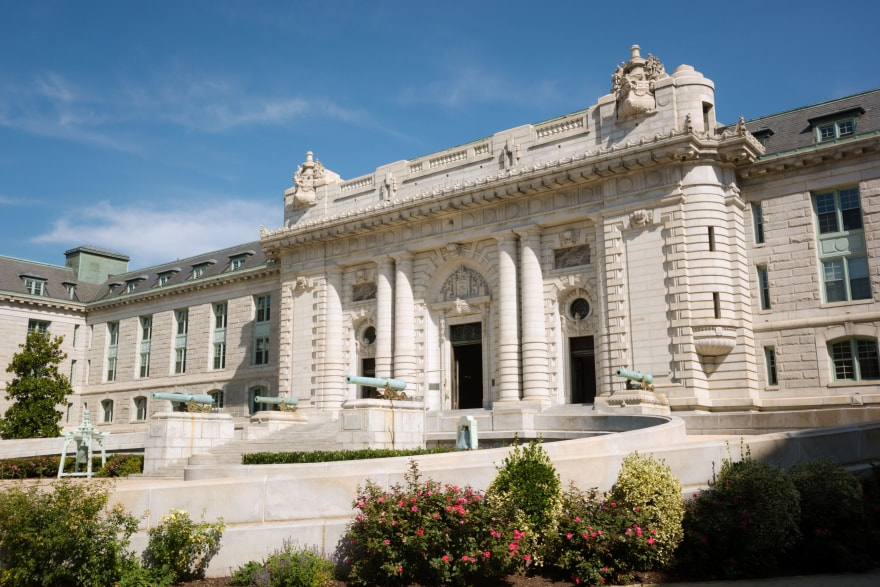 Any trip to Annapolis isn't complete without a trip to the beautiful campus of the United States Naval Academy, you know that place off in the distance when you're crossing the Route 50 bridges heading into the city.
Highlights of a trip to the Academy include the crypt of John Paul Jones, the United State Naval Academy Museum, watching midshipmen marching around the grounds in formation and special guided walking tours of the campus.
Founded in 1845, the grounds are filled with history and a whole lot of national and cultural significance.
Take a tour today and find out for yourself!
8. Quiet Waters Park
For a quiet, serene place to take a stroll or enjoy a family picnic, may we recommend the peaceful grounds of Quiet Waters Park?
Featuring more than six miles of trails over its 340 acres, it's a great place to talk a walk and become one with nature, while just decompressing and detaching from the responsibilities of everyday life.
Quiet Waters also features a children's playground, outdoor pavilions that can be rented for parties, the Blue Heron Center indoor facility, and a calming pond where you can sit and relax for a few hours with your loved ones.
9. Maryland World War II Memorial
For a quiet moment of tribute and reflection, consider a quick visit to Maryland's World War II Memorial, located on Governor Ritchie Highway in Annapolis.
Opened in 1998, the memorial features the names of every Maryland resident who died during the war, all 6,454 of them. Other features include 48 granite pillars, one for each American state in 1945, 20 plaques describing important milestones during World War II and two globes that depict locations of key battles in both the Atlantic and Pacific theaters.
The Maryland World War II Memorial is also a stop on the city's trolley tour, if you happen to be getting around via that mode of transportation.
10. Dutch Farmers Market
Known as the "Amish Market" among Annapolis locals, this popular local destination features Amish merchants from Lancaster County, Pennsylvania, and is located near the Annapolis Harbor Center on Solomon's Island Road.
Food choices at the market include Amish produce, salads, candy, pies, cheeses, homemade snacks and much more. The on-site restaurant also has a complete menu for all three meals of the day and features traditional Amish recipes.
And once you're done eating, the Millwood Furniture Store is available for you to browse a wide selection of handmade hardwood furniture.
Come hungry and enjoy some traditional Amish cooking. We think you and your stomach will go home happy!
Well, those are our Top Ten choices for fun places to visit during a tour of Maryland's capital city of Annapolis.
What are your favorite places? What did we miss that you think we should have included? We'd love to hear from you!
And keep visiting us every Wednesday here on theoldfathergroup.com as we continue showcasing all of what the Delaware and Maryland beaches have to offer, as well as a few other nearby areas of interest like Annapolis.
Have a great weekend everyone!
Google Reviews

"It's our pleasure to recommend Oldfather Group to anyone wanting to buy or sell their home. Being new to the area and after having an extremely frustrating experience with another reality group in the area, we decided to give Dustin and the Oldfather Group a try. From helping us decide on a listing price, to prescreening buyers, through all the negotiations, and then handling all the legal issues and paperwork our overall experience was excellent. Attention to detail was superb as well as their quick response time to all our questions and concerns. We had an administrative assistant assigned specifically to our contract which helped a lot. Consequently, the settlement was a breeze. Over the years we have used many Realtors and unquestionably the Oldfather Group was the best." -Allen Sangree

"This team has it all. They're professional, knowledgeable and responsive. Looking to buy or sell a home, contact them today!" -Jon Cohen

"If you need to buy or sell, this is the agency to call! We had a very pleasant selling and buying experience with this highly experienced group. Our agent... was innovative, thorough, creative, knowledgeable and professional!!" -Deborah Von Stetten