Want to get away? Your comprehensive guide to escaping Old Man Winter (if only temporarily)
Posted by Dustin Oldfather on Wednesday, February 1, 2017 at 2:50 PM
By Dustin Oldfather / February 1, 2017
Comment
This time of year, when the temperatures are frigid and the warm, sunny skies of the summer season still seem a lifetime away, why not escape Old Man Winter and take a vacation? After all, the Delaware beaches will still be here when you return.
It's widely believed that one of the greatest benefits of living in coastal Delaware is its proximity to so many metropolitan areas - and that means a wide selection of transportation options for you.
And that's what we're going to discuss here today on www.luxuryhomesdelaware.com.
So whether you want to drive, or fly, or take the train or even throw some water-based transportation into the mix when you vacation, we've got you covered.
Let's take a look at some of the options available from coastal Delaware, when a short offseason getaway is in the cards.
Regional Airports
There are a few options when it comes to small regional airports in the area, but most will only get you to a larger facility, where you can then catch a connecting flight to your final destination. Here are some of the choices:
Delaware Coastal Airport - If you have your own plane, or know someone who does, this is the closest airport to the Delaware beaches. Located in the Sussex County Seat of Georgetown, the Delaware Coastal Airport is just a few minutes by car from downtown Rehoboth Beach.
New Castle County Airport - There are some commercial flights in and out of this northern Delaware airport, but not really that many. Check out their website for more information.
Salisbury-Ocean City Wicomico Regional Airport - This is a great option if you want to catch a short flight to one of the larger airports in the mid-Atlantic. It's located just a short drive from the Delaware beaches in Wicomico County, Maryland.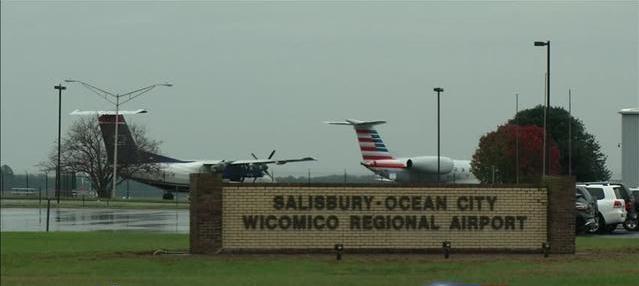 International Airports
When it comes to international airports, Philadelphia, Baltimore, Washington, D.C. and New York City are all between 2 and 5 hours away from coastal Delaware. Deciding which one to use really depends on where you want to go and which airport has the best flights for the best prices. All offer long-term parking and other benefits that travellers expect.
Philadelphia International Airport - If you're driving north, Philly is the closest airport to coastal Delaware. Visit their website for more on parking, flights and other information.
Washington/Baltimore Area Airports - If you feel like taking a trip across the Chesapeake Bay Bridge, the nation's capital area offers three great choices when it comes to international airports. Click on the links below to learn more about each one and decide which is best to suit your needs.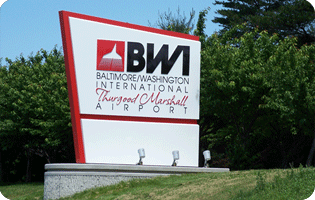 New York Area Airports - If you're flying internationally, you may want to consider driving to the Big Apple, where many airlines offer direct flights to Europe, Asia and other international destinations. The three major New York area airports are listed below.

Train Service
A popular option in recent years is driving to Wilmington and taking the train from there to Philadelphia, New York or other mid-Atlantic destinations serviced by Amtrak. The Wilmington station is the ninth busiest Amtrak station in the United States and travelers can now take the Acela Express, America's first high-speed rail service, to Washington, BWI Airport, Baltimore, Philadelphia, Trenton, Newark, New York, New Haven, Providence, Boston and most major intermediate rail stations.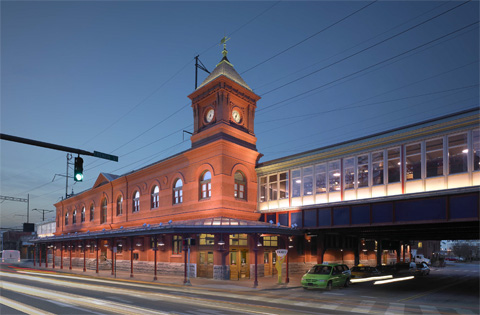 Bus Service
DART First State and Greyhound offer bus service from southern Delaware to Wilmington, where travelers can then take the train to other points in the mid-Atlantic. Incidentally, we've included New Jersey Transit on this list for those taking the Cape May-Lewes ferry across the Delaware Bay and needing transportation to New York City.

Ferry Service
If you're traveling north by car, or want to catch a bus to New York City, then taking the 17-mile, 90-minute trip across the Delaware Bay via the Cape May-Lewes Ferry is a fantastic option. It's easily accessible from Rehoboth Beach and, whether by car or bus, it will shave time off your trip to New York and points north.
Shuttle Service
There are several companies that now offer car or van transportation to nearby regional and international airports. We've listed several of these for you below. Visit their websites for more information.

Valet Service
There are literally dozens of so-called "valet services" at all of the larger regional airports that will allow you to leave your vehicle at their facility while you're away. A staff member will then drive you to the proper terminal and arrange for your pickup upon your return. This has become an increasingly popular choice in recent years, which has led to the rising popularity of such services.
We did a search for valet services at airports located in Washington, Baltimore, Philadelphia and New York City and found dozens of companies offering such services. If you're interested in using this type of service, we recommend doing your own search and/or asking friends or family members for recommendations.
It's definitely a safe and affordable way of getting to the airport, without needing to pay daily fees in the long-term parking area.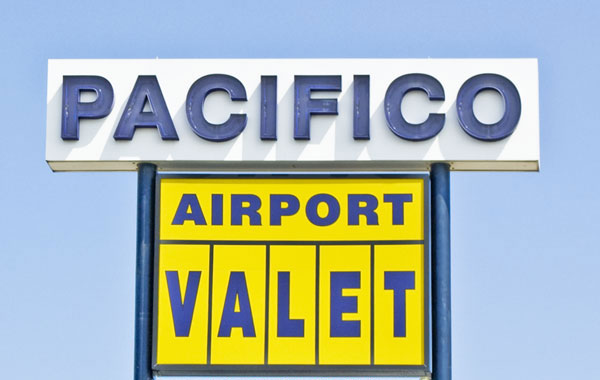 Of course, you can always have a friend or family member drive you to the airport. Just make sure you also have someone available to pick you up when you return.
Whatever method you use for your travel needs, just be sure you're back in coastal Delaware before the summer season really kicks off in earnest.
You wouldn't want to miss any of the action, now would you?