Where can you Discover the History and Heritage of Delaware?
Posted by Dustin Oldfather on Friday, March 14, 2014 at 5:39 PM
By Dustin Oldfather / March 14, 2014
Comment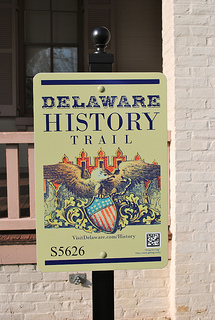 As The First State, Delaware has plenty of history and heritage to explore. There are a number of museums and other attractions providing a great look into the history of the state. Whether you want to take a trip throughout the state or just discover what's in your backyard, you're sure to find the perfect historic attraction.
Start with the family estates of the du Ponts and discover the Hagley Museum and Gardens, along with the Nemours Mansion. This will provide a look into the unique architecture of the past and plenty of beautiful gardens to enjoy.
Of course, any serious history buff will need to enjoy the Delaware History Trail. This trail provides 36 different historic sites throughout the state. Explore places, such as The Green in Dover, which was the site of the U.S. Constitution ratification in 1787.
You can enjoy plenty of other historic sites throughout New Castle or take a trip on the Kalmar Nyckel. The state is full of museums and all types of historical sites. Other great choices throughout Delaware include:
Afro-American Historical Society/Art Alliance - 2018 Silverside Road, Wilmington
Delaware Museum of Natural History - 4840 Kennett Pike, Wilmington
Auburn Heights Preserve - 3000 Creek Road, Yorklyn
Air Mobility Command Museum - 1301 Heritage Road, Dover
Amstel House - 2 East Fourth Street, New Castle
Bethany Beach Museum - Garfield Pkwy & Route 1, Bethany Beach
Biggs Museum of American Art - 406 Federal Street, Dover
Barratt's Chapel and Museum - 6362 Bay Road, Frederica
Camden Friends Meeting - 122 East Camden-Wyoming Avenue, Camden
Breakwater/Harbor of Refuge - Cape May/Lewes Terminal, Lewes
Bridgeville Historical Society Museum - 102 William Street, Bridgeville
Many other historical sites are found all throughout the state. Make your bucket list and visit all of the places that interest you.