Where is the Best Shopping in Rehoboth Beach?
Posted by Dustin Oldfather on Tuesday, March 25, 2014 at 5:34 PM
By Dustin Oldfather / March 25, 2014
Comment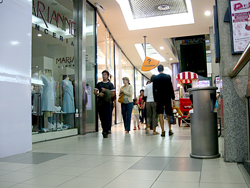 Shopping in the Rehoboth Beach area of Delaware provides some very ingesting options. Many shops are found on the boardwalk and throughout the area. If you plan to enjoy a shopping excursion here, make sure to include some of the following stores.
AerieArt Gallery - 45 1/2 Lake Avenue, Rehoboth Beach
This shop specializes in all types of paintings form the 19th and 20th century. They also carry artwork from local artists.
Gift Design - 18388 Coastal Highway, Lewes
If you love shopping for antiques and Americana, this is the shop for you. They carry Yankee Candles, Longaberger handbags, flags, jewelry, antiques, Boyd's Bears and more.
Cleo's Boutique - 2478 Rehoboth Avenue, Rehoboth Beach
This upscale boutique carries some of the bet names in fashion including J Brand, Christopher Fischer, Smythe and Vince. They also have great shoes and scarves from top designers.
Pineapple Prince Swim & Resortwear - 310 Rehoboth Avenue
As one of the best places for swimwear and resortwear, Pineapple Princess is a great choice. They also carry handbags, jewelry and much more.
World Cup Sports - 17701 Dartmouth Drive, Lewes
No matter what type of sport you play, World Cup Sports provides everything you need. They carry all types of equipment, apparel and more.
Back Bay Art Glass - 110 New Road, Lewes
Stained glass is very popular and Back Bay Art Glass carries all types of stained glass items. They also provide all the supplies necessary for great glass art.
Bayberry Flowers - #1 Henlopen Junction, 37385 Rehoboth Avenue, Rehoboth Beach
This unique shop provides the best flower arrangements in the area. If you need flowers for any reason, Bayberry Flowers is the right place.
Shopping in Rehoboth Beach is a great way to experience the area. Make sure to stop in at some of the shops on this list and you're sure to discover plenty of other choices, as well.