Which of the High Schools in Delaware are Considered the Best?
Posted by Dustin Oldfather on Thursday, March 13, 2014 at 3:22 PM
By Dustin Oldfather / March 13, 2014
Comment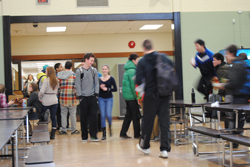 Delaware is home to some great schools and US News ranked the high schools in the area based on specific data. The state is home to many students with high GPAs, enough community services and the other qualification necessary to qualify for the Inspire Scholarship. This scholarship helps to pay the tuition for students attending Delaware State University.
However, students have to pass the Delaware Student Testing Program exams before they can apply for the scholarship. Based on these tests and other criteria, US News has awarded three Delaware High Schools with silver medals and four with bronze medals. Here's a list of the top ranking Delaware High Schools according to US News.
Delmar Senior High School - 200 North Eighth Street, Delmar
Sussex Central Senior High School - 26026 Patriots Way, Georgetown
Indian River High School - 29772 Armory Road, Dagsboro
Delcastle Technical High School - 1417 Newport Road, Wilmington
Howard High School of Technology - 401 East 12th Street
St. Georges Technical High School - 555 Hyetts Corner Road, Middletown
Sussex Technical High School - 17099 County Seat Highway, Georgetown
All of these high schools were either awarded a silver medal or bronze medal in the national rankings.
Delmar Senior High School was ranked the best in the state with a 16:1 student/teacher ratio, a 22.8 ranking for college readiness (above the DE average) and ranked in the top 1600 nationally.
Sussex Technical High School has the lowest student/teacher ratio out of the schools listed above at 11:1, but the college readiness score is below the state average.
Overall, all of these schools received at least national recognition and provide a good education for high school students planning to attend college. These schools are also responsible for the majority of the students qualifying for the Inspire Scholarship.