Chief Little Owl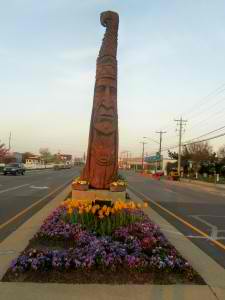 For visitors to and residents of Bethany Beach, "Chief Little Owl" has been as much a part of the town as even the beach itself since it's construction during America's bicentennial year of 1976.
The third totem pole to grace the entrance to Bethany Beach, the current structure was dedicated in 2002 and is made of red cedar. The remains of the first, which stood for 16 years, can be found at the Nanticoke Indian Museum in nearby Oak Orchard.
"Chief Little Owl" was created by renowned sculptor Peter Wolf Toth as part of his "Trail of the Whispering Giants" project, which includes at least one Native American totem pole in each state.