Fenwick Island Lighthouse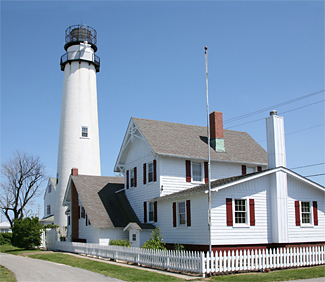 There have been many lighthouses that have protected the coastal waters of Sussex County over the years, including the still standing Fenwick Island Lighthouse in the very southeast quadrant of the county.
Built in 1858, the 89-foot lighthouse for years warned ships away from the Fenwick Shoal utilizing a lens that was imported from France. Operated through the years by whale oil and kerosene, the light today runs solely on electricity.
It is owned by the state of Delaware and is maintained by the New Friends of the Fenwick Island Lighthouse. While not Sussex County's only standing lighthouse, it is easily the most accessible.
The lighthouse also rests on the eastern boundary of the Tranpeninsular Line, which serves as the southern boundary of the state of Delaware and neighbors the bustling resort of Ocean City, Md.