Fourth of July Celebration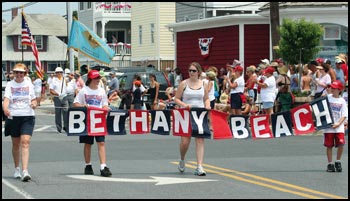 The town of Bethany Beach hosts a Fourth of July celebration every year that includes a two-mile parade through the resort, live music and, of course, a fireworks display at night.
Other events include a traditional horseshoe-throwing contest, an awards ceremony and lots of great food. One of the highlights of the annual parade, in addition to the floats, bands and other traditional components, is the more than 1,000 children who typically ride their red, white and blue adorned bicycles en masse.
The children's bicycles are decorated with either their own supplies or, more common, with supplies from kits supplied by the town of Bethany Beach. It's a great time in the resort! Check it out if you're in town on Independence Day.