Transpeninsular Line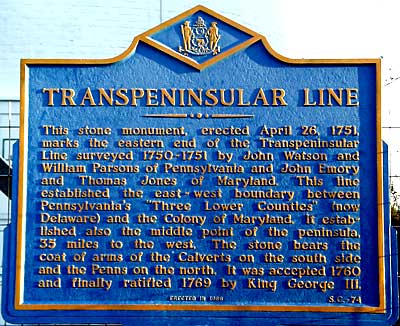 Drawn in 1751, the Transpeninsular Line established the southern boundary of Delaware and runs from Fenwick Island to the western boundary just outside of Delmar. The western boundary also serves as the midpoint marker of the much better known Mason Dixon Line.
The accompanying survey settled a dispute between the Calverts and the Penns and was not without its controversy, as the courts of the time ruled that Cape Henlopen, which we now know is located several miles to the north, was instead located in the Fenwick Island area.
This was based on an old map that identified Cape Hinlopen, as Swedish settlers called it, as being at the current location of Fenwick Island. Calvert, unfortunately for him but fortunate for current residents of the state of Delaware, didn't realize the mistake until it was too late.
Today, the Fenwick Island Lighthouse rests on the Transpeninsular Line and is a main attraction for visitors to coastal Delaware, as well as to Ocean City, Md.